Heat turning up on La Roja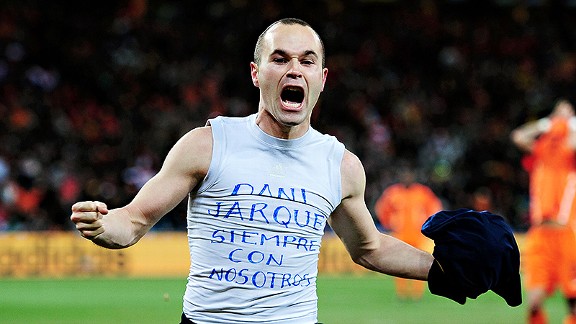 Jamie McDonald/Getty ImagesThe pressure to maintain their dominance at the top will only make things more difficult for Andres Iniesta and his World Cup-winning teammates.
Make no mistake about it, Spain's six-year status as the uncontested world No. 1 international side is about to be attacked with all weapons and -- hopefully for the contenders -- battered into submission over the next 15 months, starting this week.

I say six years because although their first title was raised at Euro 2008, Luis Aragones' side brought to that tournament an unbeaten run stretching back to November 2006 -- the beginning of a dynamic momentum that has suffered barely a blip from then until now.

But the next year and a half shapes up like an inferno.

Right now, it's the devilishly tricky prospect of World Cup qualification at hand. The home draw with Didier Deschamps' France (and the degree to which Les Bleus played more organised and more convincing football) in Madrid last October means that the bare minimum to take from ties with Finland (Friday night in Gijon) and France (in Paris on Tuesday night) is four points. Six would be needed to guarantee putting the world champions back in the driver's seat.

Then there is the Confederations Cup in Brazil. A dry-run tournament, crafted to test the infrastructure of the nation that will hold the following summer's World Cup, it will feature the champion from each of FIFA's six confederations: Europe, Africa, Asia, Oceania, South America and CONCACAF.

From 2006 until now, barring the occasional loss in friendly matches, it's really only the 2009 Confederations Cup in South Africa which is a stain on the Spanish record. Defeat to a street-smart, robust and athletic United States national side in Bloemfontein forced Vicente del Bosque's side to settle for third place in that tournament.

This summer it's in Brazil -- the fifth time in six years that the majority of this squad won't have had a proper physical and mental break during the offseason. Testing in the extreme.

The very fact that it's in Brazil will also be a major examination. While recent performances don't mark the current Brazil XI as utterly outstanding, they do have a crop of significantly interesting players and it's not for nothing that this nation is the dominant one across the history of international football.

The last time this version of Spain competed in a tournament in which the home nation's fans were not only fanatical but the home team also had a serious chance of winning was in Germany. Exit at the quarterfinal stage to France was deeply painful, but also the cause of much soul-searching and, nearly, the end of the Aragones' reign before it hit a seam of gold.

The only point to be made is that playing and winning a tournament in Brazil will be exponentially harder than the three previous venues (Austria/Switzerland in 2008, South Africa in 2010 and Poland/Ukraine in 2012). It will be a greater test of mentality, concentration, preparation and will to win.

That argument clearly stands for both this summer and next ... assuming that the world champions qualify to defend their crown.

So, what about a traditional SWOT analysis: strengths, weaknesses, opportunities and threats at this pivotal moment for the squad, which, according to the record books at least, is playing at its greatest (or at least "winningest") level ever.

Strengths

This squad has so much surplus talent, by which I mean actual technique, skill and football ability that while you may favour Andres Iniesta over Juan Mata, or David Silva over Jesus Navas, the fact remains that Mata and Navas (just to choose two examples) are exceptional footballers.

Whether you prefer Sergio Ramos or Alvaro Arbeloa at right back, Xabi Alonso or Sergi Busquets, Iker Casillas or Victor Valdes, they are all talents on a spectrum which is not particularly wide.

Thus the key thing which would damage Del Bosque's squad most were it lost is not one thing like form or fitness of a particular player or two. No, two things, if lost, would be fatal.

One is hunger, the other harmony.

It's a well-established truism in all forms of sport that staying at the top is harder than getting there -- usually because of mental and physical rust.

The champagne moment of a trophy is all fizz and buzz, the water and dry biscuits diet of dealing with plodding, gritty, well-organised opponents on unfriendly playing surfaces demands the right stuff.

Prior to the 1-1 draw with France, Spain had produced 24 straight qualification victories -- literally jaw-dropping stuff. That late Olivier Giroud goal, partially because of a naive Juanfran error, partially because Del Bosque abandoned his double pivot midfield and Spain surrendered control of the midfield, really stung La Roja's players badly, and they'll be hunting down redemption.

Moreover, just look at how the vast majority of them are performing domestically. Real Madrid's players are the reigning champions of Spain, in the Copa del Rey final and not-far-off favourites for the Champions League. Barcelona's players will be league champions this season, and after a glitch February, recently destroyed AC Milan. Arsenal's season ain't all that, but Santi Cazorla, in my view, is their outstanding player. Chelsea fight on in FA Cup, Europa League and the search for the Premier League's Champions League qualifying slot -- Mata has been a shimmering example of skill and endeavour. Sevilla's season has been "basura" (rubbish) but Navas is producing wonderful performances and Alvaro Negredo is La Liga's leading Spanish scorer (with a career-high total).

Now, I'm not talking about recent form -- Silva, Cesc Fabregas, Pepe Reina for example are all currently looking for their best. I'm talking about when an athlete is sated, and when he (or she) still feels the hot fire inside produced by the need to keep winning. Hunger. Spain still have it. Xavi insisting on turning up for the squad despite the fact that he is injured, despite the fact that further damage to his overstretched hamstring muscle could ruin his and Barcelona's season -- there's a small but significant piece of evidence.

Harmony? Some of the old tensions rose to the surface again during the two recent Clasicos, and I'd wager you already know that, away from La Roja, Xavi and Busquets probably won't call Alonso or Arbeloa for a couple of drinks and a night at the cinema next time they are in Madrid. But you don't need a training ground to be all Woodstock and flower power; you need basic common goals and mutual respect. These, helped by wise old Del Bosque, still reign sufficiently.

Weakness

I'm certain that barring injury or a red card, Valdes will keep goal against Finland and France. If so, it'll be a welcome return next week to the Stade De France stadium where he defied Arsenal's Thierry Henry over and over again in 2006 to win his, and Barcelona's, first Champions League (rather than European Cup).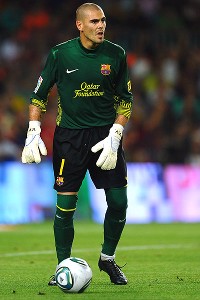 Laurence Griffiths/Getty ImagesThe pressure will be on Barcelona goalkeeper Victor Valdes to maintain the high standard of goalkeeping set by Iker Casillas for the Spanish national team.
I'm a fan of the Catalan keeper, his athleticism, his attitude, his reflexes, his one-on-one saves and his winner's mentality. However, there's no escaping that his aberration in chasing and abusing the referee in the last Clasico correctly cost him a four-game suspension and didn't appear to be the frame of mind which is ideal for a keeper in this situation.

Much as I admire Valdes, he'd be the first to admit that there is a reason, far above loyalty, which has made Casillas the No. 1 for so many years. Not only have Spain lost an utterly exceptional leader and goalkeeper they have gone out of a "comfort zone" that has existed for over a decade. It's extremely rare La Roja have had to play a vital competitive match without San Iker (Saint Iker), and as good as Valdes is, the pressure will be huge.

Opportunities

Depending on how events unfold, this could be a week with sizable repercussions for players such as Mata, Cazorla, Navas, Fabregas and, most intriguingly, Isco.

No Fernando Llorente, no Fernando Torres, no Roberto Soldado -- and at a time when goals, at home against a tight-pressing and defensive Finland side and then in the lion's den against France, are at a premium.

Fabregas, not quite in his best touch right now, is someone whose goals and assists were crucial in winning the past three tournaments. A touchstone player for Del Bosque, but it's a test for the Catalan given that the goals have dried up for him at club level recently. David Villa will be the reference striker, and to say this is a big opportunity for the national team's all-time leading scorer would be to misuse the phrase. Del Bosque will thank his lucky stars that the 31-year-old has hit goal and assist form recently for Barca. Cazorla, Mata, Navas -- they all have the capacity to move from cameo players to something more important if they seize the opportunities given and create or score.

As for Isco, he made his debut in the friendly against Uruguay and he's had every last drop of energy and vitality squeezed out of him by his club side this season as Malaga fight to turn their horrible financial and administrative situation into a sporting triumph.

But this boy has real, outstanding talent. In his actions around the team hotel and on the training pitch, irrespective of how much game time he gets, this is the beginning of how he shows that he's already special and mature enough to make an immediate impact.

Talented, brave, smart, technically gifted and with goals in his boots, it's not impossible that Del Bosque will lean over and say "it's you" in a moment of difficulty during either of these matches. Carpe diem, young man.

Threats

If Del Bosque were my editor, he'd murder me for starting with France, rather than Finland, but that's a writer's prerogative. Despite the fact that their last result was a 0-0 draw in Helsinki half a dozen years ago, I'm sure that Spain's players won't focus on France first and they'll beat Mixu Paatelainen's team. Not because Finland are lambs to the slaughter -- but simply because Spain are equipped to do so. They will find a way and they will be hard-nosed enough to ensure the Paris tie is properly set up rather than undermined because of a sloppy home result.

But Deschamps has taken the healing process which Laurent Blanc started and added a sprinkling of the old French arrogance and a degree of extra attacking muscle; what's more, he has a great man management touch.

He has the great benefit that a decent number of his key players are fit and on form. He is also in the process of transplanting the unity of spirit and confidence that the best teams he played on -- Marseille, Juventus, France -- always displayed. His tactical nous was on display at the Calderon in the autumn; the fact that his players perform for him is, I think, a detectable threat throughout his coaching career, and he has made it abundantly clear that national team coaching has made him infinitely happier, sharper and more fulfilled than his latter days with Olympique Marseille.

If Spain play with their mix of ruthlessness, obstinacy, fluency and spur-of-the-moment brilliance, they are, for sure, capable of dominating the ball and winning. But the threat of a defeat and second place in the group, which would require victory in the November playoff, is not unthinkable. It'll be a proper heavyweight contest and worth booking your seat either at the Stade de France or, if you must, on the sofa.