Argentina's qualifying focus turns to preparation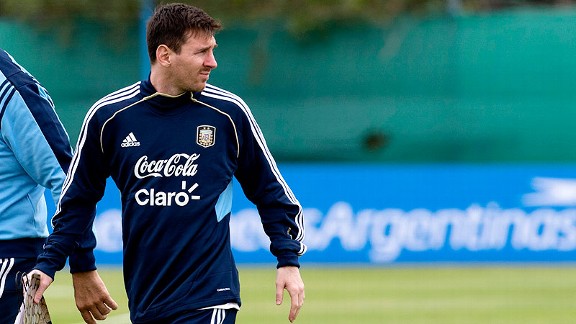 AP Photo/Eduardo Di Baia
A team takes part in World Cup qualification for two reasons. The first, almost too obvious to mention, is in a quest to gain an invitation to the planet's premier sporting party. The other is to use the competitive environment of the qualifiers to prepare a team for the tournament.

This is especially true in South America, where these days there are no guarantees of easy games. A great power such as Argentina has missed out before, and in the early days of the current campaign it appeared that the road to Brazil might be long and hard for the twice world champions. In the second round Lionel Messi and company lost away to Venezuela. In the third they were held at home by Bolivia.

Duarte: Brazil's "big yellow duck" vs. world's elite
Bate: Colombia's on the rise
Fryer: Copa Lib gives Boca Juniors fresh hope

Now, a year and a half later, they play the return fixtures against these same opponents. And they do so from a position of strength. Results have picked up for coach Alejandro Sabella and his men -- so much so that realistically, with seven games still to go, Argentina are just two wins away from booking their place in Brazil.

With their presence in the World Cup hardly in doubt, the focus now turns to the second objective of the qualification campaign. Sabella can take the long-term view with the remaining matches; he can use them to groom a team capable of winning world title number three.

In this light there is little to be learned from next Tuesday's trip to La Paz, where Argentina will face Bolivia some 3,600 metres above sea level. Such extreme altitude makes the game something of a one-off. In the rarefied air the unacclimatised player loses so much of his athletic capacity that the wisest strategy for the visitors is to adopt a cautious game plan and hope to avoid humiliation.

But there should be plenty to ponder on when Argentina take on Venezuela in front of a sell-out crowd in Buenos Aires this Friday. It is a matchup with the potential to provide a fascinating mini-test of Argentina's World Cup pretentions.

Dreams of glory next year are understandably constructed around Messi and his highly gifted supporting cast. The world's best player is backed up by Sergio Aguero, Gonzalo Higuain and Angel Di Maria. Between them, the four have scored all but one of the 20 goals Argentina have managed in the qualification campaign.

Sabella is blessed with such an accumulation of attacking talent. But might it also be a curse? The coach sometimes hints that it might be.

"I'm permanently looking for balance between attack and defence," he said a few months ago, "but there are times when I have to make a choice. We have extraordinary strikers. But what happens is that with their characteristics it is not easy for them to drop back and mark down the flanks, and so our full backs are finding themselves facing two opponents."

Last month he confessed that "at times when the opponent is attacking I have to cover my face. But, weighing up the pros and cons, with the players we have we want to take the initiative. We are going to have defensive problems, but we can also really hurt the opponent. Di Maria and the strikers will have to sacrifice themselves and carry out some marking duties because our full backs are suffering. It is not a problem of individual players, but of the structure of the team."

This would seem to be a half-truth. True, the balance of the team is tipped toward attack. But it is also undeniable that Argentina's current defensive resources, both at full back and centre back, are not especially strong. The problem is both one of structure and of a lack of individual defensive quality. Sabella's hand is forced because he is understandably unwilling to leave out an exceptional striker in favour of a mediocre defender. "And so I ask the question -- is it worth running the risk? And I believe that it is worthwhile to try to do so."

The Venezuela game might provide fascinating evidence. Just over a decade ago, when Venezuela first gave signs of their rapid development, they played happy-go-lucky football and were loose defensively. It was what was needed at the time. In order for the game to establish itself in a land more associated with baseball, it was vital that the public had victories to celebrate.

Current coach Cesar Farias has taken the team up to the next level -- that of genuine contenders for a World Cup place -- by tightening up the defence. In the nine games of the current campaign Venezuela have conceded just nine goals. He will have studied Sabella's side and will hope that a combination of his own team's organisation and a lack of supply (or inspiration) for Messi will be enough to hold the Argentines at bay. And then, in a break out, he will trust that the power of Jose Salomon Rondon, the pace of young Josef Martinez or the superbly struck set pieces of Juan Arango can punish the home defence.

If everything goes according to plan for Farias, then perhaps Sabella will be forced to rethink the balance of his side. Indeed, with Di Maria suspended for the Venezuela match he may even consider bringing in a more defensively minded midfielder for this game as a way of keeping open his options for the future. Alternatively, if Venezuela are overrun it will be a severe blow not only to their self-esteem, but also to their chances of qualifying for their first World Cup.

There is plenty at stake, then, for both coaches, and 90 fascinating minutes coming up for the neutral this Friday in Buenos Aires.