Michael Owen: Too much, too soon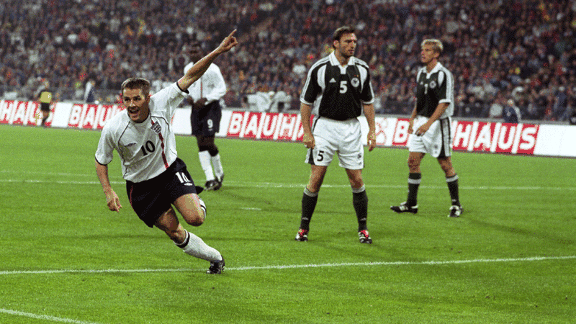 PA PhotosMichael Owen crowned his annus mirabilis in 2001 with a hat-trick in England's 5-1 rout of Germany
As a man of the turf, Michael Owen would well know the concept of a horse that has not 'trained on'. The label against a performer never improving from its first public outing is not quite applicable to Owen, since the fleet-footed youngster who broke through at France '98 won the Ballon D'Or three years later, the last Englishman to do so. He just never had it so good thereafter.

- Owen to retire at end of season
- Owen's career in pictures


- Blog: Owen calls it a day

Owen's hat-trick devastated Germany in Munich, his brace won the FA Cup final, his team won a treble of trophies. The kid who broke Ian Rush's schoolboy records and was known from his early teens to Liverpool's dignitaries simply as "Michael" had become a man, a finisher of the highest quality on the grandest of occasions. The waif who had first shown at Selhurst Park in 1997 and had rocked the world in St Etienne with a slalom through Argentina's defence had confirmed the belief that he could be Europe's hottest property. 2001, however, is a long time ago.

Twelve years on, still just 33, Owen's legacy is tarnished by the years that followed his leaving of Liverpool in 2004. The winding down of his contract at Anfield turned the Kop against him. Robbie Fowler, his contemporary and predecessor as red-shirted wonderboy, will always be remembered more fondly, even though he too sought other avenues. Like Steve McManaman before him, Owen played the Bosman system and went to Real Madrid. Though Liverpool at least received a fee for him, £8 million was a paltry figure compared to what he might have been worth three years before.

The Liverpool home he departed was much his happiest. Madrid never suited him. The tale of his driving to an airport from his city centre hotel every day to buy English newspapers when a shop that sold them was just across the square is indicative of a fish out of water. When he wanted to return a year later, Liverpool, a Champions League trophy gleaming in their cabinet, would not have him back. Owen is said to have wept when he heard of the rebuttal. Away from Anfield, Michael never settled.

Newcastle United was a poor fit for a player desperate to retain his relevance to play at the 2006 World Cup. The televised signing-on in the summer of 2005 is an embarrassing memory to those Toon Army members who flooded to the stadium to get a glimpse of a new hero who never lived up to price tag nor reputation. When Newcastle were relegated at Villa Park in May 2009, Owen was only a substitute, dropped by his best friend in the game, Alan Shearer. By then, his hopes of an England career were done. He remains beleaguered on 40 goals where he once seemed set to smash Bobby Charlton's record of 49.

Manchester United, where he inherited Cristiano Ronaldo's No. 7 shirt, saw his capabilities only very briefly. In his first season, a throwback finish to win a 4-3 Manchester derby, and a goal in the League Cup final against Aston Villa were the highpoints. The latter had been preceded by Owen playing at full pelt, showing off what he might still do. A few minutes after the goal, Owen broke down, his body unable to live with his desire to remind what he was once capable of. The hamstring injury he suffered at Wembley ended his season on February 28.

He became a ghostly presence at Old Trafford. Fifteen appearances won him a Premier League title in 2010-11, and he even made the subs' bench in the Champions League final of that season, but his appearances were reserved for minor concerns and dead rubbers. Stoke City have seen even less of him. That Owen's 150th Premier League goal, his sole strike for the Potters, came as the consolation in a 3-1 defeat to Swansea said much about a fall from grace. As his physical powers waned, the need to succeed seemed to die exponentially. Owen became a far more familiar sight as a spectator at the main events of the horse racing calendar than he was at Premier League grounds. A refusal to take up opportunities in the Championship raised questions about his true desire to play regular football as did his lack of inclination to live away from his Cheshire pile. A sense of entitlement is little use amid diminishing horizons. It will only cause horizons to diminish more.

An inability to reinvent lay at the heart of a playing decline. As a teenager, Owen's pace was raw, but it was eventually cooked. With Fowler struggling for fitness, the younger striker was relied upon heavily. Two Premier League Golden Boots were garnered but a hamstring injury at Leeds United on April 12, 1999 was the death of promise foretold. Owen could never again run at full bore without the threat of injury. Where the likes of Ryan Giggs, Steven Gerrard and Rio Ferdinand have found ways to adapt their game as their bodies give out, Owen could not. A brief spell at Newcastle where Kevin Keegan tried him as a 'No. 10' off a main striker hinted at the use of a football brain beyond the finding of goalscoring space that never quite deserted him but that was it. His left foot was always unreliable, he was often a poor partner and spoke almost exclusively of goals. Once the gift of regular goals deserted him, he was little use to managers in a time when a front man's duties had developed far beyond pure poaching.

Too much, too soon. Despite the wonder years of 1998 and 2001 to think back on, Owen never trained on from those slivers of thrilling promise.