Assessing the Brendan Rodgers "project"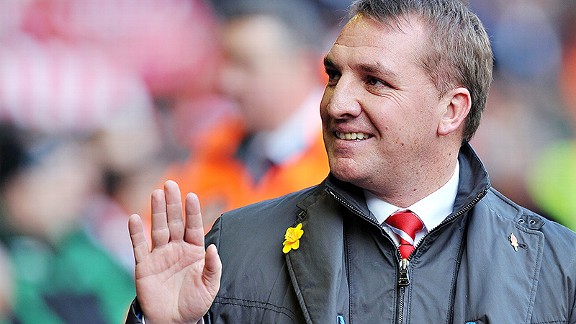 Paul Ellis/AFP/Getty ImagesIt has been a rollercoaster campaign thus far for first year Liverpool manager Brendan Rodgers.
If the jury is still out on Liverpool and Brendan Rodgers, then it might not be back in to deliver a verdict for some time.

Visually, Liverpool often look as if they are a better team this season, playing some attractive football and with that electric eel of a striker Luis Suarez to finish things off. But mixed in are disappointments like the FA Cup exit at humble Oldham and league defeats at Stoke and Southampton, where the performances were lamentable.

Last season Liverpool finished eighth with 52 points, won the League Cup and reached the FA Cup Final -- none of which was enough to save Kenny Dalglish's job. This time Rodgers might improve that league position on current form, though possibly not enough to bring European football back to Anfield next season.

So is the team going backwards or forwards?

Dalglish's transfer deals did not help his cause with Stewart Downing, Andy Carroll, Charlie Adam and Jordan Henderson all branded expensive flops. But has Joe Allen been any better? And what of the injury-scarred Fabio Borini?

Daniel Sturridge made a great start at Anfield, but there have also been glimpses of the inconsistencies which kept him on the sidelines at Chelsea. He needs to deliver a full season of high-class play sometime soon. Phillippe Coutinho has class, but disappeared against Spurs recently and might be a little lightweight for the rigours of the Premier League.

Meanwhile Downing has found his form, Henderson has improved a little, Adam has been sold and Carroll loaned out. The form of keeper Pepe Reina has not been convincing. Is he on his way to Barcelona?

Rodgers started his Anfield reign with bucket loads of charm and deference to the club's rich traditions.

He also wanted to impose the sweet passing Swansea style on his new club with Allen at the heart and a bold belief in youth. A spluttering pre-Christmas campaign led to a drastic rethink. Youngsters like Raheem Sterling, Andre Wisdom and Suso were taken out of the firing line and Allen was dropped as well.

Rodgers realised he needed old heads like Jamie Carragher, soon to be retired, back on the field and probably senior pros like Steven Gerrard warned him the team were guilty of "over-playing". Liverpool are mixing it up more and most weeks look better for it.

Through all of these travails, Gerrard has played every Premier League minute and Suarez has been largely sensational. Without those two, you wonder where Liverpool and Rodgers might be.

The supporting cast is still nowhere near good enough. The suspicion remains that Liverpool are a million miles from being title contenders (the last one was 23 years ago) anytime soon -- and still some ways from being a threat to the top four.

Next season will be the defining one in the Rodgers "project". A big money central defender will be important; perhaps the impressive Ashley Williams from Rodgers' old club Swansea.

So far the new man has neither been success nor failure, even though the pace of change seems only marginally quicker than a juggernaut truck turning in a cul de sac.