Trying to get stoked for Stoke and other existential questions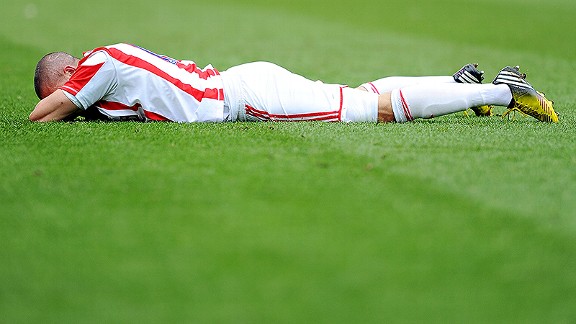 Chris Brunskill/Getty ImagesJonathan Walters and Stoke City have been in a royal funk since the new year.
On Saturday night, after watching a bunch of football matches, I sat down to have some beers and finally watch "Skyfall." I'd always meant to see it in the theaters, but football viewing tends to monopolize your time during the arduous nine-month season. No matter: It was available on demand, and being a huge fan of the first installment with Daniel Craig, I was once again willing to overlook 007's club allegiance to be regaled by heady tales of espionage and gratuitous sex scenes that did nothing to further plot development.

About two hours later, reality took hold: The whole affair felt as weary as James Bond after being shot, with an ending that was little more than "Home Alone" with a gun.

Expectations crushed, I decided it was time to catch up on some more football viewing. But I wasn't going to get sucked into another this-could-be-great match, only to end up crestfallen that another two hours of my life had disappeared down the sinkhole of time. There would be no temptress, no false hope. I was going to watch the match roundly criticized as the weekend's biggest dud – Stoke City versus West Brom.

Stoke City are an intriguing side. No, really. They sit in 11th place in what can only be described as a footballing purgatory, where the Potters have no real fear of relegation yet cannot hope this season to get a whiff of Europe. Nothing to play for, hopeless, aimless – Nietzsche would have a field day with them.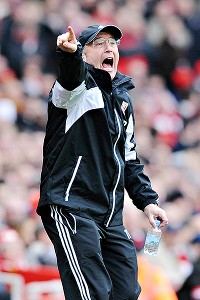 Olly Greenwood/AFP/Getty ImagesTony Pulis knows his team cannot take staying up in the Premier League for granted.
Such is the existential angst of Tony Pulis & Co. that has defined this crew's malaise. The Potters have the most draws in the league, 13, six of which have been clean-sheet snoozers. In the new year, they have the worst record of any team in the league: one win (against Reading) in 10 matches, with two draws (2-2 against Wigan and the 0-0 with West Brom). Shockingly, they have the second-fewest goals scored all season with 27 (only QPR have done worse).

Want some more ugly stats? Opta to the rescue: Stoke have the second-fewest shots on goal with 90 (only Reading is worse, with 87) and the second-lowest pass completion rate at 66.7 percent.

This is a side built not to lose but one that rarely wins. That might be acceptable for a ragtag group of players. But Pulis – with the checkbook of chairman Peter Coates – has not been shy when it comes to splashing the cash, as Stoke has the third-highest net spend (75.2 million pounds). But bringing in skilled players (a Charlie Adam here, a Tuncay there) over the years hasn't changed the modus operandi of the man in the baseball hat: stay up any way you can.

That's what made the matchup with the Baggies alluring. West Broom-Stoke is one of the oldest fixtures in world football. Plus, the Albion are a portrait of upward mobility, a team that has consistently exceeded expectations under Steve Clarke. Yet even the gaffer was downtrodden about the game (spoiler alert: it ended in a 0-0 tie). "If the games were like that every week, we wouldn't have full houses," he said after the match.

Let the footballing feast begin, I said to myself as I clicked play. My game log, as it happened:

2nd minute: Ryan Shotton gets turned by Jerome Thomas and immediately takes him out with a rash challenge. Somehow, Mike Dean doesn't see fit to give a yellow card -- and Stoke know something of discipline, having racked up the second-most yellows (60) and tied for most reds (3) in the league. Pulis can say whatever he wants about clean matches, I think, but the Potters have committed the most fouls (387) and have suffered the third-fewest fouls in the league. An appropriate strategy, you might say, for a team once infamous for the Naughty Forty, a Stoke footballing gang that kicked off in 1985.

4th minute: Asmir Begovic – one of the most coveted keepers, who is rumored to be leaving for a bigger team in the summer -- launches the first of 4,232 long balls (give or take a couple) over the top. Ben Foster typically repays the favor, while the Britannia Stadium faithful risk neck cramps as they watch.

6th minute: Already getting desperate here, with the announcers talking about how Pulis is building "a project." If by project they mean a side that has one of only two attacking methods – the aforementioned long ball, or Matthew Etherington crossing a ball in from the left in the hopes someone will nod it home – then sure.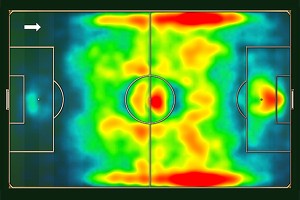 ESPN Stats & InformationThis heat map shows where Stoke are launching their attacks. It might have worked in the first half of the season, but teams are on to it now.
7th minute: Still intrigued by this "project" nonsense, I hit Opta and sure enough, the heat map doesn't lie: down the flanks, cross the ball – or just hit and hope. That's Stoke in a nutshell. And I guess you can't blame them – they've won the most aerial duels in the Prem, 680, but given the Potters' record since Jan. 1, you can safely assume that teams kind of know what is coming and can kind of prepare for it. Doesn't Pulis get that? Maybe that baseball cap has finally cut off too much circulation, I dunno.

12th minute: Starting to feel a bit woozy now as both sides show zero ambition to break on the counter, instead relying on getting as many players behind the ball. Didn't Jonathan Wilson make the argument that the ideal football score would be nil-nil? Somehow, this couldn't have been what he had in mind.

15th minute: Starting to use the cable guide to see what else is on TV. Ah, yes, much better fare: "American Splendor" and "The Sopranos." But it's taking all the willpower I can muster to not switch over to "Super Babies" with Scott Baio. I never knew Chachi had such acting range. (Sets DVR to record.)

18th minute: Would you look at Liam Ridgewell's hair -- a brilliantly sculpted pompadour.

19th minute: Begovic played it out of the back! To Ryan Shawcross! Right, now we're getting somewhere. Shawcross to Steven Nzonzi, back to Shawcross … who does his best Begovic and punts long.

25th minute: No one is running between the lines, no one is really doing anything.

31st minute: Geoff Cameron hits the Worst Cross Ever. OK, not really, but it was a lame duck. Can't help but wonder about Pulis saying how he thinks there's great value in MLS. I used to think that was a compliment for America's league; now … now I think Cameron and Shea and the rest might take a wee bit of offense given what I'm seeing here.

35th minute: Would you look at Jonas Olsson's hair? Black band, scraggly in the back -- he'd fit right in playing keyboards for a Deep Purple cover band. You also know EXACTLY what he's going to look like in another 10 years or so – the school counselor Jeff Rosso in "Freaks and Geeks."

40th minute: Poor Crouchie. He has one goal in his past 23 appearances, those halcyon days of doing the robot long gone. In such poor form, does he even have the nerve to demand free nachos anymore?


Editor's note: Blacked out for a bit after yet another cross fails to come close to hitting its target. If ever there was a half that needed Bob Uecker commentating – "just a bit outside" -– it's this one.

70th minute. Sweet Jesus, it's almost over.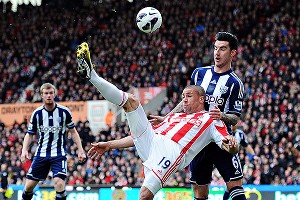 Chris Brunskill/Getty ImagesLiam Ridgewell impressed against Stoke with some decent tackles, one terrific cross (that Romelu Lukaku botched) and his hair.
75th minute: Oh, this is high comedy indeed. West Brom's Youssuf Mulumbu gets the ball with acres of space in front of him. The match – it's there for the taking. But no. "Mulumbu thought about the counter," the announcer says. He has given it a good think and clearly is frightened to death at the prospect of scoring a goal. The safe, short pass to Peter Odemwingie, then.

80th minute: "Since [Charlie Adam's] introduction," the announcer says, "he hasn't been able to get up to the speed of the match." Ouch, that hurts.

Stoppage time: Kenwyne Jones chests down the ball in the box. This. Is. It. I brace myself. Jones takes aim at his prey and toe-pokes the ball ... right to the man of the match (in my opinion), Ben Foster.


After the match, Pulis tells the media that it was a competitive game – he seemed to bare none of the emotional scars that Clarke exhibited – but also understood the existential funk Stoke find themselves in. "We should never, ever get complacent about being in the Prem," Pulis said.

That's it right there, Tony – you haven't found a way to motivate your team, to give them something to play for. The Potters are probably safe from getting sucked into a relegation battle, given the points they racked up in the first half of the season, but fighting for their survival might actually be a way to give these players a purpose on the pitch. Here's an idea: Tell them if they start bagging three points, they can all have a movie night at the end of the season. May I recommend "Super Babies"?