Should the Premier League be worried?
For most of the Bayern Munich squad, it is something they have remained staunchly defiant about. Bjorn Andersson, however, has always been a little more pragmatic.

Because, ever since the 1975 European Cup final and an unfairly disallowed Peter Lorimer goal that ultimately denied Leeds United the trophy in a 2-0 defeat, that match has been put forward as the ultimate example of the old "Bayern Dusel" -- the blind luck that has appeared to benefit the club in the biggest matches.

- Video: Wenger on Premier League's wake-up call
- Champions League draw analysis
- Mourinho vs. Drogba
- PSG's big draw
- Video: Europa League quarters breakdown

In football, of course, you still have to maximise such luck. Many of the Leeds players, though, accused Bayern of doing exactly that -- except not with their ability.

"We did not influence the referee in an unfair way," Franz Beckenbauer has maintained. "He made the decision for himself. Peter Lorimer was offside when he scored that goal."

On the contrary, a few of the Bayern players have pointed to other incidents from that infamous final. Just as notoriously, there were the Leeds fouls that damaged the careers of both Uli Hoeness and Andersson. Both had to be taken off. Andersson, however, has managed to admirably detach himself from such debates. Just this week, the Swede summed it all up for ESPN in another way. "That is how football goes," he said.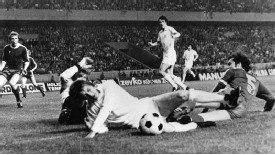 GettyImagesBayern Munich's Franz Beckenbauer tackles Leeds United's Alan Clarke as the German side go on to win the 1975 European Cup Final in Paris.
That sentiment and that particular 1975 final are especially relevant given the context of the current Champions League season.

At that point in history, neither English nor German football had enjoyed a proper spell of supremacy in the 20-year-old European Cup. Only Manchester United and Bayern themselves had lifted the trophy, with the competition having been dominated by Spain, Italy and the Netherlands. The Bundesliga and the old Division One were, however, the newly arrived forces. From there, the trophy wouldn't go beyond those leagues for another decade between 1974 and 1985. Germany claimed four titles; England seven. Bayern's three in a row would emphasise the Bundesliga's excellence before Liverpool did the same for their own domestic league by claiming four in eight years.

By then, though, Leeds were a long faded force. At the end of the 1981-82 season, in fact, as Aston Villa were winning the European Cup, the Elland Road side were relegated.

It is intriguing to ponder, then, how different an entire history would have looked for both clubs and countries had single split-second incidents such as in that 1975 final gone another way.

And, depending on how this season goes, the last two weeks may end up looking much the same.

As Wednesday's second legs in Munich and Malaga ticked into the final seconds, it wasn't just the ties that were starting to tilt but the landscape of this Champions League. Had both Arsenal and FC Porto scored late away goals, we would have had a truly democratic seven nations represented in the quarterfinals rather than the current five.

Instead, we are again discussing the existing supremacy of Spain with three teams and the rising force of the Bundesliga with two. The Premier League, meanwhile, is thrown into a debate about its position as it faces up to a quarterfinal without any English representation for the first time since 1995-96.

As with Bayern, though, such broader trends came down to much narrower margins for error. Barcelona's victory over Milan ultimately hinged on a two-minute period in which M'Baye Niang hit the post and Leo Messi made the most of an incorrect offside call. Similarly, Real Madrid's tie against Manchester United was transformed after Nani's controversial red card. Even beyond that, there was the bad luck the Old Trafford club suffered in drawing such a strong side while the Galatasaray team they finished ahead of in the group stages faced an inconsistent Schalke.

The point of all this is that, in terms of the rise and fall of leagues, it is often misguided to attach too much significance to a collection of incidents that are often no more than coincidence in a notoriously close knockout competition.

In fact, the Premier League was the domestic division to go the longest without a Champions League quarterfinal since the 1999-2000 expansion of the competition. What's more, previous failures hardly heralded long-term decline. Spain's troubles in 2004-05 were immediately followed by Barcelona lifting the trophy. Milan and Inter also won it in 2003 and 2010, respectively, straight after Serie A had suffered from the same situations.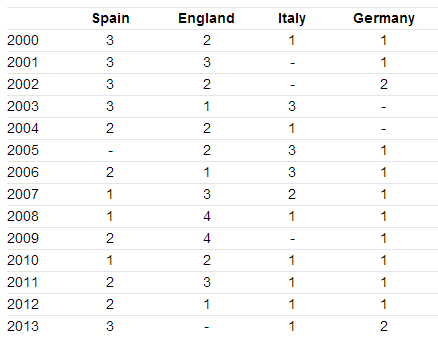 Other / ESPNFCChampions League quarter-finalists by nation
Obviously, it is impossible to deny that the Premier League is not performing as well as the peak of the 2004-09 period. Between those summers, England had a team in every final while generally dominating the latter stages. A drop from that frankly unsustainable high was inevitable and should not be confused with a decline in the general quality of the league. In fact, the presence of three Premier League sides in the Europa League quarterfinals almost proves that.

What seems much more accurate than the exaggerated talk of decline is that, at the top of the division, the best sides are at relatively unstable moments while, outside it, Spain and Germany have finally enjoyed the effects of extensive changes to their infrastructure.

Consider, after all, the quality of the Premier League sides during that 2004-09 timescale.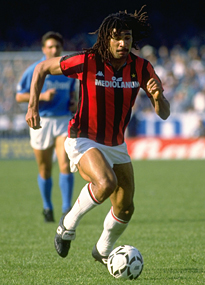 GettyImagesFormer AC Milan star Ruud Gullit says playing in Serie A in the late 80s was tougher than playing in Europe.
By winning three successive titles and a Champions League, as well as reaching another final in 2009, Manchester United enjoyed what was statistically the greatest era in their history. Alex Ferguson has spent the past three years trying to build up to a similar cycle. Over 2004-05 and 2005-06, Chelsea reflected the world-class relentlessness of Jose Mourinho's management as they racked up the highest points ratios in the history of the English league, while Arsenal enjoyed the continued energy of the Invicibles team just before Arsene Wenger seemed to stagnate.

Finally, Rafa Benitez's comfort with the tactical sophistication of continental ties at Liverpool was in stark contrast to the trouble Roberto Mancini's side have had.

In short, four English teams were at particular highs throughout that time. Since then, though, that has seemed to be the case for Barcelona, Real Madrid, Bayern Munich and, perhaps, Borussia Dortmund.

It must also be said that, while incidents like Nani's red card don't necessarily reflect grand shifts, that does not mean they don't precipitate them. Indeed, when you look through the history of European competition, it is fascinating how cleanly the eras of supremacy seem to be separated.

Spain 1955-66
Trophies: 6 European Cups, 6 Fairs Cups, 1 Cup Winners' Cup
Runners-up: 3 European Cup finals, 3 Fairs Cup finals, 1 Cup Winners' Cup final

Italy 1962-69
Trophies: 4 European Cups, 1 Fairs Cup, 1 Cup Winners' Cup
Runners-up: 1 European Cup final

Netherlands 1968-75
Trophies: 4 European Cups, 1 Uefa Cup
Runners-up: 1 European Cup final, 1 Uefa Cup final

West Germany 1973-83
Trophies: 4 European Cups, 3 Uefa Cups, 1 Cup Winners' Cup
Runners-up: 3 European Cup finals, 2 Uefa Cup finals, 1 Cup Winners' Cup final

England 1974-85
Trophies: 7 European Cups, 3 Uefa Cups, 1 Cup Winners' Cup
Runners-up: 1 European Cup final, 2 Cup Winners' Cup

Italy 1988-98
Trophies: 4 European Cups, 7 Uefa Cups, 2 Cup Winners' Cup
Runners-up: 5 European Cup finals, 6 Uefa Cup finals, 2 Cup Winners' Cup finals

Spain 1997-02
Trophies: 3 European Cups
Runners-up: 2 European Cup finals, 1 Uefa Cup final

England 2004-12
Trophies: 3 European Cups
Runners-up: 6 European Cup finals, 2 Uefa Cup finals

Spain 2005-12
Trophies: 3 European Cups, 4 Uefa Cups
Runners-up: 2 Uefa Cup finals

Such clearly defined eras do invite the question of what exactly it is that causes leagues to rise and fall, and how much we can read into the Champions League's short-term future right now.

Well, they all follow remarkably similar patterns.

First of all, they are always triggered by a distinct watershed moment. In Italy 1962 and the Netherlands 1968, it was tactical innovation. In Italy 1988, England 2004 and Spain 2005, it was extensive and infrastructural changes.

Following that, there is an extended period when their implemented changes sees them leap ahead of the field and temporarily become one of the most enticing divisions in the world. You only have to think of how many stars graced Serie A in the early '90s, how influential finance was in the Premier League in the last decade and how the two best players in the world are now in Spain. Intriguingly, though, the Bundesliga has now attracted one of the best managers in the world in Pep Guardiola.

Finally, those competitions reign in Europe for a while only to ultimately go a little stale and eventually be overtaken by a fresher idea.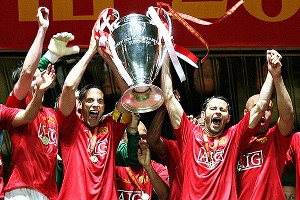 AP PhotoWinning the Champions League in 2008 capped Sir Alex Ferguson's most successful spell with Manchester United.
What is just as compelling and complex, though, is how these eras all influence and lead to one another. As the ultimate example, take what was probably the finest period of domestic football ever seen: Serie A between 1988 and 1994. As Milan's Ruud Gullit has said of the team, "It was tougher than Europe ... and there was more money."

That was down to Gullit's boss. On taking over Milan in 1986, Silvio Berlusconi initiated a broadcasting revolution that transformed the landscape of the game and the way clubs did business. Within days of buying the club, he held a news conference in which he declared: "Milan is a team, but it's also a product to sell; something to offer on the market."

Milan, however, also had so much more to offer on the pitch itself. Arrigo Sacchi's pressing game ushered in a tactical quantum leap that was taken up by the likes of Marcello Lippi's Juventus. Typically, though, the San Siro boss didn't arrive at it out of a vacuum. "Holland in the 1970s really took my breath away," he once said. "It was a mystery to me."

It was not a mystery, though, that another league soon adapted and enhanced Berlusconi's ideas. As a collective, the Premier League were much more aggressive about broadcasting and marketing. Roman Abramovich, meanwhile, followed the Berlusconi example of buying a club and wiping its debt. Such factors created the situation in the last decade whereby the division's club began to accumulate the finest players and managers. In that sense, the English competition actually became the first arguably global league, given the representation within it.

But while the Premier League attempted a top-down approach to talent, Germany and Spain generated their own from underneath. In the last few years, Barcelona, Bayern and Borussia Dortmund have most notably benefitted from the extensive changes to youth coaching that the two countries implemented in the late 80s and early 2000s, respectively.

It also puts the current quarterfinals in proper context. While the sheer cash of the Premier League will continue to make its teams competitive, the absence of such a similar level of coaching will arguably mean it can never create sides as seamlessly integrated as the likes of Barca or Dortmund. The 2009 Champions League final, when the Catalans beat United 2-0, almost distilled the entire issue.

Obviously, as Barca themselves have started to suggest, such cycles can't last for too long regardless of quality. And given such competing attributes of leagues, we may actually be entering a newly open era. The 2009-10 quarterfinals, after all, were the first since that 1999 expansion that had as many as six countries represented; 2011-12 was the first that had seven. This season came close to the same.

It was back in 2010 that Karl-Heinz Rummenigge, Bayern's current chairman and a player in that 1970s team, actually summed up the current situation.

"More than ever, football has become what German fans refer to as a snapshot in time, where only the present moment counts. The last few years, we've had English dominance; no longer."

Such defiance, though, doesn't necessarily mean England is in long-term decline.