The story behind the ups at downs at 'crazy' Inter
Andrea Stramaccioni's phone is vibrating. The Inter coach fumbles around his pockets for it. Caller ID reveals that club president Massimo Moratti is on the line. You'd maybe expect there to be some trepidation.

All week, Stramaccioni had read in the papers, seen on the TV and heard on the radio that Moratti was apparently considering sacking him if Inter didn't improve in the second leg of their Europa League tie with Tottenham on Thursday and their trip to Sampdoria on Sunday.

- Blog: Away goal antidote for il Biscione venom

Luis Figo and Beppe Baresi had supposedly been lined up as caretakers and Shakhtar Donetsk's Mircea Lucescu and Napoli's Walter Mazzarri approached with a view to taking charge in the summer.

Stramaccioni takes up the story. "Moratti called me [on Wednesday]," the Inter coach revealed. "He said: 'Hello. Is that Lucescu?' I answered [laughing]: 'No. It's still the guy from before!' He's extraordinary."

Stramaccioni told this anecdote on Thursday night to give an impression of just how strong his relationship is with Moratti. They'd been able to joke and have laugh about the situation. And their bond was only reinforced after Inter took Tottenham to extra-time.

Improbably, following their 3-0 defeat at White Hart Lane the previous week, they'd levelled the tie on aggregate at San Siro thanks to goals from Antonio Cassano, Rodrigo Palacio and an own-goal from the unfortunate but woeful William Gallas.

Had Inter's goalkeeper Samir Handanovic not parried Mousa Dembele's shot only as far as Emmanuel Adebayor in the 96th minute, gifting him and Spurs an all-important away goal, then they might have completed one of the greatest comebacks in their 105-year history, one that would have been right up there in Europe with those they achieved against Liverpool in 1965 and Aston Villa in 1990.

Alas, even though Inter managed to score again through Ricky Alvarez in the 110th minute to make the score on the night 4-1, it wasn't to be. They were out of the Europa League, but had contrived to exit with their heads held high. That's all Moratti had asked for. "We need to play for pride," he'd said. Inter had restored that and their confidence. It was the team's best showing since they'd inflicted defeat on Juventus in the Derby d'Italia back on November 3, 2012.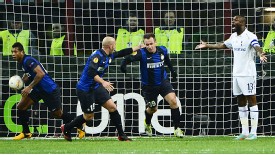 GettyImagesAntonio Cassano headed home in the 20th minute to begin a memorable fight back for Inter
It's worth returning to that time to get a grasp on what an up and down season Inter have had.

Emerging from the dressing room shortly after his team's 49-match unbeaten run in Serie A had come to an end, Juventus goalkeeper Gianluigi Buffon gave the impression that while on the one hand it was inevitable the champions would lose a game sooner or later on the other it would also take something genuinely special to beat them, particularly at home where they'd also yet to suffer a defeat in any competition since their new stadium had opened over a year ago.

"Our opponents," he said, "showed the same conviction that we had last year." It was a huge compliment for Inter, the winners that night. "They are our rivals [for the title] together with Napoli. Their squad has changed for the better and their coach is good too. You can see he has the respect of the group."

Inter had been victorious in Turin for the first time in seven years. After falling behind to a goal from Arturo Vidal that should have been ruled out for offside, they out-played Juventus. Diego Milito scored twice and Palacio got the other in a 3-1 triumph that promised great things.

It had been a tactical masterclass from Inter's young coach Andrea Stramaccioni, confirmation for many that he was in fact the real deal. La Gazzetta dello Sport's front page headline the following Monday proclaimed him: "Special Strama". Inter had won nine games in a row in all competitions. Five days later, they'd make it 10 by beating Partizan Belgrade 3-1 in Serbia. It was also their 10th straight away win, a club record. So you can perhaps imagine what mark the papers were giving their performances.

The future looked bright for Inter. Moratti had announced in August that talks had been held with a view to selling a minority stake in the club to the China Railway Construction Corporation, the aim of which was to attract the investment and expertise required to build a new privately owned stadium.

Inter's summer transfer window, while not as good as that ahead of their treble-winning 2009-10 campaign, had also arguably been the best since then, or was at least one that made some sense on paper. Deals were done for eight players, most of whom were entering their prime and had Serie A experience.

It seemed like the club was finally transitioning in the right direction and at a pace too. Things were coming together both on and off the pitch.

After the victory in the Derby d'Italia on November 3, Inter were second in Serie A, a point behind Juventus and the momentum appeared to be with them. A return to the Champions League looked like the minimum they could achieve. Now, though, even in the afterglow of Inter's valiant second leg performance against Tottenham it looks like it could be the maximum.

Since that night in Turin, Inter have been shrouded in darkness. They've stumbled around, confused, disoriented unable to find the light again until Thursday. The optimism surrounding their season had faded to black.

Four months on, Inter are sixth, 15 points behind Juventus and four points adrift of Serie A's third and final Champions League place. If the season had started the week after their win in Turin, they'd be all the way down in 15th.

So what's happened in the meantime? How could Inter go from being contenders to yet another crisis?

Many have blamed Stramaccioni, specifically for how he changes the team and the formation each week according to the opposition they face. There's some hypocrisy here. When Inter were on their winning streak between late September and early November this tactical nous of his was held up by those criticising him recently as an example of his supposed genius. It has been argued that Inter lack an identity. All of a sudden what was previously considered strength is a weakness.

There is certainly some truth to that. Lack of continuity in selection and system has been mirrored in Inter's results. Too often, recently, Stramaccioni has also got his starting line up and his tactics wrong from the get-go. If the game isn't already beyond Inter by half-time, like against Fiorentina, for instance, then he has, to his credit, managed to turn things around after the interval, like against Milan and then away to Catania when Inter came back from behind to draw and win respectively. Correcting his own mistakes is one of his greatest qualities, his detractors sneer.

Approaching his first anniversary in the job, Stramaccioni has admitted that errors have been made on his part. They were to be expected, no? He's 37 and lacks experience at this level. Yet Inter have a richly talented coach on their hands. That much was clear on Thursday night.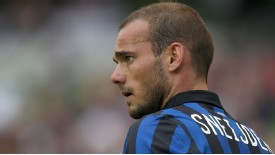 PA PhotosThe uncertainty over Wesley Sneijder's future did not help matters for Inter
You do get the impression that Moratti would have been reluctant to sack his protégé had things gone wrong again against Tottenham. Lest we forget, Stramaccioni was appointed on his intuition after winning the Next Gen Series with the Primavera. It would be a personal defeat for Moratti, a bet that he would lose with himself if he were to dismiss him. To have got rid of Stramaccioni wouldn't necessarily have solved Inter's problems either. Why? Because the blame for their current position doesn't lie exclusively with him. Far from it.

Not for the first time in recent years, Inter's board have made the coach's job more difficult. The contract dispute with Wesley Sneijder was a problem of their own making. It was their fault they'd offered him a huge renewal after the treble and the player was totally within his rights not to accept a pay-cut.

The decision to make Sneijder unavailable for selection until a resolution was found put Stramaccioni in a difficult position at a time when he should have been getting an easy ride. The story emerged in mid-November when Inter were still flying high. It invited scrutiny and pressure. There were conflicting messages and one wonders what impact it had on Stramaccioni's authority and whether it rocked the boat, contributing to it capsizing.

The handling of it by the oft-maligned technical director Marco Branca was lamentable. He had an opportunity to redeem himself once the transfer window opened again in January, but didn't and there have been reports that Moratti would like to bring Leonardo back to the club from Paris Saint-Germain to replace him.

How much Branca botched things in January compounded the team's woes. By then Inter were in trouble and in need of a fix if they were to have a chance of qualifying for the Champions League. Remarkably they came out of the window weaker, not stronger.

Sneijder's exit had become inevitable. While injuries and poor performances meant he was no longer indispensable this was still embarrassing. He joined Galatasaray for €7.5 million and rather glaringly apparently took the wages that Inter had wanted him to accept. Philippe Coutinho was also sold to Liverpool. With the benefit of hindsight that looks like a mistake. He's made a good first impression at Anfield, has potential and would perhaps have given Inter an alternative to Antonio Cassano who, though brilliant against Spurs, predictably self-destructed a couple of weeks ago and had a training ground bust-up with Stramaccioni.

The real bungle on Branca's part, however, was not ensuring Inter had adequate cover for Diego Milito should he, God forbid, get injured. Veteran Lazio striker Tommaso Rocchi was signed as his 'deputy'. It was a token gesture. As a need, it hadn't been taken seriously enough. Promising young forward Marko Livaja was also sent on loan to Atalanta.

So when deadline day passed and Milito suffered a season-ending knee injury against Cluj a fortnight later, Inter were left contemplating playing the rest of the season without a No.9, a natural centre-forward. They have Cassano and Palacio, true, but both are second strikers. They don't lead the line. They play off it.

So Inter were forced to look for an emergency stand-in for Milito outside the window, someone not tied to a club who was free and available. It's within this context that an approach was made to John Carew. He was invited for a trial and was evidently unfit. Shouldn't Inter have known that? He hadn't played in over a year. Asked what he'd been up to, Carew said: "Travelling a lot and I made a film." Needless to say, it brought derision and Inter were made fun of.

As if losing Milito and not having any cover wasn't bad enough, Stramaccioni had also been without centre-back Walter Samuel since January 6 on account of an Achilles' tendon injury. That both have been out at the same time has meant Inter have problems from top to bottom. Just how important they are to the club can't be understated. When Milito and Samuel have been in the team this season, Inter have won nine, drawn three and lost only once. With Handanovic, they're the team's most decisive players this season.

Samuel is expected back this Sunday and boy, oh boy, has Inter's defence and in particular fellow centre-backs Andrea Ranocchia and Juan Jesus missed him and his leadership. In 2013, Inter have kept just three clean sheets. They've let in three at Udinese, Siena and Tottenham and four at Fiorentina, conceding on average nearly two goals a game. Getting Samuel back fit and healthy again will go some way to rescuing a season, the objectives of which had looked compromised.

A confluence of problems, some of which were exacerbated like those relating to injuries by the bungling in the transfer window, have contributed to Inter's current position. All isn't necessarily lost. Thursday's win against Tottenham will serve as a morale boost. Inter, it must not be forgotten, are still in with a chance of lifting some silverware this season. They're 90 minutes away from the Coppa Italia final and qualification for the Champions League isn't beyond them.

Finishing third is the priority. Another year without Champions League revenue would be painful. For despite the player sales and the slashing of the payroll, Inter's accounts are still in the red. And what of those talks with the China Railway Construction Corporation? Well, they grew complicated. At best, they appear to have stalled. At worst, they have fallen through.

Moratti revealed in an interview with Tuttosport earlier this month that he has instructed Lazard, the American asset managers, to find an investor prepared to buy a minority stake in the club.

Since 2010, Inter are having to adjust to a new reality. "It's evident that we have chosen a lower profile," Moratti said. "It already happened with the Grande Inter [in the '60s]. It's not materially possible to have the same players that allowed you to win and rejoice again. You need to throw down the basis for the future and be patient."

That's the rational Moratti talking. Moratti the businessman. After Thursday night's win, however, he gave an insight into the mind of Moratti the Interista. "Us fans, when the team isn't doing well, we'd get rid of them all, but when things go better you realise everyone's quality."

It's up and down then up again at Inter. 'Pazza', as they're known: Crazy.