Champions League quarterfinals are wide open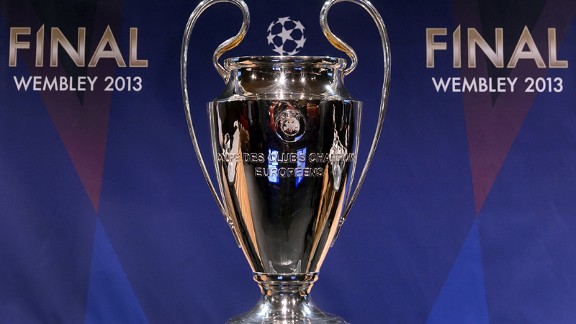 Fabrice Coffrini/Getty ImagesThe highlights of the draw: Barcelona face PSG, Real Madrid go up against Galatasaray, Bayern do battle with Juventus.
If most of the highest-profile sides managed to avoid each other in the Champions League quarterfinal draw, then it sets up the hugely enticing prospect of arguably the most epic semifinals in 13 years.

Certainly, this Champions League has a different feel from pretty much any other campaign since the 1999-00 expansion. Whereas there have generally been one or two standout teams most expect to win it, a decent field behind and one or two sides -- such as Liverpool 2005 or Milan 2007 -- that reflect the knockout nature of the competition if not quite the quality, this season we have a genuinely strong and relatively evenly matched front four or five.

- Rigg: Mourinho to face former players against Gala

Although Barcelona and Real Madrid have possibly dropped slightly since the absolute peaks of the 2011 period, they retain awesome quality. In the meantime, though, the likes of Bayern Munich, Borussia Dortmund and Juventus have lifted their game. Should four of those five get through, it would make for a semifinal lineup of abnormally focused quality and a truly open season.

In that, this is an ideal draw.

The flip side, however, is that this more volatile season might make for a few unexpected upsets. Malaga, Paris St-Germain and Galatasaray are hardly pushovers and, if their opponents all now have at least one flaw that could see them exposed in a knockout occasion, these sides have the ability to punish them.

The quarterfinal ties beyond Bayern-Juventus are not the mismatches they seem at first glance. And, if they remain quite volatile, the other refreshing aspect is the variety: no one-country pairings, reinforcing the notion of an unusually open season.

MALAGA VS. BORUSSIA DORTMUND

While the Champions League has become the entire focus of Borussia Dortmund's season, it is also the competition that has best illustrated how Malaga have amazingly retained focus. Despite all the ructions at the club and all the enforced player sales, the Spanish side has displayed admirable resilience to get this far. If Dortmund are the team with the continental momentum and therefore the rightful tag of favourites, Malaga's spirit should ensure they have to prove it.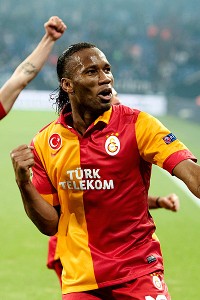 Odd Andersen/AFP/Getty ImagesDidier Drogba will be facing his old coach, the Special One.
REAL MADRID VS. GALATASARAY

Manchester United can perhaps look at this tie with a rueful smile. When the last-16 draw was made, it seemed somewhat unfair and unlucky that the English side's prize for finishing on top of their group ahead of Galatasaray was a tie against Real Madrid. By contrast, fortune seemed to be with the Turkish side. Having benefited from the layout of the group fixtures to ultimately get through, they were rewarded with a tie against one of the more forgiving group winners in Schalke. Now, Galatasaray's hot streak would appear to have ended and, worse, against a side who's luck is in. The knife-edge moments of fortune that Nani's red card represented at Old Trafford can be season-changing, and Real Madrid certainly seemed a team transformed. It will be a huge surprise if they do not successfully navigate the most lopsided pairing of the quarterfinals

PARIS ST-GERMAIN VS. BARCELONA

Barcelona may be the most complete team in Europe, but Paris St Germain possess three elements which, when they come together, can prove enormously effective in knockout competition. They possess a solid structure, the Champions League nous of two-time winning manager Carlo Ancelotti and, of course, the magic of Zlatan Ibrahimovic. The Swede, however, will be suspended for the first leg. If Barca maintain the intensity they illustrated against Milan, it will likely mean Paris St-Germain are lacking too much.

BAYERN MUNICH VS. JUVENTUS

The tie of the round, and one that pairs Bayern's careering attack with Juventus' more contained approach. Just like contrasting styles make fights, approaches make matches and the abilities of these teams also should ensure a tie that could go either way.


Europa League thoughts:

• For all the talk of the Premier League's decline, the English competition has come to dominate the Europa League. Whereas three of their sides are in the quarterfinals, all of Russia, Switzerland, Turkey, Italy and Portugal have only one each. And, given the way the draw panned out, it's difficult not to think England could dominate the semifinals too. Both Chelsea and Tottenham should be favourites in their matches against Rubin Kazan and Basel, respectively. Although Benfica probably should be expected to just about oust Newcastle, meanwhile, the differences between them are not great enough to make that certain.

• The presence of Turkey's two biggest clubs in the quarterfinals of Europe's two biggest competitions also indicates a fine season for the Super Lig -- on the pitch at least. There is also a certain irony there to the fact they face Lazio in a season when most Italian sides in the Europa League have been pilloried for some abysmal results -- Inter's second leg against Spurs notwithstanding.

• On that note, it is probably just as well Tottenham were given the most forgiving draw of the round given how they faded in the San Siro in that 4-1 defeat to Inter. Andre Villas-Boas has repeatedly spoken of how he really wants to win this competition and, as his team appears to be suffering a slight element of fatigue as well as a bit of a dip since the 2-1 Premier League win over Arsenal, a less testing challenge could just keep them afloat. A good Basel side, however, will rightfully fancy its chances.