Errors, injuries and a fervent Malaga make it a painful night for Porto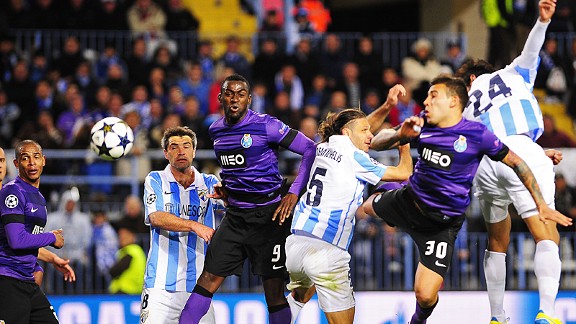 GettyImagesSanta Cruz heads Malaga into the quarter-finals at the expense of Porto
FC Porto have been here before. In 2007/08 fans of the Dragons were confident of progress to the Champions League quarter-finals ahead of the second leg of their last-16 tie. They were playing opposition not from the top table, Schalke 04. Despite a 1-0 win on the night, Porto went out on penalties. These defeats hurt so much more than falling to Manchester United, Chelsea or Barcelona. And Wednesday night's reverse will feel a whole world worse than the loss five years ago. On that occasion a sterling performance was thwarted only by a superhuman goalkeeping display from Manuel Neuer, both during the 120 minutes and in the penalty shoot-out. At the Rosaleda on Wednesday Porto did not show up.

- Cartlidge: Magnificent Isco leads Malaga to quarters
- Supersub Santa Cruz the hero for Malaga

To be more precise, somebody forgot to tell Porto that matches last more than 20 minutes. That was about how long Porto matched the hosts for, even looking the more composed side as several crisp passing moves threatened to release Jackson Martinez and kept Malaga at bay. But as the Spaniards gradually upped the ante and Porto simply had no response. It made for excruciating watching for fans of Portuguese football as Malaga increasingly tightened their grip on the match, forcing Porto into a series of loose passes, slowly drowning their overworked midfield and back line, with the visitors powerless to do anything to change the course of events.

Basic mistakes did not help. Isco was left criminally unmarked with time and space on the edge of the box for the first goal. He showed what a quality player he is with a sumptuous finish. While that was a collective error, the numerous yellow cards picked up by Porto's players were justifiable, rendering coach Vitor Pereira to lament after the match that the bookings had "conditioned the amount of aggression we could use" and that "the referee was more lenient to the Malaga players," sounding very much like sour grapes. To be fair he did go on to say, "but we did not lose because of the referee."

Indeed, Porto can have no complaints about the officiating in this tie. As well as Joao Moutinho's goal in the first leg being offside (albeit by the narrowest of margins), Porto were blessed with a huge slice of fortune shortly before the first goal as Helton's clanger allowed Javier Saviola to knock the ball into an open net, only for the goal to be chalked off for a non-existent foul.

Steven Defour's crude kick on the speeding Joaquin early in the second half was as senseless as it was costly. Already on a yellow, the referee had no choice but to send off the Belgian and an already uphill task for Porto suddenly became an insurmountable one.

Curiously, a parallel can again be drawn with the Schalke game half a decade earlier, in which Jorge Fucile had received his marching orders near the end of the 90 minutes with Porto losing on aggregate. On that occasion it served to fire up Porto, who scored a dramatic and deserved equaliser to force extra time, and briefly, on Wednesday, it appeared the ten men may pull the Portuguese champions through.

The period following Defour's dismissal saw Porto regain their composure. Taking the game into extra time, at the least, seemed a distinct possibility. But Danilo then provided more evidence that he is better attacker than defender by conceding a cheap corner, from which substitute Roque Santa Cruz headed in. There was no way back for Porto.

A returning James Rodriguez showed flickers of what he may have been capable off had he been fully fit, but by that time Jackson had run himself into the ground. As Pereira pointed out in the flash interview, "James is not in good shape from the physical point of view." Moutinho, James and Jackson - Porto's three star players. Two diminished by fitness issues, the third left to plough a lonely furrow up front for most of the match. It was too big a mountain to climb.

A telling statistic is that Porto did not force Malaga goalkeeper Willy Caballero into one difficult save all night. Malaga fully deserved the victory, showing impressive quality and even more impressive hunger. That does not make it any less painful for Porto.