Arsenal show signs of revival in glorious failure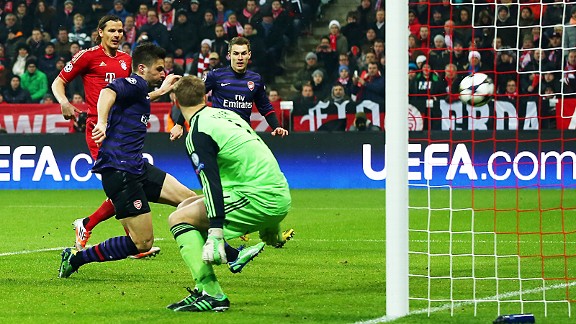 GettyImagesOlivier Giroud finishes from close range to give Arsenal the lead in Munich
Those of us who spend our Friday mornings in the company of Arsene Wenger have heard the Arsenal manager remind us time and again that the line between success and failure at the highest level of this great game is wafer thin. After seeing his side beat mighty Bayern Munich in their Allianz Arena fortress, the much maligned Gunners boss will doubtless renew his faith in his most lambasted team all over again.

- Gunners win yet bow out of Europe

After the horrors of the first leg of their Champions League last-16 tie against Bayern Munich saw Arsenal head into this game with an apparently insurmountable 3-1 deficit to overcome, the "no-hopers" proceeded to produce their most disciplined and resolute performance of this troubled season.

An early goal from Oliver Giroud and a late header from Laurent Koscielny set Bayern hearts aflutter at the venue where the Germans' Champions League dreams died in last season's final against Chelsea, but the goal that would have turned a great Arsenal display into a historic victory would not come. Shame because on a night when Bayern didn't turn up, Arsenal showed more desire to claim a Champions League quarterfinal spot.

In the end, the taste of failure lingers in the palate of the Arsenal manager and yet he must have left Munich daring to believe his team had found their soul at last. Too little too late, his critics will argue, but at least the pride has been restored in a team that ran out of admirers long ago.

This has been a season when the level of criticism flowing in Wenger's direction reached vitriolic levels, with the increasingly bleak picture painted by those paid to offer their opinions shared by an increasing number of Arsenal fans who have struggled to stay loyal to their former messiah.

However, this was an occasion when Wenger had every right to claim that the relentlessly positive rhetoric he continues to offer was given a smattering of credibility. If beating the runaway Bundesliga leaders so comprehensively on their home patch does not fuel this Arsenal team with confidence for what lies ahead this season, nothing will.

There was much to admire in a hugely improved Arsenal performance that was so much more encouraging than their often shambolic display in their most recent outing, the damaging 2-1 defeat against Tottenham in the north London derby some 11 days before.

Wenger's decision to "rest" captain Thomas Vermaelen and goalkeeper Wojciech Szczesny from his starting lineup for this trip to a snowy Allianz Arena was a rare example of the Arsenal manager punishing players for allowing their standards to slip, with those replacing his previous first-choice defensive duo doing their hopes of a prolonged stay in the team no harm.

It has long been hard to look upon backup keeper Lukasz Fabianski as anything other than an accident waiting to happen, but the Pole did a decent job stepping in for his compatriot Szczesny and it is hard to see how Wenger will find room for Vermaelen in his side for Saturday's Premier League game at Swansea after solid displays from Koscielny and Per Mertesacker at the heart of his defence.

Carl Jenkinson turned in an impressively energetic display in his full back berth and the returning Kieran Gibbs also emerged from the game with credit. Arsenal also abandoned the suicidal high defensive line that proved so costly against Spurs and showed so much more spirit in their eagerness to keep their clean sheet intact.

The theory has long been voiced that Wenger cannot change his attack-minded philosophy to adopt a more patient and defensively resolute approach, but this performance against one of the most potent attacking teams in Europe suggested the opposite was true. This may have been a Bayern side lacking Franck Ribery and Bastian Schweinsteiger, but Arsenal contained them with ease.

Their more cautious game plan came at the expense of their attacking verve, and on a night when Arsenal needed to score three goals to have any chance of making progress, Bayern will claim their progression to the Champions League quarterfinals was never in doubt.

We have, of course, been here before. Arsenal came close to a dramatic comeback against AC Milan in the Champions League last 16 last season, while they also came within touching distance of ousting Barcelona from this competition in 2011. Both times Wenger claimed his side was so close to glory and both times he saw the result as vindication for the plan he has long followed.

It remains to be seen whether this latest, glorious failure is the start of an Arsenal revival or merely the night when the Wenger way was exposed, once more, as a blueprint for continuing agonising failure.