Will win in Munich galvanize the Gunners to finish in the top 4?
Oh, what could have been.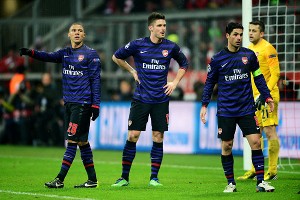 Stuart Franklin/Bongarts/Getty ImagesOut of the Champions League, Arsenal must focus all its attention on qualifying for Europe now.
Arsene Wenger can take much heart in his team's 2-0 win over Bayern at the Allianz Arena even though it still ended with Arsenal exiting the Champions League. But one has to wonder if, with a little more purpose and optimism starting in the pregame preparations, the Gunners could have taken so much more.

Like a spot in the next round of Europe's marquee tournament, for example. It was there for the taking, what with the Bavarians' confused, bemused display that seldom showed the kind of urgency or motivation you'd expect from the Bundesliga's runaway leaders. Yes, there's the obvious note that coach Jupp Heynckes has a confident but weary squad -- such is the stress of actually competing in multiple competitions -- and that the 3-1 first-leg advantage would be tough to overcome.

But Arsenal should never have come this close. The goals summed up the game as a whole: scrappy, befuddling passages of play amid a training-ground atmosphere and soporific pace. After just three minutes, a lively Theo Walcott run (it would be virtually his only one of the game) ended in a typical Walcott cross/shot that skidded across the six-yard box for an unmarked Olivier Giroud to emphatically lump into an empty net. From there, the vibrancy dissipated in a way that will trouble Gunners fans for the remainder of the season. Tomas Rosicky was erratic as midfield distributor, Santi Cazorla found few pockets in which to orchestrate and Mikel Arteta was more notable for his clumsiness than his natural poise.

Further upfield was equally disjointed: Walcott was subdued, Giroud was decently muzzled by the Daniel van Buyten/Dante combo, and it wasn't until eight minutes from time that the Gunners put together another attacking move: from a hard-earned corner, Laurent Koscielny met Cazorla's set piece and guided a fierce header in at Manuel Neuer's near post. This after a double sub of Gervinho (who missed a glaring open net from close range after a Zinedine Zidane-esque drag-back, as we've come to expect) and Alex Oxlade-Chamberlain failed to significantly inject life into a humdrum affair.

The commotion caused by Neuer's unwillingness to give Arsenal the ball back was curious, met as he was by a furious Koscielny among others; where was that level of fight all afternoon?

To their credit, Arsenal's best work was done at the back, continually forcing Bayern into speculative shots from range and poor play in the attacking third. Every so often, Heynckes' side is prone to profligacy and Wednesday was no different. Toni Kroos was shorn of space and accuracy with the ball at his feet. Thomas Muller impressed on occasion but rarely troubled Lukasz Fabianski, who looked sharp for a goalkeeper who hasn't played in nearly a month. Mario Mandzukic spent more time drawing fouls and sympathy from the referee than anything else.

As for Arjen Robben? Well, he was Arjen Robben, a frustrating fusion of erratic shots and tunnel vision in the box.

If Wenger's choice of resting certain players was done with a view to keeping players fresh for yet another top-four fight, today's nearly-there-but-not-quite effort will have mixed results on the squad moving forward. This slapdash XI nearly got the job done, and as with so many things for Arsenal this season, it was an outcome of half-measures, of goals and aspirations part completed but not met. There is the view that this was an honorable defeat, but even those don't have the same impact as they once did. With Jack Wilshere and Lukas Podolski unavailable, it was left for others to step up. Carl Jenkinson did -- despite being tricked by a Muller back heel that freed Robben on goal in the second half, he did superbly to chase him back and distract -- but the sheer beigeness of Rosicky and Walcott, of Giroud and Gervinho is inescapable.

Will this galvanize the Gunners as they pick themselves up from yet another Cup exit and battle for a spot in the Champions League next season? Only time will tell. And only hindsight could reveal if Wenger should have planned this out better.

Arsenal needed three goals to overturn Bayern Munich. It managed two. Those who remember Milan last season were hoping not to repeat it.