Barcelona can cement their place as favorites to win the Champions League
Just like that, normal service resumes.

Two little tweaks and Barcelona return to their devastating best? It's not quite that straight-forward. But it's not far off.

The 4-0 demolition of Milan on Tuesday serves as a reminder that Barcelona remain the best team in the world and, on their day, few can come close. But those few who do come close -- Bayern and Real Madrid above all -- can take comfort: There are still a number of issues for Barca coach Tito Vilanova to iron out before this team can claim to truly fire on all cylinders.

- Video: What went wrong for Milan?
- Delaney: Turning point for Barca?
- Total Football triumph
- Paul: Loss teaches Milan a lesson

Barcelona's first 45 minutes -- against a Milan team that tried and failed to implement a similar defensive strategy to the first leg -- looked impressive, yielding two goals that essentially reset the balance of power. The trademark high press was back, the rossoneri simply could not keep the ball.

Yet at the same time, the icebreaker came courtesy of one of those moments of sheer genius and brilliance for which no manager can budget. There was a freeze-frame doing the rounds on Twitter last night that showed Lionel Messi obscured by five Milan players around him moments before he fired on goal. There was no angle for the shot, there was no room in which to operate, yet somehow he not only got the shot off, he absolutely buried it. That's what Messi can do, but as a manager it's not something you can plan on him doing. Even the greatest player of our time can't be expected to pull off something like that on a regular basis. He needs teammates who can create and build chances.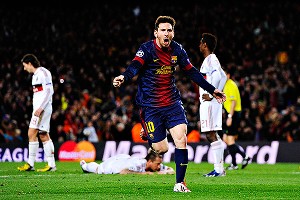 David Ramos/Getty ImagesFor Barcelona to win the Champions League, they may have to rely on more heroics from Lionel Messi -- which, to be fair, isn't that farfetched.
And the reality is that, as well as Barca played in the first half, there were nowhere near as many clear-cut opportunities as there might have been. In fact, the final count -- 12 shots on goal, eight of them on target -- is a touch on the disappointing side for a team as dominant on the night. The Barcelona of years past might have ended up with the same number of goals, but would likely have created more chances.

Barca did create three other excellent opportunities in the first half -- Andres Iniesta's effort which Christian Abbiati deflected off the bar and Messi headed wide, Xavi's long-range shot, which was also parried, and Messi's strike to make it 2-0 -- but given the way they played, Vilanova might have expected more. Equally, he wouldn't have been pleased with Javier Mascherano's mistake that led to M'Baye Niang's one-on-one with Victor Valdes which caromed off the post.

It's not about nit-picking. It's about being clinical and closing out. There is a world of difference between going into half-time 2-0 (as Barca did) or even 3-0 or 4-0 up (looking at territorial dominance and the way Milan played, it would not have been far-fetched) on the one hand and finding yourself 2-1 up, knowing you have to score two in the next 45 minutes, on the other.

The decision to play Mascherano ahead of Carles Puyol was probably correct, particularly since Milan were without both their center forwards (Mario Balotelli was cup-tied, Giampaolo Pazzini injured) and he redeemed himself in that game, helping to set up Barcelona's third goal. But the fact remains: You can't count on your defensive errors leading to chances that fall to an 18-year-old kid making his second appearance in the Champions League rather than a more clinical finisher.

David Villa's goal to make it 3-0 forced Milan to push forward. And when they did, they created little to worry Barca, yet at the same time, you felt that the home side didn't kill the game the way they might have. In fact, eight minutes from time, it nearly all went up in smoke: Bojan Krkic turned Gerard Pique inside out and his cross found an open Robinho. Only a prodigious recovery from Jordi Alba prevented the goal that would have put Milan back ahead on away goals. Barca's fourth came in the equivalent of basketball "garbage time" with the rossoneri chaotically unbalanced and there's not much to read into it.

Vilanova's decision to drop Cesc Fabregas, move Iniesta into midfield and find room for Villa was clearly vindicated. "El Guaje" gave the side the permanent presence in the box this team was crying out for and also made it more difficult for Milan to congest the middle. It helped Barcelona's possession numbers and made their pressing more effective, as well as adding to the cutting edge, banishing the sterility we saw in the first leg. It doesn't mean, however, that Vilanova should necessarily stick with it from now on. This was a particular game against a particular opponent. Barcelona gambled in the first half -- we're used to seeing Dani Alves up the pitch, but he was often the furthest player forward -- against an opponent who sat deep. Against some opponents that won't happen and they'll need a different game plan.

The ultimate take-home when you break down the individual episodes in this game is that as bad as Milan played -- and they were shell-shocked -- Barcelona failed to create as many opportunities as they might have. Or, indeed, as they used to. As Gianluca Vialli, speaking on Italian TV, put it, "A few years ago, in a game like this, Barcelona might have created 10 chances and converted four. Tonight they created five and converted four."

Equally, there is still a defensive fragility that needs to be worked on. Milan's two chances may have come from individual errors -- Mascherano and Pique -- but if you don't leave your defenders one-on-one on a regular basis, they'll be less likely to make mistakes.

Barcelona remain favorites to win the Champions League. But they will either need Messi to deliver last night's superhuman heroics regularly (which, to be fair, isn't that far-fetched) or they'll need to tweak their game plan. That means picking a squad -- and adjusting the style of play -- based on the opposition.

The good news, if you're a Barca fan, is that Tuesday's win also was a huge psychological boost. And it did not come about by accident. As the story goes, Xavi, who made his return in midfield, was instrumental in the days leading up to the game. Missing out on the Liga Clasico 10 days ago gave him a chance to view the side from the outside and pick up things he didn't notice when he was on the pitch, in the thick of it. And that meant addressing the ills, together with Vilanova, assistant coach Jordi Roura and the other senior players, leading to the changes we saw against Milan.

That same level of self-critique and analysis needs to remain with Barca between now and the end of the season. If they can do that, if they can channel it the way they did against Milan -- while at the same time not resting on their laurels and fixing what needs to be fixed -- then they'll cement their place as favorites for the Champions League.