Isco can help Malaga win against all the odds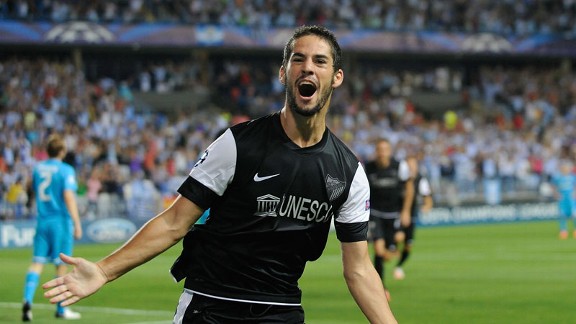 GettyImagesStarlet Isco is Malaga's rabbit in the hat
"We are prepared...are you?" was the message put out by Malaga CF this week in their viral video ahead of perhaps the biggest game in the club's history. It conjured up medieval imagery reminiscent of 300 or Game of Thrones, with an epic soundtrack, Jesus Gamez running across La Rosaleda's turf with flaming boots, Julio Baptista offering an impression of a blacksmith and goalkeeper Willy Caballero donning war paint. It was all very stirring; it will need to be too, as Malaga need all the help they can get.

- Kundert: Fearless Martinez to maul Malaga?
- Hunter: Beating Porto won't cure Malaga's ills
- Malaga boss Pellegrini urges calm

A 1-0 defeat to Porto in the first leg doesn't seem insurmountable but given the quality the Portuguese have at their disposal, how much they dominated proceedings at Estadio do Dragao and the likelihood of the Spanish side conceding here, it highlights the size of the task Malaga faces.

There was a lack of ambition about them in Portugal, Baptista's questionable selection and an anxious approach. Build-up to the second leg was slightly scuppered on Tuesday too after confirmation both Francisco Portillo and more importantly Eliseu will miss out and shall watch from the stands, which will be sold out. Eliseu returned to full training on Monday but didn't make the final cut and the vibrancy the Portuguese provides down the flank and in support of the attack will be sorely missed. His presence was absent in Portugal too and it was startling how much it impacted on Malaga, with Isco shifted out wide to offer an option on the left he was expertly and quite easily shut out by Porto. "They didn't let us breathe" said the 20-year-old post-game.

Isco though, does represent Malaga's best individual hope of qualifying for the quarter-finals. Although he didn't make the viral video this week, the organisers of it perhaps missed a trick not dressing the attacking midfielder up as a wizard. The magic and definition he can provide for this Malaga side can be truly special and it may not be around for too much longer with potential suitors all over Europe.

The boy from just down the road in Benalmadena would love nothing more than to cast a spell over Porto, making them fall before him as he produces another roll of the hips or smooth step-over. He's hardly been scintillating this season either, offering up a few special performances but more often than not playing in patches - a repeat of his stunning showing against Zenit St Petersburg in the group stages would be most welcome. He was rested this past weekend against Real Valladolid, so will be raring to go once swords are drawn on Wednesday.

Manuel Pellegrini meanwhile, in somewhat typical fashion, refused to get smothered by the occasion. The Chilean has never been a man to swing his weapons wildly and lunge in. Instead he prefers a more precise, methodical plan of attack and of course defence. "We have to be comfortable in managing out anxiety, because too much of it can lead to mistakes. We will try to make an intelligent game in all areas".

Malaga are in unknown territory too, never before having to overturn a first-leg away defeat in European competition. In contrast, Porto retain a strong record when winning the first leg at home, going through 33 times and losing out on five occasions - the last time a 5-0 hammering at Arsenal in 2009/2010, after winning the first leg 2-1.

Pellegrini cited the history of Porto coming into this game, and suggested to counter that the home crowd must play a part, "We must take advantage of the atmosphere in the ground, which will be like another player". The old cliche of the 12th man is something the fans are all too aware of, as plans are afoot to greet the team bus on arrival with cheering, songs and the odd flare or too.

Inside La Rosaleda, pieces of card have been handed out to form a special mosaic for the players who step onto the field. Malaga's main supporter group Frente Bokeron are the ones usually making the most noise inside the ground, but this time they'll have a significant backing group. A card on every single seat will mean all are involved, and on the pitch the statement will be prevalent too.

Although the individual brilliance of Isco and Joaquin is special to the team, it's exactly that, the team ethic, which has got Malaga where they are now. Pellegrini knows the collective strength will be the defining feature here, as has been the case all this season, with club rising above adversity under his command. The battle lines have been drawn with Pellegrini's demand for a "perfect game" from his team, now they must carry out the orders which have been the same all season; win against all the odds. This is Malaga.