Wenger left in need of a comeback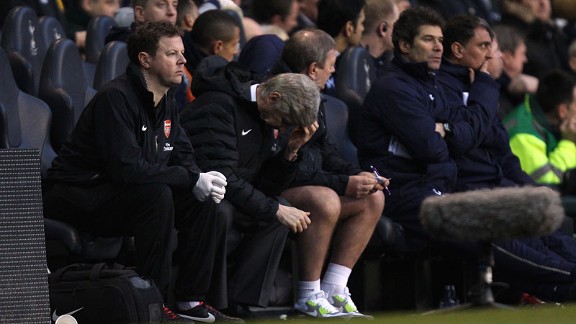 PA PhotosArsene Wenger and Arsenal endured a miserable outing at Tottenham
As Aaron Lennon was rounding Wojciech Szczesny to put Tottenham Hotspur two goals up on Arsenal, Arsene Wenger looked on in horror. As Spurs' players and staff celebrated, Wenger, having stood stock-still for a moment, made his way back to his seat. He stopped to aim a kick at the floor, and uttered a Gallic swearword. When half-time came, his head shook all the way down the White Hart Lane tunnel. Ten days previously, when Arsenal faced Bayern Munich, he had been similarly angry. After the game, he spent 30 minutes alone in a room before facing the press.

In the second half at Spurs, Wenger's team played better. These days, they always do when they are behind. There is a residual spirit among them. It just appears too late too often. It might even happen in Munich, but barring one of European football history's greatest comebacks, it will not be enough.

Wenger's repeated explanations of the psychological problem his team has when starting a game bear significant credence, but he is still yet to speak of a solution. After the North London derby, his protestations of dominating possession rang hollow. He was forced to admit that in the areas it most mattered, "in the front and in the back", his team had been second-best.

In the meantime, Wenger faces the deepest doubts of his managerial career. Comparisons with the previous season can be made, and Wenger pulled his team from their hole that time. Tottenham were reeled back in, their fans' collection of 'Mind the Gap' T-shirts and banners consigned to the drawer and withdrawn from sale.

Both clubs lost stars in the summer. For all the talk of the effect of Robin van Persie's heading to Manchester, Tottenham lost Luka Modric, Rafael van der Vaart and Ledley King - playmaker, key attacking midfielder and inspirational captain. Arsenal also lost Alex Song, the purported anchorman whose best work was done in supplying assists to Van Persie, but simply put, Spurs bought better. Lukas Podolski has shown little beyond his known ability to strike the ball, and for all Santi Cazorla's excellence, he has not lifted Arsenal. Olivier Giroud is honest and hard-working but no Van Persie.

Mousa Dembele is far more muscular and visually less creative than Modric, but Tottenham's comparative win percentage with and without him suggests he is yet more influential than the Croat. Van der Vaart has been replaced with two pinch-hitters in Gylfi Sigurdsson and Clint Dempsey, who have both contributed. Jan Vertonghen's performance against Arsenal was King-like, and perhaps decisive in preventing Arsenal drawing level. Spurs were nervous, but the Belgian provided a steadying hand.

Those four Tottenham signings would all augment Arsenal at a time their own manager's transfer dealings are beginning to fail him. The trolley dash in the panicked final hours of August 2011 yielded Per Mertesacker, Mikel Arteta and Andre Santos, with Yossi Benayoun a forgotten loan signing. Arteta has been decent, but not the defensive player Arsenal need at the base of midfield. Mertesacker has 86 German caps, but Germany are no longer noted for the quality of their defenders, while Santos is back in Brazil, remembered fondly only by admirers of comedy defending.

Even at Anfield, where defeat was a significant setback for Andre Villas-Boas' team, Dembele and Verthongen shone, and Sigurdsson might even have won the match. Arsenal may have enjoyed Spurs' defeat but Liverpool's win means there is another challenger for fourth, potentially worsening an already perilous position. Liverpool now play with a freedom that can only be a hazy memory for Arsenal. There is far less pressure on them, and Brendan Rodgers' downbeat post-match words suggest he has learned lessons in not raising expectations.

There was a brief glimmer at the start of the season where Arsenal's defending at last looked organised. Wenger's assistant, Steve Bould, received plenty of praise, and it is a measure of previous problems that two 0-0 draws in a row were hailed as a step forward. Wenger, however, did not react well when asked to add plaudits to Bould's rising reputation. To this day, Wenger takes the training, and stated that it was his methods that were working, and not Bould's. He has often pointed to his team having a fine defensive record compared to others but that only sidesteps the fact that, in games against purported peers, Wenger's team have been guilty of costly defensive lapses.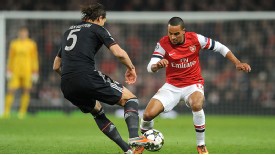 PA PhotosTheo Walcott struggled to make an impact against Bayern
Evidence of an absence of any tactical nuance abound. Wenger is not known for switching his attacking philosophy and his most recent adjustments have flopped. Theo Walcott as a lone striker was a resounding failure against Bayern.

The training techniques that were once so effective in 1996 are still employed. The drills are the same but their results are markedly different. The former revolutionary faces becoming an anachronism where even elder men have sought the help of others. Van Persie's recent praise for Manchester United first-team coach Rene Meulensteen's techniques might have been words of Dutch fellowship but also cocked a backwards snook at his previous coach.

Wenger lacks the confidante he lost when vice-chairman David Dein departed Arsenal in 2007. The two are still friends, and are still seen together regularly. Dein provided counterbalance to the manager's need to have control. Ivan Gazidis, Dein's figurative successor, was interviewed for his job by Wenger. The idea that the most powerful person at a club must be the manager is a faded concept. Even Sir Alex Ferguson has had David Gill to bounce off and must ultimately answer to the Glazer family. Villas-Boas has Daniel Levy. Arsenal's power vacuum in the absence of hands-on management by Stan Kroenke has given Wenger too much control at a time his team have won too few trophies. On the field, a lack of leaders to carry out Wenger's message is apparent.

The trip to Munich is a shot to nothing. Wenger's team will probably play well. They usually do when they are behind. How to stop falling behind is the question Wenger must answer.