No more excuses, Galatasaray must deliver
In the last couple of weeks, the Champions League tie against Schalke served as an answer, or even an excuse, to all the problems Galatasaray have faced.

Giving away two first-half goals at a Turkish Super Lig game? Well, it was the continental hangover. A goalless bore draw, then a disappointing home defeat? Well, it's probably that the team has focused a lot on the upcoming European fixture at Veltins Arena. Whatever the reason is, Tuesday's game means that there is no hiding now. This is the one. Galatasaray's make-or-break game of the season, probably.

- Dunbar: Schalke's lesser lights leading the way
- Keller promises Schalke will be ready

It is hard to summarize what Galatasaray have gone through in the last three league games following last month's 1-1 first-leg draw at the Ali Sami Yen Spor Kompleksi, where Didier Drogba and Wesley Sneijder made their Champions League debuts for the club.

On paper, there was one win, one draw, one defeat. But in reality, there was more than that. The first one after Schalke, a 4-2 win over Hector Cuper's Orduspor, is one Galatasaray fans will likely remember for a long time. Two goals down at the interval, and losing coach Fatih Terim to a controversial sending-off, Galatasaray fought back and claimed arguably their most crucial domestic league game so far.

The dramatic victory was quickly cancelled out by a goalless draw at Eskisehirspor and a bitter 1-0 Genclerbirligi defeat, which will be best remembered by a late penalty miss by Drogba.

"We are not going well in the Turkish league, especially in the last two games," Terim said in the press conference ahead of Tuesdays' match. "And oppositely, Schalke are going pretty well."

Having squandered a chance to open up a nine-point lead in the Super Lig could have been disappointing for Galatasaray, but the problems were swept under the carpet, at least until Tuesday.

If the first Schalke game proved that Galatasaray would need time before Sneijder and Drogba gel with their teammates, the following three occasions showed that they need some more.

Sneijder scored a fantastic goal that started Galatasaray's account against Orduspor, but it looks as if he is still not playing as close to the goal as he wishes. And as an intimidating presence against defenders Drogba offers, he has yet to find the net following his bright start to Turkish football, with a goal and an assist in just seven minutes against Akhisar.

Before the first Schalke game, Terim tried hard to make it clear that Galatasaray were not all about Drogba and Sneijder. Selcuk deserves a bigger piece of the media attention - currently shared by Drogba, Sneijder and Burak Yilmaz, Terim highlighted - and the midfielder duly paid him back.

Selcuk's first-leg performance, far more defensive than his usual displays, was almost impeccable. About 24 hours before the second leg, the Turkish coach tried to do the same, both trying to shift the focus off of Drogba and Sneijder and calling on the others to raise their game.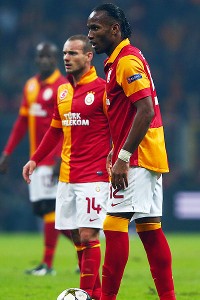 Alex Grimm/Bongarts/Getty ImagesThe mere presence of Wesley Sneijder, left, and Didier Drogba gave Galatasaray confidence going into their Champions League tie with Schalke. But supporters want to see production from the high-priced pair.
"This team was also the Turkish league leader and has advanced to the Champions League top 16 before Sneijder and Drogba arrived," Terim said. "Seeing the two players as our saviours would do injustice to both Sneijder and Drogba, and to the other players."

Terim has also made it clear Galatasaray were not unfamiliar with pressure, having entered the last three group games with just one point. But the pressure now is even higher, the coach admitted. It is clear why: Galatasaray emerged as the favourite to win the tie after their January signings, but the game in Istanbul proved that this was not the case.

Another key point is that the Schalke tie could be decided by the rumoured tension between president Unal Aysal and Terim, who was reportedly not warm with the idea of making two blockbuster signings in mid-season.

Whether the rift is true or not, it will be spiced up a lot in the media if Galatasaray lose the tie, and it will not help the club in their Super Lig run, either.

Galatasaray's Champions League story so far included two key victories over Braga and Cluj, where the Turkish titleholder regained the advantage on away soil after blowing it at home.

The Lions will try to do it again now. Burak, a solid contender for being the competition's top performer so far, said "Galatasaray is the name of a tradition that has played quite differently when it comes to European games," highlighting the game is a key for the team to achieve "what they have been dreaming all along."

That, coupled with Terim's never-say-die attitude and hope that a good portion of the Veltins Arena will be filled by Turkish expatriates in Germany, will give reason to believe that Galatasaray have yet to say the final word.

Galatasaray board member Abdurrahim Albayrak, a highly popular figure among fans, said: "It will be a really difficult game. But Galatasaray loves that kind of games." Galatasaray fans will love another confirmation to that. Otherwise, it is likely to cause more problems than just a single Champions League knockout.