Xavi brings fresh perspective to second-leg challenge
Xavi Hernandez sat in front of the television two Saturdays ago -- and what he saw shocked him.

He was watching the Clasico -- an XXX horror experience for Barcelona fans, a triple-A rating for Madridistas. Out with a minor muscle tear, he was spared the trip to the Santiago Bernabeu with the aim of being fit for Tuesday's epic prospect of trying to overturn AC Milan's 2-0 first leg lead in the Champions League at the Camp Nou.

-- Alves targets 'historic comeback'

However, it wasn't the sting of seeing the team he both plays for and supports comfortably defeated by Madrid for the second time in five days that impacted Xavi the most.

The experience of watching Barcelona play in the peace and quiet of his living room with time for action replays every couple of minutes, and away from the responsibility of being involved on match day, was salutary.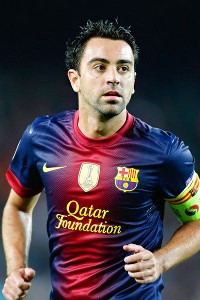 Getty Images"This is our moment," Xavi said about the match against AC Milan. "The current squad has never yet had to mount an epic fightback."
If you are in the thick of the action, even if you are a football visionary like Xavi, if you are on the bench (watching at ball and boot level), and even if you are watching from the stand because of suspension or injury -- it is a different experience.

In private, watching without any pressure, any involvement and watching while powerless to even speak to a teammate, a coach, the match delegate, stark conclusions can be drawn -- and that's what happened.

Word reaches me that if it wasn't quite an epiphany, then Xavi at least saw things he'd not been noticing while in the thick of the fight these past few weeks as Barca has slowly been letting basic facets of its play slip below acceptable levels. On the pitch when there were problems, Xavi was caught up in providing solutions, taking the weight of Barcelona's sudden sluggishness on his capable shoulders.

Sat back from the fray, he noticed more clearly that there was a lack of pressing, a lack of intensity, a decline in the amount of off-the-ball movement when in possession such that passing options were far fewer than the standard three when Barca are "flying."

It's ironic that Xavi has been one of the firmest in recent weeks in insisting that the Barca dressing room "doesn't manage itself" -- denying the concept that caretaker manager Jordi Roura is just there to count the bodies who turn up to training and feed the press at media conferences.

Barca's most experienced player has argued that it's natural to miss the guidance, the corrective suggestions, the leadership of a man like Tito Vilanova and to support the work that Roura is trying to do while his boss (and lifelong friend) is in New York fighting cancer. Xavi wants the idea that it's simple for Barca's elite players to manage by committee discarded.

Yet it does appear that he can help Roura, the absent Vilanova and his teammates by stepping temporarily into the position of "deputy" coach, no matter how reluctantly -- assuming more importance and a position of increased guidance than even the most senior players are usually accorded.

If the messages he has brought back to the squad can be consumed and applied, if his own presence is sufficient to alter the current dynamic, then perhaps Barcelona's chance of becoming the first team in Champions League history to overcome a two-goal first-leg deficit when they don't have an away goal will increase exponentially.

Over the past couple of days Xavi shared his diagnosis. "Perhaps you see things more clearly from afar. Against Madrid last week we lacked mobility in attack and intensity in defence. These ideas have won us so many games in the past and we must recuperate them. There has been something lacking. When we've been winning for so long and when other sides have had time to study us over and again perhaps sometimes it's possible to fall into the trap of not producing enough mobility off the ball without realising it.

"This is our moment," he added. "The current squad has never yet had to mount an epic fightback. We are going to need to shoot earlier, be daring in our wing play, smart in our inside passes, look for rebounds from the keeper, win the second ball -- but above all we need to play well and intelligently.

"If we open the pitch up and the pitch is fast and well watered, quite the contrary to the San Siro in the first leg, then our idea is to get the first goal and make them doubt themselves."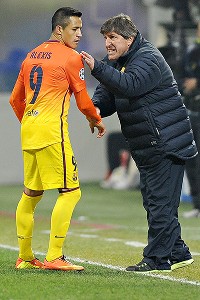 Claudio Villa/Getty ImagesBarca caretaker manager Jordi Roura, right, has to find a way to get players such as Alexis Sanchez to play to their potential.
The phrases are apt and convincing in terms of what is needed if Milan are not to take a major scalp. They are ideas argued in this column in recent weeks. But is it feasible to correct so many minor bad habits in one go? Will it be possible to ratchet through the gears from the current speed, second, and hit fifth simply because that is what is required?

In recent seasons, this point in March is just when Barcelona produce irrepressibility. Since 2009 their home scores at this stage in the Champions League have been 5-2 over Lyon, 4-0 over Stuttgart, 3-1 over Arsenal and 7-1 over Bayer Leverkusen, all but one a result that would suffice Tuesday. It is evidence that normally, this squad's fitness planning means blooming in early spring.

Notwithstanding that Saturday's victory over Deportivo la Coruna didn't feature the same starting XI that will be on show against Milan on Tuesday, there were only a few indications that the malaise is behind them and it is feasible to expect a turbo-charged performance.

Speaking with Dani Alves last week, he argued that Barcelona, at full tempo, is a side that few if any can live with. At half-pace it becomes "normal," in the Brazilian's words.

Anything other than 90 minutes (perhaps 120) of the most intense, highest-tempo football and the 2011 champions will fulfill what most of Europe predicts -- Barca's first elimination at this stage since 2007.

If you are the type to have a little flutter on a match then, perhaps, there are shrewder bets than speculating this week's wages on what would be one of the great comeback results in Barcelona's history. Anyone who is realistic will point out that such an outcome is odds-against.

Yet, football is strange, the Camp Nou is home to some spectacular players, and the least you can say is that they appear to know what is required. Light the touchpaper; stand back.