Beating Porto won't cure Malaga's ills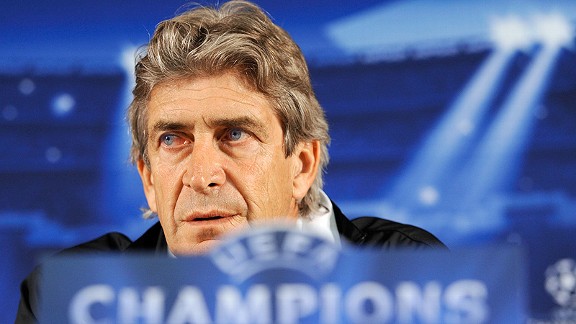 Fernando Veludo/AFP/Getty ImagesNo matter what happens Tuesday, Malaga's Manuel Pellegrini is likely to be linked to many clubs looking for a new manager.
This should be, at least potentially, a week of immense pride and joy for the footballing community in Malaga. They've never been at this elevated level of European football before, and there is only a 1-0 deficit against an admittedly very competent Porto side to overcome in Wednesday's second leg of their Champions League tie. There have been many stranger sights in recent years than Manuel Pellegrini's side conjuring up a 2-0 win.

- Cartlidge: Isco can help Malaga win against odds
- Kundert: Fearless Martinez to maul Malaga?

Speaking personally, their footballing exploits have given me terrific enjoyment and adrenalin over the last two seasons. Despite that, I have the horrible feeling the vultures are circling high above this club on Spain's Mediterranean coast.

Owner Sheikh Abdullah Al Thani first allowed Malaga to get into such an administrative and financial mess that it is banned from UEFA competition next season, while another deferred ban hangs over them if they fail to meet further conditions. Players have had to fight to receive their wages, assets have been sold and Al Thani has been an absentee landlord since last autumn.

There is a definite feeling that if this is not a football carcass it may well be within a few months. Clubs are looking to pick off the juiciest morsels.

The two absolute crown jewels are, without doubt, attacking midfielder Isco, who is like Andres Iniesta but with goals, and the elegant, patrician coach Pellegrini.

To see both of them at Chelsea next season would be no shock at all. In fact, I'd be a trifle surprised if Isco weren't at Stamford Bridge, irrespective of what happens to Pellegrini.

The Spanish tax man is being kept at bay because senior bosses there know that there will be a revenue flow every six months and because the Champions League cash is plugging some financial gaps. And while Isco lately won a new contract extension, even on the day of its PR launch he refused to rule out the idea of being sold in the summer.

My reckoning is that a deal to take his sparkling skills to Chelsea is sketched out, and it will now take some strange twists and turns (something the market can decidedly produce) for it not to come to fruition.

Pellegrini, who counts Sir Alex Ferguson among his fan base, has been so markedly successful at Villarreal, Real Madrid and now Malaga that his name is naturally being linked with potential jobs at Chelsea, Manchester City, Arsenal and even Old Trafford.

Very little of this reporting is mischief-making -- indeed, Porto must be sitting back and thinking: "If we HAD wanted to run a disinformation campaign ahead of the second leg in order to destabilize our opponents then it would have worked a little bit like ... this!"

Another who is preparing for a likely if not yet inevitable departure is centre half Martin Demichelis. Signed from Bayern Munich in the first transfusion of five-star DNA when Al Thani was wielding the petrodollars, the Argentinian has been immense both in terms of his playing prowess and his general leadership.

Last summer when the wages had long ago dried up and Santi Cazorla was being sold, Pellegrini staged a rallying call to indicate that not only was he definitely staying to sort the mess out -- but that the season might hold great achievements if sufficient staff rallied behind him. Demichelis was one of the first to say "I am Spartacus."

Now he feels ready to de-mob.

"There's real uncertainty about the entire project here at Malaga," the defender said a couple of days ago. "It appears that despite all we've achieved against the odds this season it still hasn't really motivated the owner. It's going to be a real pain, both for the players and the great fans here, if this is the end of the dream. No way do we want this great 'era' to only last a year or two. The truth is that instead of trying to improve things the message is that at the first chance to sell they will sell. If there's to be any way back then we need some sort of sign of life from the owners."

Pellegrini, for all the speculation about the imminent future, continues to state that he's not negotiating with any other club -- and this is one of the game's honorable men. But, he admits, "the season has taken a great deal out of all of us, and not only for football reasons. It's down to the club's owners what happens next."

A win over Porto on Wednesday, satisfying and lucrative though it would be, sadly doesn't hold the answer to Malaga's ailments.