World Cup qualifying: 5 big questions
While World Cup qualifying already has begun in confederations such as CONCACAF and CONMEBOL, it's time for Europe to start after Euro 2012, with the opening matches scheduled for this week and next.

Spain begins its quest to land a fourth major trophy in succession, and the rest of the field attempts to catch up.

Ahead of Friday's first fixtures, we pose five key qualifying questions.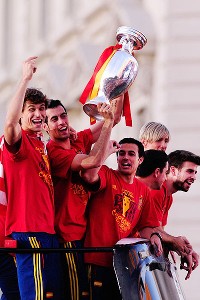 GettyImages / Denis Doyle/Getty ImagesWill Spain remain hungry to win yet another major title after La Roja's success at Euro 2008, the World Cup in 2012 and Euro 2012?
1. Where does Spain go from here?
In 2008, Roger Federer was at the height of his tennis dominance. He'd won eight of the previous 10 Grand Slams, a phenomenal sequence. But at the Australian Open that January, he didn't make it past the semifinals. It was seen as a failure, the beginning of the end of his reign.

Addressing reporters afterward, he uttered one of his most famous phrases: "I've created a monster," he said with a hint of sarcasm.

"Winning every other week, lose a set and people say I'm playing bad. It's my own mistake, I guess," he added.

The Spanish -- perhaps we could call them a collective Godzilla -- know the feeling. When Spain managed only a draw with Italy to begin Euro 2012, some likened it to a defeat. A narrow win over Croatia did little to reverse the negativity.

Of course, the Spanish came through.

Having achieved the unprecedented Euro-World Cup-Euro treble, it's justifiable to wonder if the hunger remains. Yet moments after crushing the same Italy in the Euro 2012 final, several on the Spanish squad said they were looking forward to the 2014 World Cup.

"This is a unique, unforgettable generation, but we can't stop now," defender Gerard Pique was quoted as saying by The Guardian. "We have to try to keep winning until our bodies give up and say, 'No more.' Then we'll retire."

Manager Vicente del Bosque said there was a tradition to uphold. "It is important that we are always an example for the people who are watching our games," he said last month. "We know that we have to play well and have to look good."

Worth monitoring is Xavi, one of those whose bodies might be on the verge of folding. The Barcelona midfielder, slowed by lingering injuries, turns 33 in January. And even though Euro 2012 standout Andres Iniesta is only 28, he's even more slender than Xavi.

Motivation won't be an issue for recalled striker David Villa, who missed the Euros when he fell short in his attempt to recover from a broken leg. The return of Villa, Spain's all-time leading scorer, may lead to del Bosque utilizing a recognized striker. Like it or not, the tiki-taka will remain.

2. How will the Dutch respond?
As the Netherlands were imploding at the Euros, manager Bert van Marwijk reminded everyone he had a contract until 2016. But when the Dutch finished without a point, you knew van Marwijk wouldn't be at the helm come September.

And so it proved. Van Marwijk took the proactive approach by resigning, no doubt bruising the ego slightly less.

Stronger personalities than van Marwijk in the past have failed to control Dutch malcontents, but it wasn't just about the egos. Some of the coach's moves in Ukraine smelled of panic. His starting formation often confounded, and when things weren't going as planned as games unfolded, he simply brought on every attacking player he could.
Over to you, Louis van Gaal. The Netherlands can only go one way, and thus van Gaal's timing is good.

As expected, van Gaal, who rules with an iron fist, has made changes. Veteran and former captain Mark van Bommel, who particularly fizzled at the Euros, is no longer in the reckoning, and van Gaal omitted Rafael van der Vaart, Nigel de Jong and Ibrahim Afellay for games against Turkey and Hungary. Van Gaal said his decision was based on the trio having moved to new clubs, although he heavily criticized de Jong after the Netherlands lost 4-2 to Belgium in a friendly in August.

According to reports, van Gaal, too, told Robin van Persie he'd be on the bench, behind Klaas-Jan Huntelaar. A big call.

Van Gaal himself resigned when the Dutch failed to qualify for the 2002 World Cup. His second spell won't bring the same disappointment.

The true test for van Gaal and the Oranje comes in Brazil.

3. Up or down for the English?
Further proof that the FIFA rankings don't mean much: England rose to third in the August edition ahead of, among others, Italy, Portugal, Brazil and Argentina. England indeed came away from the Euros with its head held reasonably high, but a spot in the top three was hardly warranted.

Not much was expected back home from the Three Lions in the summer, and the overflowing, often ferocious British media pack wasn't being overly gloomy, either, heading into Euro 2012. One manager left four months before the tournament kicked off, his replacement wasn't a popular choice, and the nation's top player was out for the first two games due to a suspension.

In Poland and Ukraine, Roy Hodgson fostered a solid team spirit, England coped without Wayne Rooney well enough and Hodgson formulated a side difficult to break down. Whereas quarterfinal exits in the past have been seen as substandard, reaching the last eight at Euro 2012 wasn't a failure, especially because England was placed in a tricky group.
Now the hard part begins for Hodgson. His mandate was always to lead England to the 2014 World Cup.

At some stage, England will need to dispense with the old and bring in the new. Experiment. But will Hodgson gamble and phase out John Terry, Ashley Cole, Frank Lampard and Steven Gerrard, all of whom will be at least 33 when the first ball is kicked in Brazil? Unlikely, because his job would be on the line with a string of bad results.
All four were included in the squad for games versus Moldova and Ukraine, and Hodgson in recent days said he was convinced Gerrard and Lampard could play together in midfield. Still talking about that? Really?

Hodgson knows the current batch will be capable enough of finishing first in a World Cup qualifying group where England's stiffest competition comes from Ukraine -- in England's group at the Euros -- Poland and Montenegro, second to England in their Euro 2012 qualifying group.

The way it stands now, however, exceeding the quarterfinals in Brazil would come as a surprise.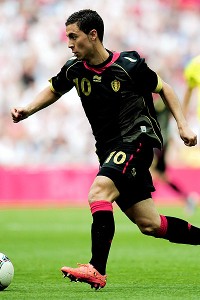 GettyImages / Shaun Botterill/Getty ImagesBelgium is loaded with individual talent like Eden Hazard, but getting all those players to click has been a challenge.
4. Can Belgium deliver?
Marc Wilmots, an attacking midfielder in his day, is now the man in charge of trying to get all of Belgium's individual genius on the same page.

"Look at Portugal -- in the past always a team of individuals, now a solid block," Wilmots told UEFA in August, referring to the Euro 2012 semifinalists, after replacing Georges Leekens. "First we have to learn to work together. No more excuses. We have excellent players but have not achieved anything yet."

Not for 10 years has Belgium played in a World Cup, and the last time the Red Devils qualified for a Euros -- they were a co-host in 2000 -- was in 1984.

Glancing at the wealth of talent in Belgium, they're hard statistics to digest.

Eden Hazard, who has made a fine start to his Chelsea career, was bought for more than 30 million pounds (about $38 million) in the summer transfer window. Zenit St. Petersburg swooped in for Axel Witsel for roughly the same price, and Tottenham paid Fulham 15 million pounds (about $19 million) for the services of another midfielder, Moussa Dembele, who joined compatriot Jan Vertonghen in North London.

Everton's Marouane Fellaini destroyed Manchester United in the Premier League's opening weekend, with Vincent Kompany and Thomas Vermaelen among the league's most coveted central defenders.

Up front, Kevin Mirallas and Christian Benteke signed with Everton and Aston Villa, respectively, although Romelu Lukaku has the potential to be the star performer. Often compared to Didier Drogba, Lukaku made an impact for West Bromwich Albion on loan in his two league appearances.

Belgium must perform as a team, as Wilmots said, because its group includes two sturdy, skilled nations, Croatia and Serbia. The latter, like Belgium, finished third in its qualifying group, embarrassingly beaten to the playoffs by Estonia. Scotland, meanwhile, can be difficult to crack.

5. Can Deschamps control the French?
Where have we seen this before: Respected World Cup winner who enjoyed success as manager at club level takes over the French national team, seeking to repair past foibles?
Laurent Blanc was the first in line, and Blanc succeeded in achieving his first goal, qualifying for the 2012 European Championships. A modest target, some would say, but after the upheaval in the French camp at the 2010 World Cup, it was something to build on.

But then came the tournament itself.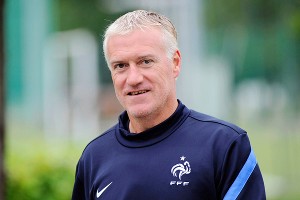 GettyImages / Bertrand Guay/AFP/Getty ImagesDidier Deschamps' "principles," as he put it, are respect, humility and pleasure.
Unbeaten in its first two games, France ended the tournament with two straight defeats. Blanc was justifiably criticized for his team selection against Sweden in the group stage, though the conduct of Samir Nasri, Jeremy Menez, Hatem Ben Arfa and Yann M'Vila was disgraceful. Ben Arfa and M'Vila turned on Blanc, proving they have growing up to do. If nothing else, Blanc was supposed to control the dressing room.

What chance for Didier Deschamps, who was named coach in July?

He's been described as a disciplinarian; left back Gael Clichy said mobile phones have been banned in certain areas, and fines for breaking the rules are stiffer. Deschamps didn't call up M'Vila and Ben Arfa for matches against Finland and Belarus. He did select Menez, who served a one-match ban from the federation. (Nasri is still suspended.)

Deschamps' "principles," as he put it, are respect, humility and pleasure.

France probably won't win its group, because Spain lurks. That then would mean the playoffs, where things could get tense. There are sure to be bumps along the way, and only then will we see if Deschamps can keep everyone happy.