FA Cup draw between Chelsea and United raises more questions
FA Cup games are rarely transformative events. Just ask anyone who lumbered through Millwall vs. Blackburn earlier in the day. But the drama at Old Trafford -- not to mention the many questions it raised about both Manchester United and Chelsea in the frenetic 2-2 draw -- was more than enough to erase any viewer fatigue.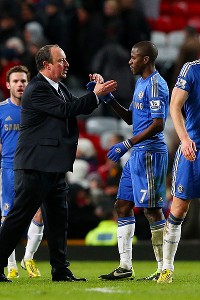 Alex Livesey/Getty ImagesCredit to Rafa. His substitutions helped turn the game around at Old Trafford.
First off, how much did the Nani red call fall-out linger in United's hearts, minds and legs? With a brutal, dismissive opening quarter-hour that saw two gorgeous goals and little obvious weakness, it seemed that Sir Alex Ferguson's rancor would be replaced by a customary ruthlessness. First, Javier Hernandez guided a glorious header over Petr Cech from Michael Carrick's Pirlo-esque delivery after neither Cesar Azpilicueta nor Gary Cahill bothered to track the striker's run. Then it was the much-maligned Wayne Rooney (we'll get to him later) to impress, curling a free kick through the header-seeking masses in the six-yard box to beat Cech comfortably at his back post.

Yet the game quickly ebbed from the home side as United's spirit (or, more certainly, its fitness) gave a counter-attacking Chelsea side every opportunity to fight its way back into the game. With most teams favoring a high back-line in recent weeks to compress games in the midfield, Fergie's side sat squat on the edge of David De Gea's box, shepherding the Blues around the area and forcing them to move laterally. It wasn't pretty, but it was effective until the second half when Chelsea's interim manager Rafa Benitez finally went to the subs' bench.

The rare occasions that United did attack after the interval only played deeper into Chelsea's approach, proffering plenty of room in the midfield and the attacking third for the Blues' trio of speedy playmakers -- Oscar, Juan Mata and Eden Hazard -- to benefit.

Secondly, what are we to make of Benitez? Beginning the game with some puzzling selections -- John Terry and Hazard benched, Demba Ba preferred to Fernando Torres (the former turned in a quiet performance, as things unfolded) and Ramires installed in defensive midfield -- only served to make way for his transformative switches. First, Frank Lampard was withdrawn for John Obi-Mikel, a more cautious holding presence, and Hazard was introduced for the ineffectual and wasteful Victor Moses.

The double swap made it impossible to tell which team was cruising to a Premier League title and which side was simply trying to cling to a spot in the top four with an embattled interim manager at the helm.

Hazard's speed and brio were too much for United's stubbornly deep-set defense. Within seven minutes of coming on, the Belgian froze Rafael on the left edge of the box and curled a shot majestically into the top corner, De Gea a helpless spectator. A moment of fortunate brilliance, perhaps, but it was just the beginning. Nine minutes later, an aggressive, end-to-end counter-attack yielded the equalizer: Oscar, Mata and Ba all combined in the upfield surge that Ramires coolly capped, cutting inside his marker at the edge of the box and bending it in off De Gea's fingertips.

As a venue and fanbase, Old Trafford rarely has felt so neutered. The remaining 20 minutes played out like a riot in the Man United area, with De Gea pressed into a string of game-saving stops. The highlight? An instinctual stoppage-time leg-flick to deny Mata after an elegant control-turn-and-shoot that left Jonny Evans tackling air. For all the mockery and punditry aimed at De Gea's aerial uncertainty, today's performance left little doubt as to his raw quality.

Then there is the biggest question of all: the Rooney conundrum. His early goal was the perfect antidote to a week of op-eds and articles musing about his Man United future, his fitness, his commitment, his role in a rapidly evolving squad rich with more mobile and more intelligent forwards (in particular, the evolution of Danny Welbeck into a perfect partner for Robin van Persie), his inherent Englishness, his hairline and so on.

Everything about Wazza has been under the microscope since Tuesday's CL disappointment, but Sunday did little to dispel the rising tide. Exhausted at the interval, he was a passenger in the second half, perfectly placed in midfield (even shunted to the left flank so Kagawa could orchestrate) to watch Chelsea swarm past him en route to goal. Offering little of the bite or nous that have so often defined him, his soul-searching might be a long journey in the end.

Could a better striker than Torres have dispatched one or two chances at the death? Could Nemanja Vidic have offered the authority that Evans lacked as the game wore on? Would Chelsea have routed the Red Devils if Hazard had played the full 90? Just what does Rafa scrawl on those touchline napkins?

So many queries, so little time, though it seems odd to have so many for a game that ended with honors shared and a replay for us to savor.

Sunday's draw ended as desperately as it began. I, for one, can't wait for the replay. The best part might be that Man City awaits whichever team is still standing.