Redknapp seeking 'Mendes moment' for Rs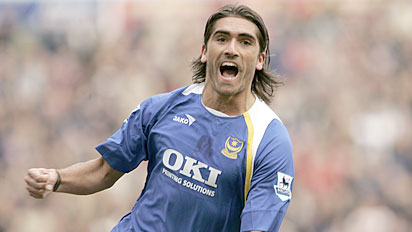 EmpicsPedro Mendes lifted Harry Redknapp's Portsmouth side in 2006
Whatever happens against Sunderland on Saturday, we're highly unlikely to hear any lines from Harry Redknapp that he was only concentrating on his own team. In fact, he's already admitted he's simply unable to do that.

Because, at the exact same time as QPR host Martin O'Neill's side, there will be a game on up the road which may have as much - or even greater - effect on the Loftus Road side's survival chances. Depending on how Reading v Aston Villa goes, QPR might have safety in clear sight or be once again cut adrift.

The potential differences are that extreme; it's that kind of day; it's that stage of the season.

"I don't block 'em out," Redknapp admitted on Friday. "I look at every game. I put myself through the agonies. I'd be a liar if I said otherwise. It's probably silly really. It's agony!"

At the least, Redknapp is viewing at things from a slightly easier vantage point. In fact, he's looking at it all from a very different perspective altogether. Because, having earlier been asked about International Women's Day at his Friday press conference - and gone out of his way to praise the standards of the female game and the potential of a woman one day managing a Premier League side - Redknapp came up with a rather distinct analogy for the effect of a win on a team.

"Oh, it's been much more pleasant. Your whole Saturday is different," he said. "Everything is different, the whole world looks different. It's like when the summer comes and you see all the girls walking about in miniskirts. When the sun's out, all the girls look fantastic."

Quite.

A more appropriate parallel, perhaps, is an incident that Redknapp has already spoken about this season: a 'Pedro Mendes moment'. Before Christmas, the QPR boss mentioned the last-minute winner the Portuguese midfielder scored in his Portsmouth side's eventual 2-1 victory over Manchester City back in March 2006. It completely changed the mood around Fratton Park and kick-started their survival push.

And, given everything that preceded it with the stories about the Dubai trip, given how the game went and given how late Jay Bothroyd's winner came, Redknapp feels that last week's 2-1 win away to Southampton could have an identical effect.

"I think last week was massive for us. The three points really changed everything, you know," he said. "In all honesty, if you looked at last week, we probably would have taken something - 'Don't get beaten today' - but to go and pick up three points was great for us. And I've noticed the confidence of the players this week. They've looked really bright, so we're ready for tomorrow now.

"It was important for us. It kept us in there. We were getting cut adrift a bit. Wigan were seven points in front of us, Aston Villa seven... if they'd won over the weekend and we'd have lost, it could've been 10 points. You'd think we are definitely [down]. But that really closed it all up, from being a possible 10 to suddenly four, which is a big difference."

In other words, safety has transformed from a relatively intangible target dependent on a few first big steps, to something QPR can almost touch. Redknapp, however, feels that the Southampton win should certainly have a knock-on effect on the Sunderland fixture. In other words, QPR need to start racking up wins. They haven't done so at all yet this season.

"I don't know why it is so hard, but it is about time we did it. We've got to do that tomorrow," he added. "If we can get that win it would put us right in amongst the pack again. It would put us right in there with a real chance."
If they don't, of course, many are starting to fear the consequences for the club given the latest published financial figures and a wages-to-revenue ratio of 90%.

Redknapp rightfully says the numbers precede his time, since they go up to the year ended May 31, 2012, but the policy has continued during his stint in charge. He did bristle at any comparisons to the Portsmouth situation.

"There is not going to be meltdown because of something I've done," he said. "If the [financial] results aren't good that was before I came to the club.

"I hope [there's not going to be a situation similar to Fratton Park], but I don't know the situation of the owners no more than I knew the situation of the owners at Portsmouth, who was a young Russian guy who was a friend of Roman Abramovich. When they buy the football club you don't know whether he is richer than Abramovich, so when they want to spend money on the team, what do you do? You don't say 'I'm sorry you can't spend that money because I don't know if you've got it or not.

"I don't ask the chairman to spend his money. If he wants to bring a player in then so be it. As a football manager I can't make someone spend money, some clubs spend, some don't but the manager can't force anyone to spend money. If you see a player you ask, but no club has to let you spend the money.

"I could go to the board and say I want to buy whoever, and they say no we can't afford him, well that's the end of that. It's their decision, you don't say 'you better spend some money and buy these players', it's their choice. They only have to say no to any manager, 'no we're sorry we haven't got that money, we aren't going to spend it.

"After I left, Portsmouth spent money. When you looked at Portsmouth's situation they sold players for over £100m. Diarra to Real Madrid for £22m. Sully Muntari to Milan.

"Whereas here, I only know the players I have bought since I came here and you won't have any problem if the worst came to the worst if you wanted to in selling [Christopher] Samba or [Loic] Remy.

"They are good players and they are worth the money that we paid for them. There will always be buyers for good players. Selling bad players, overpaid bad players is the difficulty. That's where you can get in trouble. You can always sell good players. There is not a market for bad ones who get too much money, that is your problem."

Redknapp, of course, hopes such players save the club in a very different way.

"[Remy] is important to us and if he can weigh in with some goals, which he can, he's already scored two," he concluded. "He's a good player and I'm sure he can do well.

"Chris Samba I thought was amazing last week. He was outstanding at Southampton, every ball that came in the box he headed away and he was one of many good performances.

"Tomorrow's just another big game on the back of last week. If we can make it back-to-back wins, it would make such a difference. Six points out of these two games would be massive for us, so we've got to have a real go tomorrow and see if we can do that."

Then, of course, things would look very different. And, depending on what happens at Reading, QPR might even be skirting with survival.