History in danger of repeating itself at Villa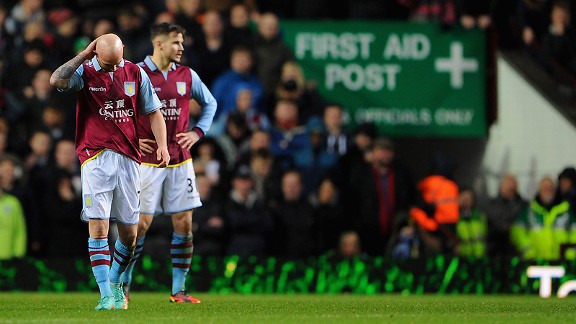 GettyImagesAston Villa are in real danger of being relegated.
In the shadow of Villa Park stands a statue. It isn't a former player or manager; it is William McGregor, the man credited with founding the football league as we know it today. It serves as a constant reminder of the importance of Aston Villa in the tapestry of English football, something that has taken an altogether more poignant relevance as they flirt so dangerously with relegation.

- Hughes: Relegation run-in begins at Reading

If the Villans finish in the bottom three places come May, it would be the first time in nearly three decades. 1987, the year British Airways was privatized and "The Simpsons" debuted as a sitcom, Aston Villa propped up the First Division after winning just eight games all season.

To make matters worse, it had been just five years since that night in Rotterdam when, as English champions, Aston Villa defeated West German league winners Bayern Munich 1-0 at De Kuip to win the European Cup -- Peter Withe slotting home to cries of "it must be" from commentator Brian Moore.

Yet for those with a memory strong enough, deja vu rather than nostalgia comes to the fore as the parallels between the team of '87 and present day lurch into consciousness.

"It was desperate," Tony Dorigo said of the Villa dressing room when their fate was sealed. The season had started poorly under boss Graham Turner. Perceived as a young up-and-coming manager after winning the third division with Shrewsbury Town, his time at Villa Park saw little gained. Sacked in September, he was replaced by the more experienced Billy McNeill.

Four Scottish league titles with Celtic were supplemented by a Division Two winners medal at Manchester City, the club he left to join Villa. However, as striker Gary Thompson recalls, McNeill's reputation as one of the Lisbon Lions did little to help him. "He just didn't impress," Thompson told the Birmingham Mail. "People say don't get close to your heroes because they disappoint you."

Despite his own career as a centre half, there was little McNeill could to do remedy Villa's young defence. The club was blessed with future England internationals who would go on to enjoy fruitful careers after their association with Villa, but too often their inexperience was highlighted by wiser opponents.

Instability on the pitch was matched off it. As the season ran to a climax, it seemed Dorigo was set for an exit. "They tried to swap me to Chelsea with the striker they so desperately needed, David Speedie," Dorigo recalled to ESPN. "To me, it was a huge shock. I was picked up by the chairman and taken down to Chelsea. We had a standoff in a London hotel. For me it was a strange time."

The naivety of youth is a curse that has surfaced this season. While Richard Dunne and Ron Vlaar stand above their teammates at 33 and 28 years old, respectively, in their absence youth has been tasked with halting the attacking lines of the Premier League.

Despite both iterations of Villa being commanded by a 28-year-old goalkeeper (then Nigel Spink, now Brad Guzan), the youth-centric approach comes with the potential for the kind of poor judgment that afforded Manchester City the only goal of the game in Villa's 1-0 defeat Monday night.

Once a victim of the same problem, as Dorigo explained, the nature of the modern game makes a young defender's blemishes hard to forget. "Of course every little thing is highlighted," he said. "There's no hiding place for these young lads; they're making the mistakes in broad daylight and they're going to see it 10 or 20 times on TV and such."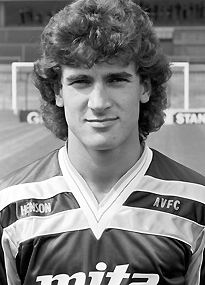 PA PhotosTony Dorigo was part of the Villa side relegated in 1987.
Monday night also represented a return to previous pastures for Gareth Barry and James Milner, two cogs of Martin O'Neill's Villa side that consistently challenged for the top six. The pair made Villa 36 million pounds when switching to City, but along with the likes of Martin Laursen, Olof Mellberg and Ashley Young -- all of whom departed the midlands in differing directions -- none was replaced.

That is in part due to the enforced parsimony of chairman Randy Lerner. Having provided O'Neill with an ample budget to achieve his goals, there were both successes and failures -- such as Moustapha Salifou, who spent four years at the club and made fewer than a half-dozen appearances.

Although the more extravagant instances of mediocrity were the pressing concern: Habib Beye cost the club a reported 8 million pounds in wages and fees, and Emile Heskey was granted 65,000 pounds per week for three years in his early 30s. O'Neill undoubtedly attracted some talented players, but Villa's inability to sell-on his poorer purchases hampered the club financially.

As a consequence, it seemed Lerner wished for a more considered financial approach. The funds were cut, but without any of the aforementioned players replaced. That burden was placed on mercurial assets like Charles N'Zogbia and Stephen Ireland as well as the club's young academy products. Just like in '87, Villa has also been hampered by injuries this season, losing arguably the most talented prospect, Gary Gardner, to an anterior cruciate ligament injury.

Just as in the new year period of 1987, no significant transfers were made. In fact, the Villa side of that season was weakened just before Christmas as Steve Hodge joined Tottenham Hotspur. For the current generation, Yacouba Sylla and Simon Dawkins were brought in. Potentially decent additions, neither held the gravitas or possessed the leadership skills that were required for a spine in need of galvanizing.

In a desperate bid to avoid what they branded "the unthinkable," the Birmingham Mail wrote an open letter to the club's owner last month. The absence of Lerner's voice or any real communication with the fans has caused concern, which has led to frustration. "Over to you, Randy," their letter read. While they acknowledged the nigh 200 million pounds he has invested, few can contest that with such a considerable hike in next season's television revenue, it seems wise to speculate now and accumulate in the summer.

For those in '87, the writing was already on the wall long before their last game. Thompson was settling in with his new club when two of his former teammates from Sheffield Wednesday pitched up to watch training. What they saw left them concerned; both admitted to him that they felt Villa's setup would see them struggle.

Their plight may have been prolonged had it not been for Graham Taylor. Thompson likened him to a whirlwind as Taylor began his tenure by slaughtering the club's underperforming stars, including Thompson. Most of the current Villa squad were still to enter the world when Taylor was reshaping the club they now represent, but just as they must be conscious of the history that preceded them, they must also remember they hold the power to dictate the club's future -- a heavy burden for young shoulders.