Questions remain over Rooney commitment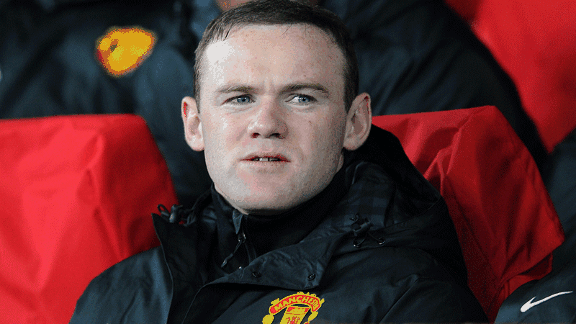 PA PhotosWayne Rooney may follow in the footsteps of David Beckham and Ruud van Nistelrooy by leaving Manchester United after being dropped for a major game
As Sir Alex Ferguson told the Manchester United squad the starting XI for the Real Madrid match around two hours before kick-off on Tuesday, Wayne Rooney wasn't surprised.

The forward, according to those at the club, had been informed of his omission the day before. Unlike Rooney, though, the football world was not expecting the decision and it led to an awful lot of shock - as well as speculation about the forward's future.

The key to all of the reports that United are now considering the sale of the forward, however, is not that Tuesday's benching triggered them. Rather, Ferguson's decision brought it all to the fore.

Rumours that United have been contemplating the sale of Rooney, and that his relationship with the manager is more strained than ever, have been doing the rounds for weeks. After Tuesday night, though, many more people around Old Trafford and Carrington were willing to speak more freely about the persistent talk at the club.

The root of the problem goes back to the start of the season and, typically, Rooney's power play way back in October 2010. More than anything, the forward's public doubts about "the continued ability of the club to attract the top players in the world" in that hectic week have really stuck with Ferguson. It has always lingered and has never gone away.

Except, last summer, United did sign the type of "top player" Rooney requested - which they had arguably not done since 2008. Ferguson reasonably expected that the signing of Robin van Persie, and the potential effect on the Englishman's place in the pecking order, was that the No. 10 would rise to the challenge and that it would raise the standards of everyone for the overall betterment of the team as a whole.

Instead, Rooney responded by coming back from the summer above his expected weight. In Van Persie's first game, a 1-0 defeat away to Everton, Rooney produced a conspicuously laboured and lethargic performance at his old club that reportedly had Ferguson fuming. As one source said, "he did the opposite" to what the manager was expecting.

Worse followed after the player's injury in the subsequent win over Fulham. During his time out, Rooney apparently didn't fully adhere to his gym plan and his optimum weight remained an issue. At one point, Ferguson reportedly told the forward that he "has come back from every tournament with England out of shape".

Of course, all of this only fits the wider pattern of their relationship since the 2010 World Cup. Essentially, every season has panned out in a broadly similar way: Rooney starts slowly, develops an issue with Ferguson - in 2011-12, it was surrounding his omission from the Blackburn Rovers defeat at Christmas, which Mike Phelan did wonders to soothe over - before eventually finding sufficient form and fitness to produce his best, match-winning form and ensure all the problems can be temporarily forgotten again.

That, of course, is why it is by no means definite Rooney will leave this summer. Although United will consider offers and have already informally touted him to Real Madrid - with no success - they are conscious of getting the right bid and ensuring a suitable or superior replacement comes in.

Given Rooney's contract is up in two years, as well as the fact he would prefer to stay in England, it is doubtful whether that 'right bid' might ever arrive. So far, only Paris Saint-Germain have expressed a tangible interest. Ultimately, the issues between Ferguson and Rooney have never truly gone away and it is possible we've reached a tipping point.

Only adding another level to all of this, there is the debate about whether the truly top player that Rooney could have been has now gone away forever. Undoubtedly, he will go down as one of United's greatest ever players: he has one of its finest ever medal collections; has played an influential role in securing all of those medals; and has probably been among the top 10 in the world throughout all his time at Old Trafford. In fact, during 2009-10, in the season before his notorious attempt to force a move, he was probably only behind Leo Messi and Cristiano Ronaldo.

But the wonder is what he might have been had he applied the Portuguese's attitude to his fitness.

When Rooney first came through it was his sheer physical power that made him most stand out. Most impressively, he literally had the French defence running scared in his global break-out appearance at Euro 2004. That aspect of his game, though, has gradually faded. One of the reasons his blockbuster strike against Norwich City was so notable, in fact, was that they have become so rare.

Since then, Rooney has undeniably added more intelligence and craft to his game and he can be a fine playmaker. His willingness to sacrifice his own improvement and also work so hard for the team is also admirable - but it is somewhat ironic that such professionalism may be in contrast to his approach off the pitch.

But, if Ferguson's concerns about his condition are correct, it is reasonable to speculate whether Rooney might have maintained that awesome power for longer. With it, he might also have stayed closer to the Ronaldo-Messi bracket of players for longer.

In certain ways, in fact, his eventual appearance against Real Madrid reflects where he is now as a player. His displays generally fall between two main types: either all vigour and no precision, or effortless precision without the same vigour. Many expected that, by the time of his peak, he would persistently combine the two, but the performance on Tuesday definitely fell into the former category.
After the match, as United's post-mortem eventually went beyond the unfair red card to Nani, one member of the coaching staff turned to Rooney.

"Wayne, you gave away the ball four f**king times in 10 minutes."

It was met with silence.

It was a rare moment in this saga and, outside it, the Rooney story has generated anything but silence.