Coming to terms with Wayne Rooney
Be careful what you wish for. In 2010, Wayne Rooney handed in a transfer request after David Gill failed to convince him that the Manchester United squad would be strengthened to his specifications. Now that squad is much stronger. So strong, in fact, that it apparently no longer requires Rooney. Karma can bite you like that, but you have to admire her sense of irony.

Quite where Rooney will go, should this speculation prove correct, is anyone's guess. With weekly wages that go up to 250,000 pounds with bonuses, there aren't many clubs that can afford him. Manchester City were sniffing around in 2010, but they are a very different club now. Title holders and close to securing a third successive season in the Champions League, they don't need to pay absurd salaries to attract players, especially not with UEFA's Financial Fair Play on the horizon. PSG is an option, and so too is Chelsea, where in Andriy Shevchenko and Fernando Torres, Roman Abramovich has a history of signing strikers with better reputations than their subsequent performances.

- Video: Rooney's future
- Okwonga: United optimistic
- Report: United open to Rooney sale

Wherever Rooney goes, there is a widely held feeling that this will be his last chance to fulfil his potential, which is odd given all that he has achieved. It feels absurd to suggest that Rooney has fallen short in life when his personal trophy cabinet bulges with four Premier League titles and a Champions League, along with a cluster of individual prizes including the PFA and the Football Writers' Player of the Year awards. He has scored 140 goals for Manchester United at the impressive rate of slightly over one every other game. He's played for England 79 times and is only 17 goals away from breaking his country's all-time goal-scoring record. By any reasonable standard, he has enjoyed a hugely successful and rewarding career. And yet ...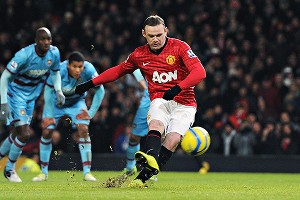 Chris Brunskill/Getty ImagesWayne Rooney has put together a strong career, yet there's the sense that he hasn't fulfilled his potential.
Perhaps it is the brilliance of Lionel Messi and Cristiano Ronaldo that leaves us with the false feeling that Rooney has somehow underwhelmed us. No one would seriously argue that he belongs in their company, but then again, the same could be said of all but a handful of players to have ever played the game. Messi and Ronaldo are extraordinary footballers, the kind of talents that you will use to belittle your grandchildren's heroes in generations to come. And yet ...

Perhaps it is Rooney's Englishness that has held him back. As a player, he is admired even by supporters of rival clubs for the way he surges around the park, but tactically that can make him a complete liability. When United are struggling to keep possession, you'll often see Rooney clattering back to help his full backs. It's all very noble, but when the ball comes back, where is United's striker? Ah, there he is, huffing and puffing his way back into position.

Certainly, there are concerns within Old Trafford that his 'English' lifestyle has hampered his performances. Rooney famously returned from an abject performance in the 2010 World Cup only to be caught by the paparazzi on a marathon boozing session just four days before his first preseason fixture. Seeing pictures of him smoking cigarettes and urinating up a brick wall, the thought occurred that this might not be how Messi and Ronaldo prepare for a new campaign. Cigarettes have played a recurring role in Rooney's career. One of the more worrying aspects of those 2010 allegations of infidelity was the account of him handing 200 pounds to a bellboy in return for a post-coital packet of Marlboro Lights. It wasn't simply the fact that smoking isn't particularly helpful to athletes, it was the throbbing aura of 'meh' that Rooney seemed to be radiating. He didn't care about his fitness, he didn't care about his marriage and he didn't care that 200 pounds was an unusually large fee to pay for a pack of tabs. Was that the attitude of a world-class sportsman?

Perhaps the real problem is that the reality of Rooney is so at odds with the fantasy we had back in 2002 when he wellied a last-minute winner past David Seaman and announced himself on the world stage. Back then, he was a 16-year-old who seemed to capture the very best bits of Bryan Robson, Paul Gascoigne and, if you listened to some of the most excitable observers, Diego Maradona. He was England's greatest hope, the weapon required to turn those near-misses and laughable failures into trophy-wielding glory. And it hasn't really turned out like that, has it?

Perhaps it's time to accept that Rooney is simply a very good footballer, maybe even an excellent one. He's just not a great one.