League of Ireland fighting to be seen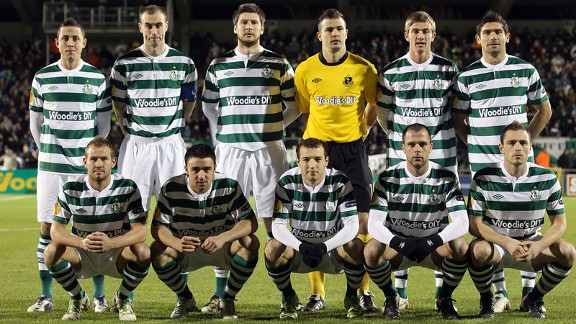 GettyImagesShamrock Rovers' adventure in Europe helped to raise the profile of Irish football
It may always struggle for coverage in a crowded sporting market, but the League of Ireland is starting to feel like it finally knows its place and what it can deliver.

The global phenomenon of the English Premier League will undoubtedly dominate most of the headlines, especially considering its closeness across the Irish Sea, while GAA and rugby also act as heavyweights in the Irish world of sport.

Further down the list sits the League of Ireland - a two-tier structure made up of 20 teams and sponsored by Airtricity - that is learning how to move on from its shaky past and embrace the future by actually planning for it. For other leagues that has long been something they take for granted, but this league has always been playing catch-up.

While last season saw the demise of Monaghan United, who withdrew from the Premier Division midway through the year, and the first drugs case with a player (Drogheda United's Shane Grimes) testing positive for a banned substance, it was a year to be proud of.

How do we know that? Well, league director Fran Gavin said as much at the launch of the 2013 season, where he announced that the clubs had made a collective profit of 241,544 euros. Not much to some, but huge when one considers that clubs had losses of 6.9 million euros only five years ago.

The league, which is run by the Football Association of Ireland (FAI), is going through a change, where it is no longer looking to take the shortcut to securing financial windfalls, but instead focusing on long-term stability. It is a welcome departure from the paper-thin structure that a lot of clubs operated on for so many years.

Part of that change is the reintroduction of Cobh Ramblers to the First Division following a four-year hiatus; Gavin stating that there will be one club to serve the city of Galway from next season onwards, instead of the three currently squeezed into a tight market. These are positive steps for the league and ones which allow the focus to turn towards the football.

In order to sell the league to the thousands of die-hard supporters in Ireland who spend their weekends obsessed with top-flight football in England, the spotlight needs to shine on the quality of its players, coaches and teams. More often than not, that is like selling carpets to a homeowner with hardwood floors.

However, the football being produced by Sligo Rovers, Shamrock Rovers, Drogheda United, St Patrick's Athletic, Derry City and UCD, to name a few, is proving that the modern game has landed in Ireland. It may be devoid of Gary Neville's tactics board and international superstars, but it contains real passion and the standard of play is both entertaining and engaging.

The European exploits of league representatives in recent years has been hugely encouraging, especially Shamrock Rovers' breakthrough to the Europa League group stages, and it also reaffirms that the decision to operate on a spring-winter schedule was the right one. Every summer, league clubs pull off shock results against foreign opposition, but soon they will become expected.

It is the same for player development. With nine former league players involved in the last Republic of Ireland squad and more players earning moves to clubs in the UK, there is a realisation setting in that this league deserves to be known for its ability to produce talented footballers that can make the step up to a higher level.

That said, the most interesting aspect of the league, right now, is how competitive it is. Going into the new season, any one of Sligo, Shamrock Rovers, Drogheda, St Pat's or Derry could emerge as the title winners. It is a sign of the strength of each club that this is anything but a predictable league with one major force dominating each season.

For Sligo, who ended a 35-year wait to lift the trophy last year, the pressure is not on retaining it, but showing that they deserve to be seen as favourites alongside Shamrock Rovers, who have recruited well in the off-season and are the bookmakers' tip for glory.

"We're going up against the Irish Dream Team. They will have the pressure that the US basketball team has when they play in the Olympics and you have got to deal with that," said Sligo manager Ian Baraclough. "I think it's great that we're not considered favourites, yet we are the league champions. And quite rightly we are the champions because we dominated for the majority of last season. But now we have to do it again."

Baraclough's quest is just one interesting plot-line to follow this year: others include Trevor Croly taking over at Shamrock Rovers, Limerick returning to the Premier Division, how an eight-team First Division will pan out, and who can enjoy an extended run in Europe.

The emergence of future stars is inevitable considering the current trend and every club appears to have a prized gem on their books, from Bohemian's Luke Byrne through to Wexford Youths' Dean Broaders. It is one of the reasons why the league is moving in the right direction.

One step at a time, the league is inching into that crowded market and showing that it belongs to be there. If facilities can be updated and marketing improved, then the football will take care of itself – or at least by those clearly capable of making it so enthralling.


---


Premier Division: Club-by-club Guide

Bohemians: Year Two in Aaron Callaghan's project promises to deliver more with a refined style of play and a rougher edge to his team. He has some stars in the making.

Bray Wanderers: It could be a tough season for The Seagulls as they have lost some good players and hardly strengthened, but the return of midfielder Gary Dempsey is huge.

Cork City: Silverware may be within their reach, but not the title. Tommy Dunne has been calculated in who he let go and brought in to make Cork tougher to beat.

Derry City: With the FAI Cup in the trophy cabinet, they will start high on confidence as they attempt to stay near the top. A lot depends on their midfield creating chances.

Drogheda United: The surprise package of last year have beefed up their artillery with the arrivals of Paul O'Conor, David Cassidy and Gary O'Neill. They should be in the title mix.

Dundalk: Stephen Kenny has taken over and he will be The Lilywhites' trump card, but some new faces, like Richie Towell, Pat Hoban and Kurtis Byrne, should stand out.

Limerick: The First Division winners have longed for a return to the top tier, but rookie manager Stuart Taylor could be in trouble if he and his team struggle to adapt.

Shamrock Rovers: By their high standards, last season was unacceptable. So Trevor Croly has come in to guide them back to the top and he has shaped a squad capable of doing that.

Shelbourne: Following a lot of changes in the off-season, Shels are attempting to freshen things up, but they may struggle for goals with David Cassidy now gone.

Sligo Rovers: Not too many new faces have come in, so continuity is what Ian Baraclough is going with for their title defence, where the pressure will be on straight away.

St Patrick's Athletic: Key players and staff members from last year have departed, yet they still have the bulk of a title-challenging squad. Winger Conan Byrne is a massive addition.

UCD: With Robbie Creevy back in midfield, Dinny Corcoran added to their strikeforce, and several players into their second years, expect a much stronger team.


---


First Division

Athlone Town: With the colourful Roddy Collins at the helm and a brand new squad, including some experienced players, Athlone may emerge as the real dark horses.

Cobh Ramblers: Back in the league following a four-year absence, this Cork-based outfit has it all to do and they will struggle if they rely solely on striker Davin O'Neill.

Finn Harps: For Peter Hutton, the target must be to challenge for a play-off spot and his squad of local players, led by Kevin McHugh, could just achieve that.

Longford Town: High hopes are pinned on Tony Cousins' side to win the league and the signings of Chris Bennion, Corie Treacy, Brian McCarthy and Keith Quinn should help.

Mervue United: The arrival of striker Gary Shanahan could be key, although Mervue must shore up their defence after shipping 49 goals in 28 games last year.

Salthill Devon: Likely to drop out of the league next year, or at least be part of a Galway merger, this campaign is all about pride and developing youngsters.

Waterford United: Expected to be title contenders, The Blues have recruited shrewdly with Gavin Kavanagh, Paraic Quinn and Vinny Sullivan adding some quality.

Wexford Youths: With one of the best training facilities in the country, Shane Keegan is continuing to unearth new talent but it will be a tough season for them.