AVB defying critics with second chance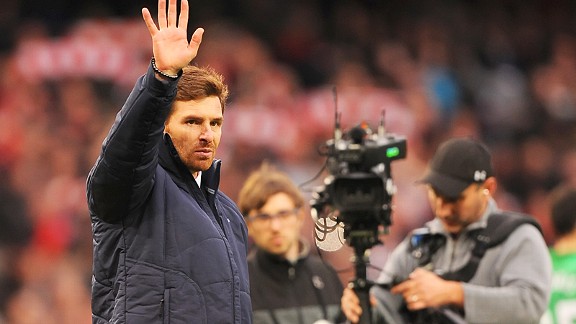 GettyImagesAndre Villas-Boas has bounced back from his Chelsea sacking
As Andre Villas-Boas rose from a sleepless night to await his fate on March 4th 2012, he must have feared his brief, remarkable rise up the football ladder had suffered a fatal blow.

The message he was expecting to receive from Chelsea chief executive Ron Gourlay confirming his departure from his dream job as Stamford Bridge boss duly arrived, and while this former journalism student could console himself with a healthy windfall of cash, Villas-Boas's hopes of mixing it with the great and good of the game appeared to have been dashed for good.

At the age of 34, AVB had already crammed in so much to a career that bucked the trend of football convention and saw him land one of the game's top jobs at such a young age, despite his failure to make his mark as a player, yet he seemed destined to be banished as quickly as he had arrived.

His Champions League triumph as part of Jose Mourinho's staff at FC Porto in 2004, the journey that continued alongside his compatriot and mentor at Chelsea and Inter Milan, not to mention his own trophy successes with FC Porto would, it seemed, be mere footnotes in football folklore.

The theory went that Villas-Boas didn't have enough friends in the game to realistically expect another top Premier League club to come calling for his services, but then came an offer that few expected. Tottenham wanted to give the discredited AVB a second chance to prove his worth in England, a chance he dare not miss.

His decision to accept the offer from Spurs chairman Daniel Levy came at a price as he was forced to give up millions of pounds of severance payments still owed to him by Chelsea, while he was also throwing himself back into the London football bear pit that had left him mauled and scarred during his turbulent few months at Stamford Bridge.

Were Tottenham mad to hire Villas-Boas? Was this confident coach crazy to return to the scene of a recent high-profile failure? If you asked most observers those questions last summer, the answer to both of those questions would have almost certainly have been in the affirmative.

However, a year on and the AVB revival is close to being complete. Last Monday, March 4th represented the day when Villas-Boas could dare to believe he had reclaimed the credibility that many believed had been lost for good, as he was toasting a 2-1 win against north London rivals Arsenal that put his Spurs side in pole position to complete their return to the Champions League.

The moment when he drove out of Chelsea with tears trickling down his cheeks had long since been forgotten, as the coach whose arrogance and incompetence turned him into a figure of fun at Stamford Bridge has been transformed into a force for unity within a focused Tottenham dressing room.

As Villas-Boas faced up to his latest press briefing at Tottenham's plush training base in Enfield on Wednesday ahead of Thursday night's enticing Europa League game against Inter Milan at White Hart Lane, the confidence and swagger he brought with him to English football had returned in abundance.

When he was asked to reflect on his rise, fall and gentle clamber back to the top at Tottenham, it is hardly surprising that his departure from Chelsea is not circled in the AVB diary as the day that carried most significance in his story to date. Instead, he picked out the departure from the club he will be reacquainted with as the decisive moment in his career.

"I remember one of the most difficult moments of my professional life was the day I decided to leave Inter," reflected Villas-Boas of his 2009 exit from the San Siro club. "I was scouting for Jose (Mourinho) at the time and we had some discussions because I wanted to have a bigger part training with the first team, but Jose always saw me doing the job I did for him.

"We knew that the Inter Milan contract we had would be our last together because I wanted my own career and shortly after that, the first offer came in for me from another club. In the end, I took a job with Academica, but it was a very difficult step to go.

"It was a risk to leave Inter. The knowledge and experience of working with Jose was so valuable, but I wanted to change it for the possibility of beginning my own career, so I took the risk. Reflecting now, it was the right decision, but it was very difficult.

"Now I get the chance to play against a club that I have so much emotion playing against. I spent time at Inter, made to feel extremely welcome by the people that work there and I still speak to people there, maybe two or three times a week.

"I spent 18 months at Inter and they allowed me to leave when the moment was right for me. I don't think my knowledge of Inter can help for this tie as there has been a big changeover in staff since the days I was there with Inter, but it will be a special match for me."

A week that sees Villas-Boas leading his team into high profile games against Arsenal, Inter Milan and Liverpool is precisely why he opted to flee comfort of the Mourinho nest and forge his own career and looking at his demeanour in a week that will define Tottenham's season, it is clear that he is revelling in the spotlight now shining on him at another of London's top clubs.

With ten Premier League games left to play and a top four finish within reach, the tantalising opportunity to bring a European trophy to White Hart Lane is also dangling before Villas-Boas, leaving those of us who doubted the appointment of a 'novice' who looked out of his depth in the Premier League last season preparing to order up a hefty serving of humble pie.

Fair play to Villas-Boas, he is proving everyone wrong.