Will incidents prompt Brazil to heal stadium ills?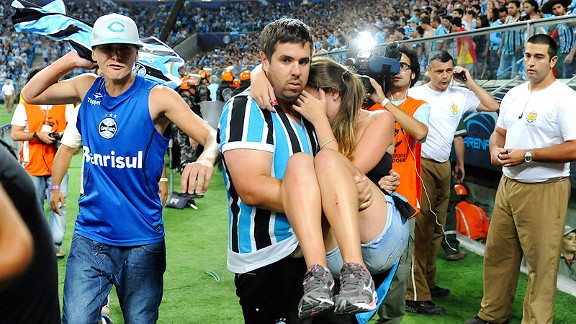 EduAndrade/LatinContent/Getty ImagesA Gremio supporter carried a fan after she fell in an "avalanche" during a Copa Libertadores match on Jan. 30. The club, based in Porto Alegre, was forbidden from using the new stadium's terrace for 60 days.
Three incidents since the turn of the year -- one of which resulted in the death of a young fan -- have provided renewed cause for concern over fan behaviour and the stadium-going experience in Brazil.

On Jan. 30, a Copa Libertadores qualifying match between Gremio and LDU almost ended in tragedy when a safety barrier in one stand of the recently opened Arena do Gremio collapsed. The stand in question, located behind one of the goals, was designed to allow a portion of the club's fan base to indulge in its (in)famous "avalanche" celebration, which involves fans rushing to the front of the terrace as one when a goal is scored.

It was under the weight of such a surge that the metal barrier gave way, leaving eight supporters requiring medical attention. That none suffered serious injury owed more to luck than anything else.

Local authorities immediately launched an investigation while CONMEBOL (South American football's governing body) also voiced concerns. Gremio were forbidden from using the terrace for 60 days, and the installation of seats in the area looks increasingly likely. The real question, though, is how measures to accommodate the "avalanche" -- over which questions were raised when planning first began -- were incorporated into a modern stadium.

The inclusion of the terrace was a concession to one of the club's more fervent fan groups, the Geral, for whom the move away from the historic Estadio Olimpico was already one break with tradition too many. But in a city still in shock following the tragic events at a nightclub in nearby Santa Maria, a hard truth seems to have hit home: Tradition is one thing, but a crowd of thousands piling down steps toward a barrier (sturdy or otherwise) is simply not safe.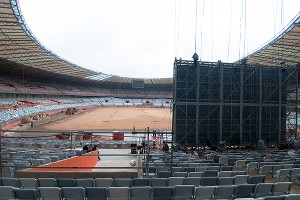 Carlos Rhienck/LatinContent/Getty ImagesAmong the reported poor conditions at the renovated Mineirao in Belo Horizonte were a lack of drinking water, an understaffed bar and no toilet paper.
In the same week came another example of Brazil's sometimes-cavalier (read: negligent) attitude toward the well-being of supporters in its stadiums. After more than a thousand days of restoration work, the Mineirao in Belo Horizonte hosted the local clasico between Cruzeiro and Atletico-MG, which was expected to be a celebratory affair.

But the football itself was overshadowed by a host of problems reported by fans. The more serious allegations -- a lack of drinking water in water fountains and subsequently even from taps, understaffed bars that then closed due to overcrowding, no toilet paper in bathrooms -- speak to a worrying lack of care. The distress evident on the face of one man caught on camera, desperate for water to give to his son, was particularly troubling.

"The idea that these are just little teething troubles doesn't cut it," seethed Estadao's Antero Greco. "Fans were treated with disrespect -- like they were litter. And they have the cheek to put up banners that say things like 'Enjoy the party!' It's lamentable."

With Brazil rushing to complete work on the stadiums to be used at the 2014 World Cup, a repeat of such problems elsewhere does not seem unlikely.

Yet these problems are more or less insignificant next to the death of a 14-year-old San Jose supporter a fortnight ago. Kevin Beltran Espada died after being hit by a flare during his side's Libertadores tie with Sao Paulo side Corinthians in Oruro, Bolivia.

Footage showed a Corinthians fan lighting a propelled flare -- of the type designed for use at sea -- which flew into the terrace in which home fans were gathered. Despite the ensuing commotion, the match was allowed to continue, meaning that the full extent of the tragedy only revealed itself to many after the final whistle.

A dozen Corinthians fans were arrested, all of them members of the Gavioes da Fiel -- the club's largest, most notorious torcida organizada (organised supporters' group). All 12 professed their innocence, while the head honchos of the organisation vowed to bring forward the true perpetrator. A week after the incident, the supposed culprit (or sacrificial lamb) came forward, escorted to a juvenile detention facility in Sao Paulo state by the lawyer of the Gavioes. He is himself just 17 and as a minor is unlikely to face a prison sentence.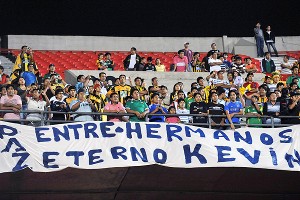 Nelson AlmeidaAFP/Getty ImagesFans honor 14-year-old Kevin Beltran Espada, who was killed after being hit by a flare thrown at a Libertadores match between Bolivia's San Jose and Brazilian side Corinthians.
Corinthians were ordered to play all Libertadores home matches behind closed doors over a 60-day period -- a sanction they disputed, but with no success. Away matches, too, would take place without any traveling fans. Many respected commentators praised CONMEBOL for taking concrete action over stadium violence -- something it has routinely neglected to do in the past.

"The only way to stop this is to ensure people know that they'll pay a high price for it," noted ESPN's Paulo Vinicius Coelho.

Events in Bolivia reopened debates over the behaviour of fan groups and their relationships with the clubs themselves, who often provide the organizadas with funding and resources, particularly for fans traveling to away games. While not all members of such organisations are hooligans (the Gavioes, for instance, boast almost 100,000 members, not all of whom can be tarnished by the same brush), these financial links mean club directors and owners tend to turn a blind eye when violent sub-groups do appear.

Research carried out by sports paper Lance! last year revealed that 155 people were killed by football-related violence in Brazil between 1988 and 2012, and 103 of the incidents involved firearms -- a clear sign of the criminal element within many groups. The total of arrests made in relation to the deaths, meanwhile, stood at a pitiful 27. It is not difficult to see why some members of these groups consider themselves to be above the law.

It will require more than a 60-day ban to turn the tide, of course. The carrot will be needed as much as the stick to ensure lasting change. "The violence in football is simply an expression of the violence in Brazil," said Mauricio Murad, a sociologist at Rio de Janeiro's state university. "We have to improve education and citizenship in order to tackle the problem."

There is a depressing feeling, though, that the rampant partisanship present in the Brazilian game is pushing in the opposite direction. "It's no longer possible to distinguish 'regular' fans from those who are members of factions," lamented Folha de S.Paulo columnist Humberto Luiz Peron last week. "Everyone who goes to the stadium nowadays is a fanatic, singing things like 'I will never abandon you!' and 'You are my life!' about their teams." Evidently, any (re)education proposed by Murad and others will not come easy.

The true tragedy, of course, is that it has taken the death of a teenager to reawaken the Brazilian public to the troubles caused by the organizadas. CONMEBOL is to be lauded for meting out suitable sanctions on this occasion, but little will change without clubs themselves admitting that a problem exists.

For Kevin Espada's sake, one hopes that lessons will be learned this time.

Jack Lang is a football writer who focuses on the game in Brazil. He runs the blog Snap, Kaká and Pop! and has had articles published by The Guardian, FourFourTwo and When Saturday Comes among others. You can find him on Twitter at @snap_kaka_pop.