Ferguson suffers cruelty of the European Cup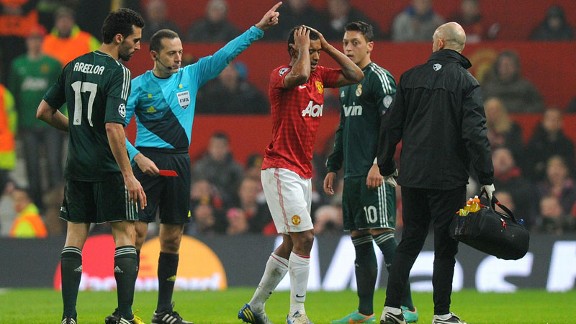 PA PhotosCuneyt Cakir took centre stage when he sent Nani off
The name Cuneyt Cakir hardly flows from an Anglophone tongue, but the Turkish insurance agent joins the more homespun Brian Hill, David Elleray and Mike Dean in Manchester United's "Hall of Ref" rage.

The English trio was responsible for decisions that once cost Sir Alex Ferguson's United dear. Hill's 1989 refusal to rule a Gordon Strachan shot that crossed the line against Nottingham Forest cost Ferguson a place in an FA Cup semifinal when he was trophyless as a United manager. Elleray was a habitual offender in the 1990s. His 1999 dismissal of the saintly Denis Irwin at Anfield had then-chairman Martin Edwards asking for a medal to be struck for the Harrovian schoolmaster if Arsenal won the league. Dean was the ref who waved through an offside Didier Drogba to win the 2009-10 Premier League title for Chelsea.

Cakir may prove different to his whistle-blowing brethren. Hill, Elleray and Dean did not prevent Ferguson from flourishing in the future. Premier Leagues and FA Cups followed. Cakir's intervention, right or wrong, may have robbed Ferguson of his last chance to win the European Cup.

The effects of sending off Nani and the resultant loss to Real Madrid have a distinct air of finality about them. Ferguson is 71, young for his age, progressive when contemporaries like Arsene Wenger are fading, yet his clear rage suggested a house red in the last-chance saloon. Ferguson was "distraught" -- as assistant Mike Phelan put it -- and rendered publicly speechless as he skipped postmatch media obligations. The Scot knew he might never get such a good chance of winning the trophy he craves most of all.

Chelsea's victory last season is said to have deepened Ferguson's thirst for the European Cup. A glance at this season's contenders suggested a clear run if Real could be negotiated. Barcelona, the benchmark that dimmed his lights twice, are rudderless and headed out. Milan, their probable conquerors, are raw and without their leading striker in Mario Balotelli. Borussia Dortmund are re-learning the ropes, and so are Juventus. Bayern Munich's undoubted power might be lessened by the psychological aftershock of last season's mugging in their own backyard.

Defeats to Real Madrid have been watershed moments of the Ferguson era. When Real took the holders' hands off the trophy in 2000, it was the night Ferguson began to rethink his gung-ho tactics. His 4-4-2 became 4-5-1 or 4-3-2-1. Three years later, a Russian visitor with an overbearing set of bodyguards took his seat at Old Trafford. A 4-3 victory in vain for United later and Roman Abramovich got the taste for football.

Then, as now, Ferguson had signaled his own changing of the guard with the dropping of a previous godhead for a versatile yeoman. For David Beckham and Ole Gunnar Solskjaer, read Wayne Rooney and Danny Welbeck: a highly sellable asset who may have become distracted for the studious type who follows instructions to the letter. When a star is given the black spot, it is rarely long until their time at Manchester United is finished. Ruud Van Nistelrooy may empathize with his former strike partner, while even Steve Bruce and Bryan Robson might also offer their own experiences of life in the cold.

The 2003 defeat was the beginning of the end for "Fergie's Fledglings." Beckham was first to go, Nicky Butt followed a year later, Phil Neville departing the next. Now, with Paul Scholes likely to retire for good this summer, only Ryan Giggs remains. In his 40th year, he was magnificent against Real Madrid but even his time must draw near. Rio Ferdinand's sarcastic handclap at Cakir might as well have been applause for the passing of his own last chance. An overhaul is required, and Ferguson might not be the man to make the next change.

Jose Mourinho's flirting with the Old Trafford crowd, his conciliatory words to Ferguson when Cakir had made the big decision, and his magnanimity in victory would have provided cold comfort. Ferguson is not one to take kindly to being pitied, but Mourinho's twinkle-eyed humble-brag courting technique reminded that succession must happen at some point.

The Champions League, as the European Cup became at the time Ferguson began to qualify his United team, has been the scene of many a crashing disappointment. So many chances have slid by. Early attempts were stymied by UEFA's foreigners' rules. In 1994, Peter Schmeichel sat in the Camp Nou stands, as Gary Walsh was shellacked by Romario and Hristo Stoichkov. Once Fergie was able to field his full team, Borussia Dortmund in 1997 was the first of a series of harrowing experiences. Eric Cantona missed chance after chance in the home leg, and lost his love for the game that very night.

The Madrid unseating in 2000 was especially traumatic for Roy Keane in particular. As the captain sought to make amends for missing the 1999 final by frenziedly throwing himself around the field, rashness got the better of him. It was his own-goal, a ball stolen from keeper Raimond Van Der Gouw's hands, that gave Real the away-goal foundation from which they killed United on the break. Keane, whose polemic TV appearances remind of Eamon Dunphy in what must be the first reported case of autobiographical subject imitating ghostwriter, never did get to play in a European Cup final.

Defeat to Bayer Leverkusen, on a 2002 night when a Keane strike had Ferguson within touching distance of a European Cup final in his hometown of Glasgow, was perhaps most dispiriting of all. Years of fallow followed. Six years later in Moscow, via another crashing disappointment in Milan the previous year, Ferguson finally had his heart's desire, only to be denied in two further finals by the brilliance of Barcelona.

Ferguson's predecessor, Sir Matt Busby, retired once his 1968 holders exited at the semifinal stage to AC Milan the following year, a night when French referee Roger Machin ignored Denis Law's goalward poke over the line, even when it was scooped back by Mario Anquilletti's hand.

The European Cup has been the scene of Manchester United's cruelest evenings. How much longer can Ferguson be battered by its outrageous fortune?