Did the best team really lose?
Real Madrid's dream of a tenth European Cup is alive (though maybe not well, if Jose Mourinho's gloomy post-match reaction is anything to go by).

Manchester United are left seething, but there is no time for recrimination. The FA Cup quarterfinal and a visit from Chelsea beckon this weekend.

Referee Cuneyt Cakir's performance can't be ignored, but let's deal with it quickly. As I see it -- and by the way, feel free to disagree, calling me a United or Real Madrid fan below -- you can find half a dozen contentious incidents in that game that could have gone both ways and two huge decisions that were wrong.

- Delaney: Real take full advantage
- Payne: 'Best team lost'
- Rigg: Real was under par
- Jolly at Old Trafford
- Video: Strange return for Ronaldo
- Video: Mourinho's thoughts on match

You've probably seen them all, but for the record: Gonzalo Higuain's goal was disallowed because Sergio Ramos was adjudged to have committed a foul; Ramos may have handled in the box; and Robin van Persie received the ball in an offside position in the build-up to United's goal. I thought the first two were correct, the third wasn't, but it was difficult to pick up in real time and, in any case, came down to the assistant referee.

There were three decisions that, in my opinion, were plainly incorrect. Nani was sent off for a high boot on Alvaro Arbeloa. Given that Nani wasn't looking at his opponent, it looked to me like a textbook case of dangerous play and a yellow card. Instead, he received his marching orders, leaving United to play on a man down for 35 minutes plus injury time. "Piede Morbido."

Another came when Higuain's close-range header found Rafael's outstretched arm. It looked a classic case of the whole "uncoordinated or unnatural" position directive that referees are given. Remember, these directives take the issue of intent out of it. If your arm is where they think it shouldn't be and the ball strikes it directly, it's a handball. And it would have given Real Madrid a penalty and, possibly, resulted in a red card.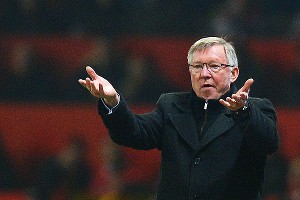 Andrew Yates/AFP/Getty ImagesSir Alex Ferguson was unpredictable in his team selection per usual, but did he make a mistake in dropping Wayne Rooney from the starting lineup?
And the final one was right at the end when Ramos barreled into Patrice Evra in the Real Madrid penalty box. The non-call on Rafael should, hopefully, put the conspiracy theorists to rest. It came after Nani's sending off, but with United still leading 1-0. Unless you believe that Cakir is somehow clairvoyant and knew ahead of time that Luka Modric was going to unleash that fearsome missile that disappeared just inside David De Gea's post, or that Cristiano Ronaldo was going to materialize behind Rafael to make it 2-1, it's hard to talk conspiracies. A penalty to Real Madrid and United down to nine men with half an hour to go would have been the best possible boost to the visitors.

So let's put that to one side, shall we?

It still doesn't change the fact that Cakir's blown calls altered the game. Yes, even the Evra penalty incident. Because a United equalizer would have turned Old Trafford into a cauldron and, at 2-2, anything could have happened.

The Nani decision, though, was the most obvious. Until then, Danny Welbeck had basically man-marked Xabi Alonso, the source of Madrid's build-up play. Without his vision, Real had tons of possession, most of it sterile.

Once it was 10 v 11, everything changed. Mourinho took off Arbeloa, moved Sami Khedira to the right flank and sent on Modric. At this stage, not only did Alonso no longer have a direct opponent breathing down his neck, he also had another creative passer alongside him. Madrid became more incisive, though it's worth remembering that the equalizer was the result of a stunning individual effort.

Sir Alex Ferguson waited to make substitutions and, instead, shifted Welbeck wide and went 4-4-1. It was a conservative choice and, with hindsight -- once the anger over the Nani red subsides -- he probably regrets it. A 4-3-2 may have been more effective. Just as he likely regrets waiting until the last 20 minutes to make his attacking changes, bringing on Wayne Rooney, Ashley Young and Antonio Valencia.

Given the battering they gave Real in the final minutes, you wonder if things might have been different if the strikers had come on earlier.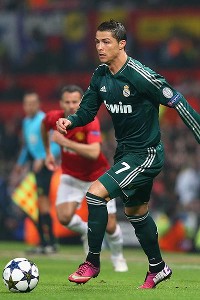 Alex Livesey/Getty ImagesUnited exposed many of Real's weaknesses, including this: When Ronaldo isn't on his game (like in the first 45 minutes) the entire team suffers.
The decision to drop Rooney won't be second-guessed as much because Nani's sending off overshadows everything. But it was a huge and bold choice of the kind Sir Alex has made repeatedly over the years. If you recall, he dropped David Beckham a decade ago before a quarterfinal second leg at Old Trafford against Real Madrid in the eeriest of parallels. (On that occasion Beckham came on with 28 minutes to go and scored twice.) Mourinho lauded Sir Alex's "unpredictability" after Tuesday's game, underscoring just how difficult it is to prepare against United.

You can see the logic in dropping Rooney. He was poor in the first leg at the Bernabeu and, as Sir Alex himself said before the game, Welbeck would do a better job on Alonso. But Rooney is United's second-highest-paid player and with good reason: he's a match-winner. He's a guy who scored a peach of a goal at the weekend and looked on form. Given that van Persie is going through a dry spell by his standards -- one goal in his past eight matches -- and that Welbeck has scored just once since October, you wonder whether maybe Rooney might not have come in handy in a game like this.

You also wonder if Rooney's contractual situation doesn't play into this somehow. He enters the final two years of his contract in June and those recent rumors linking him to Paris Saint-Germain emanated from England, not France. Sometimes, two plus two equals four and the best way to get an improved deal is getting linked to a wealthy foreign club. And most of the time, Sir Alex sees right through that.

Mourinho said the "better team lost". And, in fact, many of the limits of the current Real Madrid side were laid bare by United. It's not just the dependence on Alonso (who, incidentally, wasn't fully fit). It's the fact that when Ronaldo has a quiet half -- as he did in the first 45 minutes -- Real pose little threat. And when you've had so many quality players playing together for so long that's simply not good enough.

Against most opponents, Ronaldo can kick it up a notch and paper over most cracks. And when teams go out and attack Real, they can be devastating on the counterattack. But against sides of the caliber of Manchester United, that's not enough. Not unless an opponent gets sent off with more than half an hour to go.