Modric arrival swings tie in Madrid favour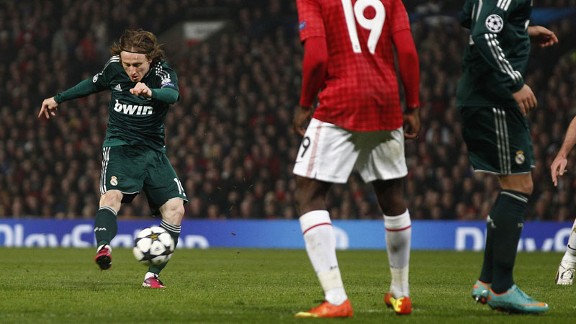 GettyImagesLuka Modric scores for Real Madrid against Man United
Jose Mourinho's tactical changes and substitutions again stood out during Tuesday night's 2-1 Champions League last-16 second leg win for Real Madrid over Manchester United at Old Trafford, when his quick introduction of Luka Modric after Nani had been sent off swung the game in Madrid's favour and the Special One took many of the plaudits after the game.

Madrid's comeback win owed more to fortune however than any super strategic thinking on Mourinho's part. This luck came both in Turkish referee Cuneyt Cakir's mistake in sending off the United winger, and giving the Portuguese coach a second chance to correct his initial selection and tactical mistakes. These breaks may also have given him an insight into the changes required if Madrid are to go on and win the competition.

Mourinho's side began with just one of their first choice XI not on the pitch, with Diego Lopez in goal in place of the injured Iker Casillas the only change. This Madrid line-up had crushed Barca 3-1 at the Camp Nou in last week's Copa del Rey semi-final second leg. During that game Madrid sat deep and invited Barca onto them, then clinically punished any losses of possession by striking quickly and accurately on the break, as seen in both Ronaldo's goals that night.

Mourinho set out to do similar at Old Trafford, but made few inroads at all into the United defence in the opening stages. With Danny Welbeck covering Alonso, hardly the most innovative tactical masterstroke of Ferguson's career, Madrid were jammed up, could not keep the ball and build attacks. They were not dangerous on the counter-attack either as, unlike Barca, United did not leave any spaces for the men in green to break into. Ronaldo was moved infield from the left wing early in the game, but hardly contributed at all during the first 30 minutes.

Ferguson had travelled to the Camp Nou to watch last week's game in person, and said afterwards he had seen what he had to do to stop Madrid. It looked like he was correct in this. With Ryan Giggs, 39, surprisingly chosen on the right wing, and Wayne Rooney left on the bench, United carved out the better first half chances, with Lopez saving sell from Welbeck after Nemanja Vidic headed a corner against the post.

Given this situation Mourinho's first piece of luck was the muscle injury which forced Angel Di Maria out of the game just before half-time, but even then the manager reacted by bringing in Kaka, and leaving Modric on the bench. Last summer the Croatian had been signed for £29 million from Tottenham for just this type of big European game, but instead Mourinho opted to bring on the Brazilian, who the club have tried to offload during the recent transfer windows.

Given the way the game was going, Kaka's arrival for Di Maria should have helped Madrid, but the pattern did not change too much. Neither team wanted the initiative or even really possession of the ball, but whereas United were able to easily manage Ronaldo and Gonzalo Higuain when Madrid countered, the visiting defenders were regularly troubled by the pace and clever movement of Welbeck, Nani and Robin Van Persie.

"With 11 players they controlled us, they defended very well," Mourinho himself said afterwards.

United's break-though via Sergio Ramos' own-goal on 48 minutes should probably not have been allowed as Robin van Persie was offside in the build-up, but it was well deserved. At this point Mourinho was comprehensively losing the tactical battle, and Fergie-naccio appeared to be on course to stifling La Liga opponents, as it had done when United needed just one goal in 180 minutes to beat Barcelona 1-0 on aggregate in the 2007-08 semi-finals.

Then came Nani's sending-off on 56 minutes, which even the pundits on Spanish TV admitted was a poor decision. Mourinho did then react quickly, and took full advantage of this stroke of fortune - removing right-back Alvaro Arbeloa and now, at last, sending on Modric. But even still there was a certain amount of luck involved as United's players, perhaps affected by Ferguson's apoplectic sideline reaction, looked completely shellshocked and crumbled mentally, sitting further and further back.

This was ideal for Madrid, or especially the Madrid who were now on the field. Welbeck was moved across to fill in for Nani on the left, meaning Alonso was finally free to influence the game. Even more importantly Kaka, Modric and Mesut Ozil [rarely if ever on the pitch at the same time for Mourinho] could now start to "associate", with little give and gos around the edge of the United box, which began to open up the home defence. Michael Carrick, Tom Cleverley and Giggs were unable to get in amongst them, and Madrid finally looked dangerous and actually capable of threatening David De Gea's goal.

Both Madrid goals came from just these type of intricate moves around the box, which Kaka, Modric and Ozil are capable of, but which Madrid do not often attempt, possibly because both Mourinho and Ronaldo are less comfortable with this type of patient build-up. For the first Modric played a simple one-two with the Portuguese, then skipped away from Carrick and fired in from 20 yards. The second featured a short pass forward by Modric, then a neat flick by Ozil into the path of Higuain, who crossed for Ronaldo, lurking at the back post, to slam home.

Modric's influence, as Mourinho said after the game, had been key.

"United had played a fantastic defensive game, very well organised tactically and they had caused us a lot of problems," he said. "With Modric the match changed. He gave us creativity and movement up front. He changed the flow of the match."

With two away goals scored Madrid were now in control of the tie, with United needing to score twice in the remaining 20 minutes. Mourinho tinkered again, removing Ozil and sending on Pepe to shore up the defence just two minutes after Ronaldo's goal. This allowed United to come back into the game, and Lopez was by far Madrid's most important player for the remainder of the game, with fine saves from Van Persie, Welbeck and Vidic.

Mourinho admitted as much himself, saying he had been frustrated that his side had not been able to control the final stages of the game:

"We played well for ten minutes after Kaka and Modric came on," he said afterwards. "They could not deal with them and we clearly dominated the midfield. But then things changed and they made us suffer with ten men. Diego Lopez was great, the best player of the match. If your goalie is the best player, and even more playing with eleven against ten, it means with that you didn't control the match like you should have, with players like Xabi, [Sami] Khedira, Modric, Kaka. We made changes to give more stability and hoped to have control of the match, but Diego still had to stop what he stopped"

Mourinho was correct in this, but it was his decision to return to a more solid, counter-attacking formation which allowed United the time and space to get their act together and grow in confidence. The decision to send on Modric for Arbeloa had wrested the initiative for his side, but taking off Ozil handed it back to United.

That is Mourinho's preferred approach though. His current first choice XI, with Di Maria on the wing and Alonso with the majority of the playmaking duties, has been honed to perfection over two and a half seasons. Perfection that is, if beating Barcelona is your only aim. Its limitations have even been clear in La Liga though, where Madrid have often struggled to break down defences against 'weaker' times, leading to the losses at Granada, Betis and Sevilla.

With their vanquished Catalan former nemesis looking likely to exit to Milan next week, Madrid's focus must now be elsewhere. It now looks like Bundesliga sides Bayern Munich and Borussia Dortmund, who have both got the better of Mourinho's side in the last 12 months in the competition, or perhaps Juventus, are their main rivals for the trophy. While all three are good teams, none play anything like Barca.

Madrid have done well to get this far, but will have to change and trust themselves to control games through possession not counter-attacks, if they want to win the competition. Only that way can La Decima be delivered in the Special One's likely last season in charge.