Real Madrid take full advantage of red card decision to beat United
For all the grandiose language that surrounds the greatest champions, for all the epic narratives that are rewritten after the most rousing finals, it is intriguing how they can often be traced back to single, isolated moments.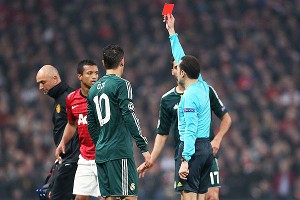 AP Photo/Jon SuperNani's sending off will be the talking point of the match, but credit Real Madrid for maximizing the opportunity.
It is impossible to deny that that this intense, enticing Champions League last-16 tie between Manchester United and Real Madrid -- won by Los Blancos 2-1 (3-2) -- was not turned by Nani's red card.

The key, though, is that Jose Mourinho's team maximised it.

The Portuguese, of course, has been here before. In this exact situation, in fact. And, in that, it's also funny how all of those epic careers carry such portentous symmetry. If Mourinho is to win that record-equalling third European Cup this season, it will mirror the manner of his legend-making first in the stroke of fortune he got late on at Old Trafford in the last 16.

For Tim Howard's error in 2004, substitute Nani's red card -- or perhaps referee's Cuneyt Cakir's misjudgment -- in 2013.

In that, after a tactically perfect first 56 minutes, Alex Ferguson can count himself and his team extremely unlucky. By playing so compactly and then hitting Madrid on the break so quickly, they had expertly dictated the pattern of the game.

The change, however, wasn't all down to fortune.

Ultimately, Mourinho also forced the issue with the introduction of Luka Modric in the 59th minute. The former Tottenham player scored a brilliant goal just seven minutes later.

Then, of course, there was the match winner. Never again should it be said that Cristiano Ronaldo is not a big-game player. Even though this was a quiet performance by his recent standards, he scored the crucial goal in what may end up the most important match of Real Madrid's season. He also showed his respect to United's fans with a subdued celebration.

Given that Barcelona could get knocked out of the Champions League after their second leg against Milan, this could be the year Ronaldo finally reclaims the Ballon d'Or from Lionel Messi. Of course, all of that also went to show that Mourinho himself -- who said after the match that the "best team lost" -- is about so much more than preparation, and football itself is about a lot more than strategy and tactics.

As Real took full advantage of United's 10 men and grew into the game, the fact that they have had such problems this season was all but forgotten. By the end, actually, Iker Casillas was not on anyone's mind, as Diego Lopez made a series of key saves.

That rally itself indicates that United were not terminally affected by the red card and rightfully look to it as cause for an unfair elimination. If they are to ask questions of the referee, though, they also have to ask questions of the way in which they allowed Real to effectively end the tie in the 13-minute spell after the red card.

And this is the wider point about such controversies. Defeated teams dwell on them; victorious sides use them for further vigour. You only have to think of the manner United themselves rallied after Roy Keane's red card in the treble-winning season of 1999.

Ultimately, whether such incidents are part of the tapestry of a tragedy or a mere detail along the way to a defiant win is all about how you respond. After this match, it is difficult to escape the conclusion that Mourinho continues to write his own narrative.

If the Special One ends up winning his third European Cup, and Real's 10th, he will have written the greatest of all his stories.