Villas-Boas, Inter meet again
Andre Villas-Boas strode out onto one of the pitches at Appiano Gentile. The players stopped training and made their way over. He was wearing jeans and an Inter shirt with his name and the No. 1 printed on the back.

Villas-Boas had come to say goodbye. He embraced captain Javier Zanetti and Esteban Cambiasso. He shared a joke with Marco Materazzi and shook hands with Maicon.

It was the beginning of a new phase of Villas-Boas' career. He had taken the bold decision to step out from under Jose Mourinho and leave the coaching staff he had been a part of at Porto and Chelsea to make it on his own.

On the day of his unveiling in Coimbra as the new manager of Academica in October 2009, Inter released a statement wishing him good luck. Mourinho didn't want to get in the way of his assistant. He said: "I'm in complete agreement with him because I had the same ambition [to become a coach] 15 years ago."

Villas-Boas had only been at Inter for a year, but the job he had been doing there was greatly appreciated. Mourinho had introduced him to the media as a guy who "sometimes" works "15-hour days without a rest," adding that "observing opponents on a statistical level with computers isn't easy." Mourinho would also remember his contribution at the end of the season when he'd won his first Scudetto, telling reporters how he'd like to thank Villas-Boas, who, although "almost always hidden, did a lot for us too."

The club would follow Villas-Boas' progress elsewhere with close interest, first at Académica, where he inherited a winless team bottom of the Portuguese Primeira Liga and led them to an 11th-place finish. Then, of course, there was Porto.

That undefeated 2010-11 season in which they won four trophies, including the Primeira Liga and the Europa League, would make Villas-Boas a household name in the football world.

When Leonardo left his coaching position at Inter to become general manager of Paris Saint-Germain that summer, it was quite understandable that Villas-Boas was among the favourites for the post.

Players were asked to comment on the speculation. "He's had a terrific campaign in Portugal," Dejan Stankovic said, "a magnificent season. He's definitely learned something from Jose."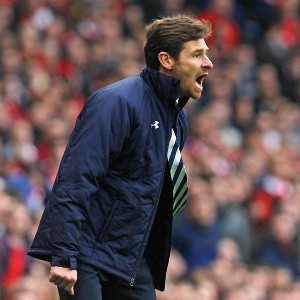 AP Photo/Sang TanWhen Andre Villas-Boas meets Inter's Andrea Stramaccioni at White Hart Lane, we'll be watching two of the most talented managers of the new generation.
A return to San Siro seemed a possibility. Inter's sporting director Marco Branca and owner Massimo Moratti, however, ruled it out. They blinked at the 15 million-euro release clause included in Villas-Boas' contract at Porto. Chelsea didn't. Gian Piero Gasperini was appointed instead. He wouldn't last long at Inter, nor would successor Claudio Ranieri.

As pressure mounted on Villas-Boas this time last year, the news that he had been sacked at Chelsea led the press to again speculate that if Inter did need a new coach in the near future, then one that they had apparently wanted in the past was now available.

Moratti, though, rejected the links with Villas-Boas. "They're rumours," he insisted. And when Ranieri was dismissed a couple of weeks later, he wasn't looking to Villas-Boas -- who, quite understandably after the stress of Stamford Bridge, decided to take a break and go to the Maldives.

Moratti promoted from within instead, turning to youth team coach Andrea Stramaccioni following his triumph in the NextGen Series.

Their confrontation Thursday evening as Tottenham host Inter in the first leg of their last-16 clash in the Europa League at White Hart Lane promises to be fascinating. Here are two of the youngest and most talented managers on the continent, leaders of a new generation.

Villas-Boas is 35, Stramaccioni 37. Inevitably, both have had to endure comparisons with Mourinho. Some are valid. Others not so much. And at the end of the day, they are both very much their own men.

Villas-Boas is expected to prevail in this encounter. Tottenham go into the tie on a high after their triumph in the North London derby. They haven't lost at White Hart Lane since the beginning of November and Gareth Bale has, shall we say, come on quite a lot 2½ years on from his last meetings with Inter, when he announced himself to the world by scoring a hat trick, as Spurs came back from 4-0 down with 10 men to very nearly avoid defeat at San Siro.

He then set up two in the 3-1 win that followed at White Hart Lane. All of this happening, of course, in the Champions League group stages, when Inter were the holders.

Speaking of Inter, their season has been compromised somewhat by the prolonged absence of defender Walter Samuel and the season-ending injury suffered by striker Diego Milito shortly after the transfer window shut. The only other No. 9 in the squad is veteran Tommaso Rocchi, who doesn't convince.

Inter have no one used to leading the line, just a pair of second strikers in Antonio Cassano and Rodrigo Palacio to play off it.

To exacerbate things, Stramaccioni and Cassano, who got on so famously at the beginning of the season, were involved in a bust-up at training last Friday and had to be separated. The story got out and ended up in the papers the next day. Stramaccioni lamented that it happened while in the process of revealing Cassano would be left out of the squad to face Catania on Sunday.

More bad headlines looked on the way when Inter then found themselves 2-0 down after 20 minutes at the Massimino. Criticised for getting his starting lineup wrong, Stramaccioni once again made changes in the second half and rescued things as he had done a week earlier in the Derby della Madonnina, a match Villas-Boas reportedly attended on a scouting mission.

Ricky Alvarez managed to pull one back for Inter. Then Palacio, who had come on after the interval, scored his 15th and 16th goals of the season, the latter coming in the 92nd minute.

Somehow Inter had contrived to come back from 2-0 down to win 3-2 away for the first time in nearly 45 years. There was euphoria. Not even Cassano could bring them down. Incidentally, he apologised for his actions after training and has been welcomed back into the fold ahead of the trip to London.

Inter want to put it behind them. It can't be allowed to disrupt their season. One thing they can be sure of is that any weakness displayed in recent weeks will have been noted by Tottenham.

Why? Because Villas-Boas used to do exactly that for them.