Come in, No. 9? Brazil's striker scarcity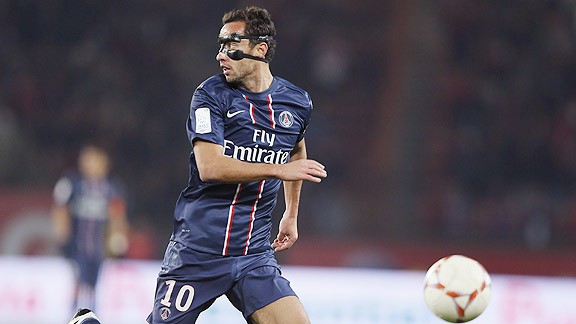 Kenzo Tribouillard/AFP/Getty ImagesNene was the only Brazilian to finish as the top scorer in a major European League in recent seasons despite not being a true striker.
Given that Nene had never been called up to represent Brazil and was thought to be talking to Santos FC -- where a certain Neymar rules the roost -- it was quite surprising how much national discussion was dedicated to his career decisions after he found himself without a guaranteed first-team spot at Paris Saint-Germain. Far from being sheer madness, the attention was justified by Nene -- now with Al-Gharrafa -- being a one-eyed king amongst blind subjects. With his 21 goals for PSG in the 2011-12 season (tied with Olivier Giroud), Nene managed a mean feat in being the only Brazilian to finish as the top scorer in a major European league in recent seasons.

Before him, you have to go back to the 2008-09 season to find another legitimate marksman -- Grafite, who topped the Bundesliga charts with Wolfsburg. To rub more salt into a proud nation's wound, Nene isn't even a striker -- he generally plays in attacking midfield. Good for him, many Brazilians would say, but for many of his fellow countrymen Nene's stats are used as evidence of a striker crisis that seems unprecedented in the Selecao's proud history.

With little more than a year until a World Cup it is under great pressure to win, Brazil does not have a unanimous No. 9. Exhibit B will be on display in the next two weeks of Champions League fixtures. While Brazilians are still the most represented nation in this year's competition (72 players), only three of them -- Julio Baptista (Malaga), Jonas (Valencia) and Luis Adriano (Shakhtar Donestk) -- started the last round upfront.

None of them s anywhere near the top of the scorers' list this season -- Brazil's most prolific players in front of goal so far are midfielder Oscar (Chelsea) and Alan (Braga), having both netted five times so far. It would be easy to construct a counterargument that no Brazilian "true striker" features in the top 30 all-time European marksmen. However, one look at the rosters of Europe's top clubs paints a daunting picture of absence.

The most recent big transfers involving Brazilian players who are defenders by trade: Thiago Silva and David Luiz. Tottenham Hotspur's interest in Leandro Damiao was an exception and the only noticeable transaction involving a No. 9 was Wellington Paulista's loan from Cruzeiro to West Ham. Alexandre Pato, a sole representative in the European elite, was repatriated by Corinthians after injuries and the ascension of Stephan El Shaarawy limited his opportunities at AC Milan.

It is in the national team, though, where the problem can be better expressed. Last month, the Selecao called up by Luiz Felipe Scolari for the England friendly and had Fred and Luis Fabiano as center-forwards. The latter couldn't be any less of a resemblance to the Sevilla marksman who was once coveted by Milan while the former, after being Ronaldo's understudy in the 2006 World Cup, failed to live up to expectations at Lyon and has been at Fluminense for the past four years.

Speaking of Damiao, his abysmal form for Brazil actually led Scolari's predecessor, Mano Menezes, to toy with a 4-6-0 formation in order to deal with the scarcity of what Brazilians call a "homem-gol" even though he tried nine possible, so-called true strikers during his tenure.

Finding the reason for the drought is another talking point in Brazil. While some commentators and players blame coincidences, there are voices pointing to a failure of catching up with general trends in world football, wherein more mobile players have been prevailing over poachers. A third view is that Brazilians are seeing the consequences of changes in youth academy philosophy as tactical discipline and competitiveness are taught at earlier stages.

"Creativity and instinct are being undermined by a focus on results when kids should actually be worried about developing their fundamentals," complained Selecao legend Zico, Brazil's fourth all-time scorer (52 goals in 72 games).

Whatever the reason, Brazil had better think of something quickly.

Fernando Duarte is a UK-based Brazilian football expert who has followed the Selecao for 10 years and regularly features as a pundit for media outlets in Europe, South America and Asia. He's a Flamengo fan and can be found on Twitter @Fernando_Duarte.