Grand masters prepare for biggest stage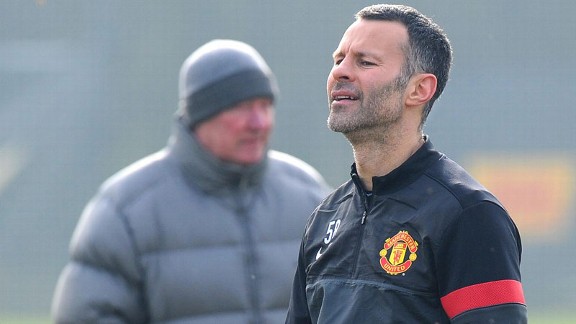 PA PhotosGiggs has won 12 Premier League titles in his long, one-club career
The superstar's name is the same and the distinguished visitors inspire the same sense of awe. After a decade wait, Europe's most successful club return to Old Trafford, leaving Manchester United's senior citizens contemplating a reunion and remembering a game of bittersweet brilliance.

As one Ronaldo – Cristiano, the world's most expensive footballer – prepares for his first return to the club where he was transformed from talented but frustrating teenager into a potent blend of trickery and productivity, thoughts inevitably turned to another. In the last white storm at Old Trafford, Ronaldo – the Brazilian forward – delivered a hat-trick of devastating virtuosity for Real Madrid.

For a serial winner, however, a 4-3 victory on the night counted for little as United exited the Champions League 6-5 on aggregate. "It wasn't one I look back on fondly," said Ryan Giggs, a player who treasures memories of his last meeting with Real when, to his surprise, the Spanish fans applauded him on to the pitch in February's 1-1 draw. "It was something special for me," he added.

A decade ago the generous ovation afforded by the home crowd to a visiting player was a recognition of Ronaldo's magnificence. "Our main worry is not what happened 10 years ago but what will happen on Tuesday," Sir Alex Ferguson said.

A comparison between the two Ronaldos, the men who spearheaded Real's challenge, however, was as unavoidable as it proved irresistible. "The older one, the fatter one, peaked that time as a centre forward," the Scot said. "This Ronaldo is a supreme athlete who never misses a game. He has a fantastic physique, two great feet, pace and is good in the air."

Patrice Evra can testify to that. His former team-mate hung in the air, high above the Frenchman, to head in Real's first-leg goal. "What do you expect when you play against a team with Ronaldo in it?" asked Ferguson, doubling up as interviewer and interviewee. "You expect problems on the night. We have to try and curtail that as best as we can. It won't be easy." Rafael da Silva has drawn the short straw; he is Ronaldo's immediate opponent. The entire team will be charged with being respectful, but ordered not to be afraid.

Ferguson added: "I don't think it's one we should fear. If you go in worrying about the damage Cristiano can give us then we forget what we can do ourselves." The Scot does expect Real to score, however. At his most avuncular, he said he would settle for a 5-4 victory. Goals are a constant where he and Real are concerned.

It was 4-3 when they last visited United – though their elimination made it a pyrrhic victory for Ferguson – and 7-3 when the Scot first saw the Madrid. As a teenager, he was among the Glasgow crowd when Alfredo di Stefano and Ferenc Puskas shared the goals in the 1960 European Cup final.

If his love affair with the competition began then, United's started still earlier. The Busby Babes were semi-finalists in 1957, its second season, and knocked out by Real. Half a century on and 39 years into his managerial career, these games still have sufficient magnitude and meaning to excite Ferguson.

"That is the beauty of the Champions League," he said. "As a European night, I don't think you get any bigger than this one: great clubs with great histories. It is set up to be a potentially marvellous game and I don't think it will be a disappointment."

A special night is also an encounter with the Special One. Jose Mourinho remains the only manager to make Ferguson seem yesterday's man, albeit temporarily, and may be tomorrow's choice at Old Trafford. Or maybe not. "It is hard to say who is going to replace me because there is no timescale," said Ferguson.

He has seen off past pretenders to his throne, just as Giggs has outlasted younger rivals. The 39-year-old is set to reach a milestone on the grandest of stages. "You never think you are going to get to 1,000 games," he said. After 999 previous appearances, 931 of them for United, he will reach a seismic landmark in a match of historic resonance.

"As you get older you do dwell on things more," Giggs said. "I took in a lot more from the second Champions League we won [in 2008] than '99." If there is to be a third, United will have to defend like it's 2008 – when, in both legs of the semi-final, they stopped Barcelona scoring – to party like it's 1999. They know that Real, and Ronaldo, have the pace to prosper on the break. "As we know, they are one of the best counter attacking teams in Europe," Ferguson, who travelled to Spain to watch Real win 3-1 against Barcelona last week, said. "They were absolutely stunning in the Nou Camp. We have to cope with that but we have to show our own attacking threat also."

So as one Ronaldo looks to emulate another, as Real's quest for the record 10th European Cup continues in the knowledge that, in 1957 and 2000, United were defeated en route to glory, Old Trafford's old-timers can take heart from the past deeds of the veterans. In 1968, as Matt Busby's dream of conquering Europe was finally realised, Real were overcome courtesy of a semi-final goal from the 36-year-old centre-back Bill Foulkes.

That is the essence of Real Madrid versus Manchester United, matches of improbable deeds with goals galore, games that echo through the ages. And ones that, more often than not, tend to produce the champions of Europe.