Bundesblogging, Week 2: A study in contrasts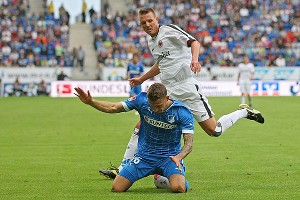 no_source / Thomas Niedermueller/Getty ImagesDespite the contributions of Americans Fabian Johnson and Danny Williams, TSG Hoffenheim is floundering in the Bundesliga basement.
Another thrilling week in the Bundesliga featured two 4-0 demolitions and a 6-1 victory for Bayern, but a quick glance at the league table reveals things are not all as they should be (at least not if you ask the bookies). Bayern sits atop the table having dismembered Stuttgart on Sunday, but newly promoted Eintracht Frankfurt is right there with the Bavarians, tied on points.

Eintracht means "harmony" in German, but so far they've brought nothing of the sort to Germany's top division. As I mentioned in last week's column, Eintracht's scrappy 2-1 win against Bayer Leverkusen was my favorite match of Week 1. It featured wide-open, no-fear stuff from Eintracht, and if the rookies' finishing had been better, things could have gotten ugly for Bayer.

This week, I took my brother on the half-hour trip to the Rhein-Neckar Arena, TSG Hoffenheim's home ground, for its home opener against Eintracht. It was my brother's first top-flight soccer match of any kind and we were both school-boy giddy by 2 p.m. when we sat down on the stadium-bound S-Bahn in Heidelberg's main train station.

The train was already full of black-and-red-clad Eintracht supporters and when it passed through the city of Hoffenheim, population just north of 3,000, the Eintracht supporters crowded the windows -- cameras in one hand, beers in the other -- snapping photos of the tiny town and snickering. Hoffenheim has a unique history and many German football fans view the team with a kind of bemusement, as though they refuse to take TSG seriously when it comes from such a small place.

The issues with TSG Hoffenheim stem from the fact the club's recent success has more to do with software mogul Dietmar Hopp's financial backing than it does the club's tradition or history as a powerful football organization. Prior to Hopp's investments, the club played most of its soccer in the fifth division. From 2000 to 2008, the team rocketed from regional obscurity to the Bundesliga and hasn't looked back.

Eintracht Frankfurt, by contrast, has both tradition and history as a top club. The team's footballing identity dates to the late 1900s and 50 years ago, Eintracht played in the inaugural Bundesliga season. Its ground is historic, too: the club has played in Commerzbank-Arena (aka the Waldstadion) since 1925.

It doesn't help Hoffenheim's dubious pedigree that the brand-new Rhein-Neckar Arena, (opened in 2009) is based way out in Sinsheim, a boondock town if there ever was one. It's funny how geography can have such a profound effect on authenticity (see: The NY Red Bulls playing in Harrison, N.J.).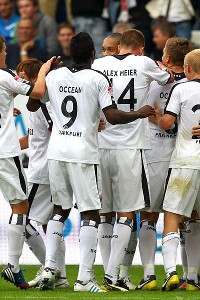 no_source / Thomas Niedermueller/Getty ImagesWith wins in its first two games back in the top flight, Eintracht Frankfurt has shown little fear or rust.

The stadium, as I mentioned, is a half-hour by train from Heidelberg -- the nearest city of note -- and a full hour from Mannheim, the center of the Rhein-Neckar metro area. The club reportedly tried to find places for its new ground in both of the above cities but without success.

Pulling into the Sinsheim train station, one gets a good feeling for just what kind of roaring mouse we're dealing with when we talk about TSG Hoffenheim: the population of Sinsheim is about 35,000; the capacity at Rhein-Neckar Arena is 30,150.

The Arena itself sits perched on a hill overlooking Sinsheim in the kind of prime location where you'd find a castle in other small towns in the area. One of the complaints often leveled at Hoffenheim has to do with the supposed lack of atmosphere in the Arena. But before Saturday's match, this was not the case. Both sets of supporters seemed downright rabid.

As Americans, my brother and I were particularly keen to watch a pair of our countrymen, Danny Williams and Fabian Johnson, play for Hoffenheim. Johnson, a player Jurgen Klinsmann once called "one of the best left-backs in the Bundesliga," started while Williams, who plays more of a bit part for club and country, did not.

TSG looked good for the first 20 minutes or so -- it even had a headed goal pulled back for offside -- but then things began to unravel. In the 39th minute, Eintracht scored when Alexander Meier's shot popped up off Marvin Compper's foot and over the head of the diving Tim Wiese. Just before the half, Pirmin Schwegler made it 2-0 with a blast from the edge of the area.

Danny Williams came on at the half and added some much-needed steel to the midfield, but by then, Eintracht was controlling things. Midway through the second half Sejad Salihovic came on for Tobias Weis and earned himself two yellow cards in four minutes, the second from what looked like a legitimate shoulder-barge (at least from where I sat). Stephan Schröck, Hoffenheim's right back, received his second yellow four minutes later for a hard foul. When the ref brought it all to an end, mercifully, Hoffenheim was down by two men and four goals.

The 4-0 defeat put an exclamation point on Hoffenheim's terrible run of form: just one victory from its past 13 home games. To make matters worse, it was dumped from this season's German Cup by a fourth-division team from Berlin, and all this comes at a time when the club is focused on consolidating.

On Friday, the club terminated Ryan Babel's contract -- I never rated him to begin with; he has since signed with Ajax -- and there's talk they're trying to ship out ex-captain Andreas Beck, too. Markus Babbel, Hoffenheim's manager, has himself a ship to right. Babbel's previous managing stint at Hertha BSC saw him guide the Berliners into the Bundesliga only to struggle in the top flight. Hertha gave him the ax midway through last season and the team was eventually relegated. Hopefully he can do better with Hoffenheim, currently 17th with 0 points. (Only the hapless Stuttgart has a worse record on goal difference.)

After the match, my brother and I walked back to Sinsheim's bahnhof behind three stumbling Eintracht fans. As we approached the station, one of them, a heavyset guy with a gothic-lettered neck tattoo, looked back at us, squinted, and asked what we thought of the game. We both shrugged, unsure of how to respond. His smaller, more clean-cut friend asked us if we were Hoffenheim fans. "Well, I live in Heidelberg," I told him. They all rolled their eyes and laughed.

Elsewhere, Borussia Dortmund tied Nuremberg 1-1 to extend its unbeaten streak to 30 matches. Borussia Mönchengladbach and Fortuna Düsseldorf played their first top-flight derby in more than a decade, finishing 0-0. American international Jermaine Jones scored for Schalke 04 (a team with serious tradition) as it dispatched FC Augsburg 3-1.

Next week Eintracht plays Hamburg, a team in chaos. The game should mark Rafael van der Vaart's return at his former club, though it looks like the problems there run deeper than a single missing piece.