Dark times for Arsenal after loss to Spurs
In rock 'n' roll, hitting rock bottom is straight forward. Booze, drugs and reckless behavior of all manner conspire to send the ailing star to the brink. Paint-by-numbers self-destruction, it was immortalized to hilarious effect by John C. Reilly in "Walk Hard: The Dewey Cox Story." Killing yourself was never more fun than when Cox shouted between swigs of alcohol with a groupie, "This is a dark @#$##@ time."

The equivalent descent into darkness in football is being written right now, but poor old Arsenal can't even have a few moments of guilty joy on the way down. "Down" being the operative word, as Arsenal will have a tough time finishing in the top four -- and qualifying for Europe -- after losing 2-1 to archrival Tottenham Hotspur at White Hart Lane.

You can say in hindsight Arsenal could have gotten their tactics correct, but really, Mr. Magoo would be able to tell you that playing a high line with a rather sluggish back four against some of the fastest players in the Premier League (take a bow, Gareth Bale and Aaron Lennon) would be tantamount to tactical suicide.

After dominating the possession for most of the first 30 minutes, Spurs cut the Gunners open not once, but twice with runs in behind the defense. Bale did it first, in the 37th minute, latching on to a ball from Gylfi Sigurdsson to finish bottom left. Two minutes later, Lennon made a diagonal run behind the back four. Nacho Monreal -- a good left back by all accounts -- failed to pursue the attacker, while Thomas Vermaelen was caught taking a late-day siesta. No communication, no clue for Arsenal's defense.

Tottenham fans said it all with two equally biting songs. "Gareth Bale, he scores when he wants." And "Arsene Wenger, we want you to stay."

Spurs, also playing a high line, did give up a goal when Per Mertesacker headed home (with the help of deflections off Bale and Emmanuel Adebayor). It may have conjured images of the match at the Emirates this past November, when a spectacular Tottenham collapse saw Arsenal win 5-2. While the Gunners made a go in the second half Sunday, creating real chances and passing the ball with sharpness and fluidity, the end product of a tying goal remained elusive. Monreal, Aaron Ramsey (who ended up playing at right back), Santi Cazorla and Theo Walcott all had good chances and had a real go.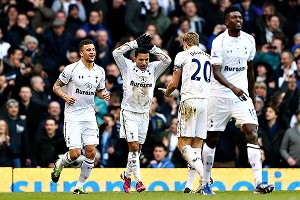 Paul Gilham/Getty ImagesTottenham had plenty to celebrate after defeating Arsenal 2-1 at White Hart Lane.
The second half was, in fairness, a rollicking affair, up and down for both sides, but Tottenham -- a side that struggled to see matches out at the beginning of the season -- weathered the storm to move into third place on the table with 54 points, seven ahead of fifth-place Arsenal (and two ahead of fourth-place Chelsea).

There wasn't much between Tottenham and Arsenal at the Lane, yet in the end these two clubs are going in two different directions.

Is this rock bottom for Arsenal? Nah, that won't come unless the Gunners fail to qualify for Europe -- which is more of a risk after this loss. Spurs, meanwhile, still have a tough schedule upcoming, with Liverpool sandwiched between Europa League matches against Inter. But they won the North London derby, strengthened their position and separated themselves further from their rival, big-picture-wise. Indeed, Tottenham is in a position to show why they're different from Arsenal, the moment when they can show they are a club of ambition and upward trajectory. That moment will come if and when they qualify for Europe and therefore have the best leverage to hold on to their best player, Bale, and show that they are not a selling club.

For Arsenal, it's a "dark @#$#@$# time."