Race for the Champions League
It was only a week ago, before all the drama of the last few days, that Rafa Benitez made a prediction. "It will be very close," the Spaniard said. "The race for the top four will go right until the end of the season."

It is now doubtful, of course, whether Benitez's own reign at Chelsea will last that long itself. That very storyline, however, indicates why this weekend could determine whether he's right.

Indeed, although the chase for Champions League spots won't exactly be decided over the next few days, it may well be defined in that period. With United and City all but assured first and second place in the table, Arsenal, Chelsea, Tottenham and even Everton are left to scrap for the two remaining qualifying spots for Europe.

Certainly, these fixtures -- and circumstances -- appear to bring a number of key elements and narratives together that will set the remainder of the campaign.

Most strikingly, there is the manner in which Benitez's future has surprisingly overshadowed the buildup to yet another knife-edged North London derby on Sunday.

--Arsenal blog
--Tottenham blog
--Chelsea blog
--Everton blog

Just like last season, a single fixture could go a long way toward deciding the seasons -- and futures -- of both Tottenham Hotspur and Arsenal. If Andre Villas-Boas' side win, it would give them significant breathing space and potentially open up a brave new world in which they have finally moved ahead of their neighbours. If Arsene Wenger's team claim victory, it will re-establish so many recent realities.

This week, though, Benitez managed to add a new element to one of the most widely accepted realities of all: There will always be ructions at Chelsea. Although it appeared the Spanish manager was maintaining a fragile balance that would bring another Champions League qualification, his attention-grabbing comments Wednesday have greatly altered the chemistry of it all.

David Moyes could actually do with altering the chemistry slightly at Everton. Nikica Jelavic gave them a jolt of electricity last season, and it seems they need something similar now. It remains surprising they didn't take a calculated risk in the transfer window in order to maintain momentum.

Naturally, the paltrier finances at Goodison Park will always make the situation somewhat understandable, but they still invite bigger questions about Moyes himself. If he is really capable of providing regular success at a better-resourced club, should he not have defied economics more dramatically and more often, in the manner Alex Ferguson did at Aberdeen? Even taking into account the obvious transformations in the game since that time, there is a slight, increasing sense that Moyes is eminently capable of regularly overachieving but not quite equipped to truly excel.

A second top-four finish for Moyes would certainly start to alter those perceptions.

And although many might consider Everton out of contention after their most recent collapse to Norwich City, they do face what is notionally the easiest fixture of the pack this week.

If they beat Reading at home, they're right back in the hunt for a Champions League spot -- especially with Arsenal and Tottenham facing off.

Indeed, the nature of the fixture list raises one of the most intriguing elements of this race: the rock-paper-scissors nature of the four clubs' strengths and weaknesses. Some sides have fitter squads but tougher run-ins, others have better players but bigger issues. Either way, the stats below, and the results this weekend, will hopefully give a clearer picture to Benitez's prediction.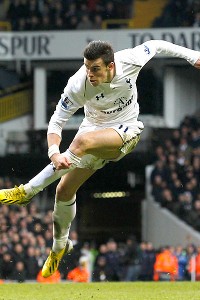 Ian Kington/Getty ImagesCan Gareth Bale continue to come up big for Spurs as they face a difficult run-in?
TOTTENHAM HOTSPUR
Position: Third, 51 points
Spurs are in command, but the key question is whether they -- or, perhaps more pertinently, Gareth Bale --- have sufficient strength to keep hold. Because, as attention-grabbing as the forward's match-winning displays have been recently, they did overshadow the fact that their pattern has been somewhat unsustainable: Spurs maintained their previous impressive consistency thanks to only one player's rare form in a series of games that they didn't exactly dominate. Although AVB's side have been the steadiest of all the top four this season, it points to a drop-off in energy that may be important ahead of an intense next few weeks. Five of Spurs' next six games are exceptionally demanding, involving home matches against Arsenal and Manchester City as well as trips to Liverpool, Swansea and Chelsea. If they don't retain their liveliness, they could lose considerable ground. The returns of Sandro and Jermain Defoe can't come soon enough, in order to keep shape and take pressure off Bale. Spurs have so far been the most adept at mounting the winning runs that prove so important in such run-ins, but the demands that have led to those runs may mitigate against the side.

Big strength: Gareth Bale and the steady consistency of the team
Big weakness: A squad that may be running out of steam and a particularly demanding schedule coming up

Fitness
Total games so far this season: 39
Total outfield players used: 29
Players to have appeared in over 75 percent of games: 6
Average number of games per squad member: 20
Most-used players: Kyle Walker 37, Aaron Lennon 36, Jan Vertonghen 34, Gareth Bale 33

Consistency
Most wins in a row: 4 games
Longest unbeaten run: 11 games
Number of different winning sequences*: 4
* at least three in a row

Quality
Player whose goals provided the most points: Gareth Bale, 10 points
Most productive player: Gareth Bale, 15 goals, 1 assist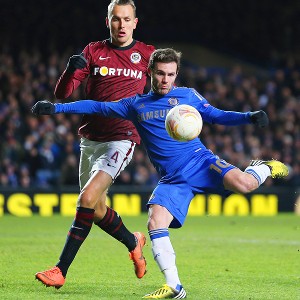 Ian Walton/Getty ImagesChelsea has plenty of talent, but will it be enough to overcome the madness at Stamford Bridge?
CHELSEA
Position: Fourth, 49 points
While Benitez has been questioned and criticised for his rotation, he has had something of a point. As it is, Chelsea have had to stretch a surprisingly small and imbalanced squad across the most games of any team in the top leagues. But, as much as Benitez has tried to manage that, his very appointment and most recent comments have occasionally destabilised things further. At the least, Chelsea's season may find an even keel thanks to some relatively easy forthcoming fixtures. After West Brom this weekend, Chelsea host West Ham and Sunderland and travel to Fulham and Southampton. Then again, many would have thought the same about the Saints' own trip to Stamford Bridge a month ago as well as the game against Reading.

Big strength: The most talented squad
Big weakness: The potential for turmoil, as well as the imbalances in that overworked squad

Fitness
Total games so far this season: 47
Total outfield players used: 24
Players to have appeared in over 75 percent of games: 11
Average number of games per squad member: 26
Most-used players: Eden Hazard 45, Fernando Torres 45, Juan Mata 45, Ramires 45

Consistency
Most wins in a row: 4 games
Longest unbeaten run: 8 games
Number of different winning sequences*: 3
* at least three in a row

Quality
Player whose goals provided the most points: Juan Mata, 10 points
Most productive player: Juan Mata, 10 goals, nine assists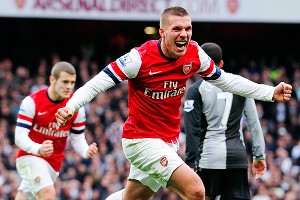 Glyn Kirk/AFP/Getty ImagesLukas Podolski has provided the Gunners with more points, nine, than any of his teammates.
ARSENAL
Position: Fifth, 47 points
So, what will come out on top? New realities or old experience? Because, undeniably, the stats prove this is the worst Arsenal side in 15 years. Not only have they lacked character but also prime world-class quality -- the line started by Dennis Bergkamp and continued by Thierry Henry, Cesc Fabregas and Robin van Persie. Although Jack Wilshere will likely rise to those levels, he isn't there yet, and it says a lot that their most significant goal scorer -- in terms of decisive match-winners and equalisers -- has been the erratic Lukas Podolski. At the same time, the core of the squad, as well as Arsene Wenger himself, retains the knowledge of how to navigate these run-ins. Arsenal, for example, are the freshest of the four teams with an average of just 17 appearances per squad member so far. What's more, the catastrophes against Blackburn and Bayern Munich actually overshadowed the fact that Arsenal have won their past three league games. Fixtures may facilitate that further. In between the derby and the match against Manchester United at the end of April, Arsenal face Swansea, Reading, West Brom, Norwich and Fulham. That may be enough to generate momentum again.

Big strength: Experience and a forgiving run of games after Spurs, as well as the fittest squad
Big weakness: A lack of consistency and, arguably, enough top-four quality

Fitness
Total games so far this season: 41
Total outfield players used: 31
Players to have appeared in over 75 percent of games: 6
Average number of games per squad member: 17
Most-used players: Santi Cazorla 37, Thomas Vermaelen 33, Per Mertesacker 33

Consistency
Most wins in a row: 4 games
Longest unbeaten run: 5 games
Number of different winning sequences*: 2
* at least three in a row

Quality
Player whose goals provided the most points: Lukas Podolski, 9 points
Most productive player: Theo Walcott, 11 goals, 8 assists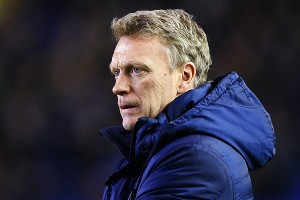 Alex Livesey/Getty ImagesWill Everton's David Moyes succeed Ferguson at Old Trafford?
EVERTON
Position: Sixth, 42 points
Everton's lack of cash and, therefore, quality hasn't just led to a loss of form of late but also a failure to win enough games over the course of the entire season. It is telling that Moyes' side has failed to win more than two games in succession this season, so it seems unlikely they will ever make up enough ground.

Big strength: Beyond hosting the champions, a series of winnable fixtures in their next six games
Big weakness: Lack of experience, depth and -- arguably -- nous

Fitness
Total games so far this season: 33
Total outfield players used: 23
Players to have appeared in over 75 percent of games: 8
Average number of games per squad member: 18
Most-used players: Leighton Baines 32, Leon Osman 32, Phil Jagielka 32, Nikica Jelavic 31

Consistency
Most wins in a row: 2
Longest unbeaten run: 8
Number of different winning sequences*: 0
* at least three in a row

Quality
Player whose goals provided the most points: Marouane Fellaini 7
Most productive player: Marouane Fellaini, 10 goals, 3 assists