Time for a rethink at Barcelona; credit to Real
When a team like Barcelona find themselves 3-0 down at home with a minute to go, it's not just down to the opponents. When both sides are playing to near capacity, Clasicos are "Immovable Object v Unstoppable Force"-type stuff.

This was anything but.

Let's get the praise for Real Madrid out of the way first, shall we?

Jose Mourinho has figured out how to play Barca. At least this version. Real Madrid have played five Clasicos this season, winning two, drawing two and losing once. In each of those games, Real have either been dominant or at least been in the game until the end.

- Graham Hunter at Camp Nou
- Video: Ronaldo says Barca always plays the same
- Video: Casillas hopes win inspires Real

And that's pretty huge when you consider that there are 16 points separating these two sides in La Liga and that Mourinho is seemingly a lame-duck manager. It shows that, despite the clouds over his future, despite the infighting, despite the evident limitations he has shown this season, he was able to get his message across to his players and they whole-heartedly bought into it.

We often assume that clubs in turmoil -- and make no mistake about it, Real are in turmoil -- necessarily fall apart. That may be true over the course of a season, and there's a reason they're 16 points back, but in a knockout competition manager and players will often have the same goal.

Mourinho's game plan wasn't rocket science, but then it did not need to be. Mourinho isn't one of those sophisticated tacticians who dreams up exotic schemes tailored to the opposition. Indeed, when he has tried to do that, things have sometimes unraveled. Besides, when you have Cristiano Ronaldo on this gargantuan hot streak there is no need to over-complicate matters.

So he relied on a basic plan and excellence of execution. Once it was obvious that Jordi Roura would confirm the 10 outfield players who had been defeated at Milan -- which meant no David Villa, no Cristian Tello and no Alexis Sanchez -- he played a high line and congested the midfield. After all, with Lionel Messi and Andres Iniesta dropping off, the only Barca striker who was going to run behind the back four was Pedro, and he could be dealt with.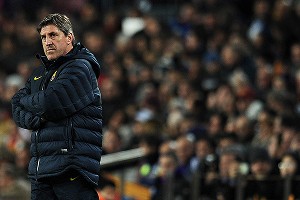 Lluis Roura/AFP/Getty ImagesSome hard questions have to be asked of Barcelona's interim manager Jordi Roura, while it's clear the team needs Tito Vilanova back as soon as possible when he's healthy.
There was no high press, unlike previous encounters; rather, the aggression was saved for the middle of the park, where Angel Di Maria ran himself into the ground neutralizing Jordi Alba and becoming an adjunct defensive midfielder off the ball. On the other flank, Ronaldo happily remained up the pitch, pinning Dani Alves back. (A word on Di Maria's two-way play: Like Stephan El Shaarawy in the Champions League, having a guy who can do that effectively for 90 minutes is invaluable, especially against a side like Barcelona.)

Picking Raphael Varane -- who had another monster Clasico -- ahead of Pepe and Gonzalo Higuain over Karim Benzema were also spot-on decisions. Some might say they were obvious, but imagine the fallout if Varane, who is still just 19 and was making only his 25th start for the club, had faltered under the bright lights with a grumpy Pepe on the bench.

I'll leave it to others to debate whether Real's man of the match was Varane or Di Maria or Ronaldo. But the latter deserves a special mention. Even as his contractual dispute rumbles on, even as the wheels risk falling off Madrid's season, he has been absolutely huge since the start of the season: 16 goals in 13 games tell their own story.
And Barca?

With hindsight, Roura (or Vilanova from afar, we may never know) got everything wrong in the build-up. The comments about the referee before the game were unnecessary and counterproductive. If anything, they showed fear, which is something few have associated with Barcelona in the past few seasons.

Including Iniesta in the front three rather than in midfield isn't a bad idea, per se. There are times when it can work spectacularly well. But doing so a week after it failed to produce results against Milan borders on self-harm. Especially with Messi on his current form, which, by his standards, is very poor. The result is oodles of sterile possession, and with the wing play largely neutralized by Real's countermeasures, what we ended up with -- after a relatively bright start -- was lots of predictably pointless passing. When Tello and Villa came on, it was too little, too late, as Madrid were already 2-0 up. These are game-day decisions; this is the ability to read a match and react to the opposition. Just as happened against Milan, and just like most of the Sevilla game, Barca came up short in this department. And that's on Roura.

There's also, quite evidently, an issue in central defence. It's not the knee-jerk issue of saying Carles Puyol is too old -- though he's 35 in two months' time -- but it's increasingly clear that he and Gerard Pique can't be left exposed in the open field too many times.

You can't help but wonder whether Pep Guardiola's experimentation with different systems last season, such as a back three, was a function of him searching for some kind of Barcelona 2.0, some way of freshening up a formation which, he feared, could go stale.

Guardiola's results were mixed last season when he did tinker and, in fact, he was pilloried by the "if it ain't broke, don't fix it" brigade. But maybe he saw something early and this was his way of dealing with it or pre-empting it before it became a problem.

It's just a theory, of course. And you have to weigh that against an important fact: Vilanova was right there alongside him; indeed, he was Guardiola's tactician. You have to believe he was a part of it and, now that he's in control, there's a reason we haven't seen it this year.

Time to panic? No, but time to re-evaluate a thing or two.

This may be Barcelona's worst defeat against Real Madrid at the Camp Nou in half a century but if things straighten themselves out, few will remember it as anything more than a blip.

Barca need Vilanova back, as soon as he's healthy. They need to be a bit more reactive when the game takes a certain turn and maybe a tad more humble too; playing Villa and/or Tello doesn't mean abandoning sacred principles, it just means a bit more directness, and that's something that can mesh beautifully with the Barca way.

They obviously need Messi back to superhero status, but not just him. Xavi and Cesc Fabregas were also poor, and you expect them to resume normal service. At the back, sooner rather than later, you may have to make some painful decisions. Like perhaps finding a place more frequently for Javier Mascherano. It can't be wholly a coincidence that in 2010-11, Barca's finest season in the Guardiola era, he played more minutes than Puyol, who was slowed by injury.

I mentioned this on Monday, but it's worth repeating. Barcelona have now gone 12 straight games without keeping a clean sheet. In the past 14 years, they've never gone more than nine straight conceding a goal. With the return leg against Milan coming up in two weeks, it doesn't take a genius to do some very basic math. If they concede in that game, they'll need to score four to advance. And if they play the way they did in any of their last four outings, there is simply no way they'll score that many.