Trouble atop the table, hope at the bottom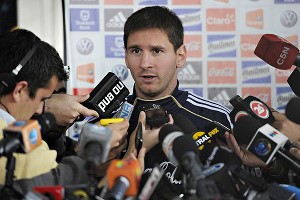 GettyImages / Juan Mabromata/AFP/GettyImagesLionel Messi, here addressing the press ahead of World Cup qualifying, knows Argentina have tough matches against Paraguay and Peru.
With Euro 2012 followed by the season's big kickoff and the excitement of the transfer window, only now is Europe turning its attention to the need to qualify for the next World Cup.

South America, meanwhile, is in a very different situation. Sights are already firmly trained on winning a place in Brazil 2014. The continent's marathon qualification tournament is a third of the way through. This Friday, action will get under way in the second year of a three-year campaign. So far the soccer has lived up to its billing as the most competitive World Cup qualifiers on the planet.

The current marathon format, with all the continent's teams facing each other home and away in one giant league, was introduced in 1996. Previously there had been long gaps between competitive fixtures. Over the last 16 years, though, the South Americans have enjoyed the type of calendar that European national teams take for granted -- regular meaningful games; guaranteed income; and the chance to invest in youth development, to hire quality coaches and to keep a team together, growing in terms of tactical options and in confidence.

The result has been a drastic rise in standards of the continent's traditionally weaker sides. As a consequence, no one is merely making up the numbers. There is no such thing as a guaranteed easy game, especially away from home, though the fact that Bolivia held Argentina to a draw in Buenos Aires shows that nothing can be taken for granted.

It is entirely in keeping with the spirit of the tournament, then, that the top two teams in the table have grounds for concern, while the bottom two go into the coming pair of rounds full of hope.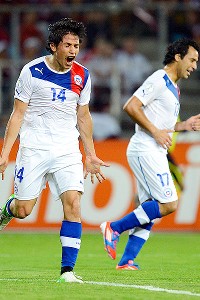 GettyImages / Juan Barreto/AFP/GettyImagesWith just six games played out of 16, leaders Chile have half the number of points needed to book a World Cup place.
On paper, Chile, the leader, is sitting pretty. With just six of 16 games played, it already has half the number of points needed to book a World Cup place, and so far only two of its matches have been at home. But the atmosphere around the camp has often been tense. A number of players were temporarily excluded after some late-night escapades; now those of domestic champions Universidad de Chile have been left out in a club-versus-country row.

Chile's defensive problems were laid bare last month when Ecuador won a friendly 3-0 in the U.S., and if things go wrong over the next few days, then the qualification table might not make such comforting viewing. Chile sits out Friday's round, after which it could find itself overtaken by Uruguay, Argentina and Ecuador. Chile meets the dangerous Colombians on Tuesday.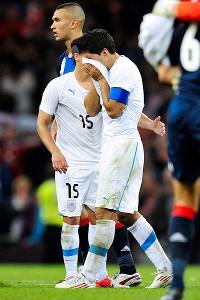 GettyImages / Glyn Kirk/AFP/GettyImagesSecond-place Uruguay, which had a dismal Olympic tournament, will be without the suspended Luis Suarez when they travel to take on Colombia.

Second-place Uruguay could also be excused for a touch of the jitters. The dismal failure of its youngsters in the Olympic tournament was a worrying sign. Uruguay's senior side has enjoyed a magnificent two years and has a proud 18-game unbeaten run. But some of the key team members are starting to show their age. Replacements -- or at the very least options -- will be needed before long, but none of the youngsters enhanced their reputations in the London Games.

Uruguay might also be alarmed to see that of the five games it has played so far, four have been at home. There are lots of tricky away matches to come, starting on Friday. With Luis Suarez suspended, Uruguay travels to take on Colombia in the sweltering afternoon heat of Barranquilla.


Meanwhile, these are decisive rounds for the two teams at the bottom of the table, Paraguay and Peru.

Fresh from finishing third in last year's Copa America, Peru went into the current campaign with high hopes. It won its first game, then lost the next four. Peru has had a terrible time with injuries, and coach Sergio Markarian maintains that his team can still qualify if he is at last able to select everyone he wants.

As in all recent campaigns, Peru is finding life very hard on the road. But it is traditionally strong in Lima, and must take advantage of two upcoming home ties, against Venezuela on Friday and Argentina on Tuesday.

Before that meeting with the Peruvians, Argentina provides the opposition for second-from-the-bottom Paraguay. It was clear a little over a year ago that reaching the final of the Copa America represented the end of an era for a Paraguayan generation. Coach Gerardo Martino, who had taken the team to its first-ever World Cup quarterfinals a year earlier, saw the warning signs and decided to quit. The problem was that his replacement, former right back Francisco Arce, tried to move too far, too fast, making wholesale changes and handing out international caps as if they were invitations to his daughter's wedding.


He paid with his job and now Gerardo Pelusso comes in and brings back the old guard, players who are eager to show they can still deliver the goods at Argentina, then at home against Venezuela.

As both Paraguay and Peru roll up their sleeves and seek to make up lost ground, a theme of these next two rounds emerges. Desperate for points, both take on Argentina, which under Alejandro Sabella appears to have found an attacking blend and the way to get the best out of Lionel Messi.

But Argentina's defensive unit still looks suspect, and chances are that it will be tested over the next few days, if not by the Paraguayan counterattack, then certainly by Peru's dangerous battery of strikers.

Because in addition to sorting out the qualifiers, these matches are also of vital importance in building a side good enough to compete in the World Cup. We will learn plenty about Argentina's chances -- and those of the continent's other teams -- in these coming two rounds of action.

Tim Vickery is an English football journalist who has lived in Brazil since 1994 and specializes in South American football.