Dortmund truck into Allianz Arena embracing spoiler role
The invitation mailed out by FC Bayern last week read: "Ladies and Gentlemen: On February 27 the German record champion and cup winner will meet the reigning German champion and cup holder. FC Bayern Munchen welcomes Borussia Dortmund for the DFB-Cup quarterfinal."

Going through my mail, this bit of info was not news to me.

Ever since it became evident Borussia Dortmund could not brush off the sheer force of Bayern's attack and be able to defend their Bundesliga title -- and ever since good old Lady Luck presented Dortmund an away match at Bayern -- the quarterfinal of the German cup was the date Borussia supporters had been longing for.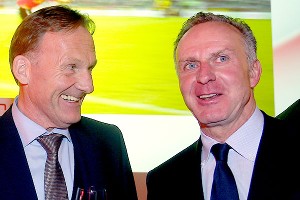 Alexander Hassenstein/Getty ImagesExecutives Aki Watzke of Dortmund and Karl-Heinz Rummenigge of Bayern will get the festivities under way Wednesday with, of all things, a pre-kickoff truck race.
To play Bayern at the Allianz Arena in the German cup felt like the best way to spoil their season that, until now, has indeed been the best season played by a Bundesliga team. Even the small hopes that Jupp Heynckes could turn into a lame duck after the Pep Guardiola appointment diminished within a couple of matches. Bayern have just been too strong and too focused in the Bundesliga this season.

Admittedly, Borussia have not been that focused on the league this season. Dortmund does trail Bayern by 17 points, but in games involving the top five teams, BvB have collected 14 of a possible 18 points. Bayern until now have only won seven of a possible 12. And of course, die Schwarzgelben have not lost to Bayern in the previous six encounters (if, like everyone else, you ignore the meaningless preseason Super Cup).

Enough of that and let's turn towards the team. At the weekend, Borussia only drew with Monchengladbach - despite the fact 'Gladbach finished the first half without even taking a shot at Roman Weidenfeller.

Still Dortmund, without Germany centre-back Mats Hummels for the second half, did not push for a second goal and 'Gladbach youngster Younes equalized.

Again, that match was proof that BvB have given up on the league. Having to do without Robert Lewandowski and Julian Schieber, who both sat out suspended, Jurgen Klopp fielded Mario Gotze as a half-nine. While the Germany starlet was doing a solid job up front, the attacking midfield line with Marco Reus, Moritz Leitner and Kevin Grosskreutz was not able to create enough dangerous situations.

"Giving 98 percent will not be enough to beat Bayern," Klopp said Monday. "But if we play with 100 percent effort everything is possible. On a good day we are also able to produce exceptional performances, and the opposition knows that." One hundred percent effort and the best starting line-up could do the job for Borussia.

Klopp will be able to use Lewandowski, who is not suspended for the Cup, and will also be able to field Poland skipper Jakub Blaszczykowski and Hummels. It will be interesting to see Kuba take on Netherlands international Arjen Robben (Franck Ribery's replacement), who in previous encounters stood no chance against Grosskreutz and Marcel Schmelzer on Dortmund's left side.

However, the key to success will be the Dortmund defense. With Neven Subotic next to Hummels, Borussia have looked less shaky at the back than with Brazilian centre-back Felipe Santana replacing either one. Hummels and Subotic will face Mario Mandzukic, who has been on fire this season and given the Bayern attack much more depth.

Mandzukic, Thomas Muller, Toni Kroos, Robben – now those are some names. "We will approach this game like an away match in the Champions League," Klopp said. Dortmund has not lost this season in the Champions League, winning once with three draws. The opponents so far: Manchester City, Real Madrid, Ajax and Shakthar Donetsk.

Needless to say, all eyes will be on Dortmund's sought-after striker Lewandowski. Returning from his Bundesliga suspension, Lewandowski has been making headlines the past few weeks. According to several German papers, Lewandowski is to change sides after this season and continue his career at Bayern.

Last weekend, his agent claimed Lewandowski had already made a decision on where he will be playing next season and it was up to Lewandowski to announce it. Dortmund officials have several times underlined Lewandowski still had 16 months left on his contract and Bayern refused to comment on the rumours -- or anything. But in Dortmund nobody believes Lewandowski will be part of next season's squad.

A lot of words have been written about this German classic. When there is nothing left to write, finally the teams will go out there and play 90 of the most exciting minutes of football you will see in Germany this season. In one match, Bayern Munich can lose a whole season and in one match, Borussia Dortmund can win much more than just a quarterfinal in the German cup. The Klopp XI are the clear outsiders and under no pressure at all.

And maybe Dortmund CEO Aki Watzke can put Bayern Munich under even more pressure ahead of the game after competition with Bayern counterpart Karl-Heinz Rummenigge Wednesday.

"Ahead of the meeting Bayern Munich chairman Karl-Heinz Rummenigge will lock horns with BVB boss Hans-Joachim Watzke – not on the pitch, but on the race course," the slightly bizarre invitation continued. Rummenigge and Watzke will race each other in 440-horsepower tractor trucks. Both clubs refused to comment if the winner takes Lewandowski.