Real Madrid dominate Barcelona to reach King's Cup final
BARCELONA -- There was a myriad of sights and sounds to take away from this thumping Real Madrid 3-1 (4-2) Copa del Rey semifinal victory over Barcelona.

So late at night are some of Spain's games, so great are the geographical distances between cities and so different from, say, the U.K. or German footballing mentality, is the Spanish one that often great matches like this are watched by a homogenous group -- the home fans and a few dozen hardy visitors.

But this, like Barcelona's Champions League semifinal away win back in 2011, was accompanied by a soundtrack of triumphant defiance from a healthy number of travellers. High up in the freezing attic of the Camp Nou there were many hundreds more Real Madrid fans than usual, and while they waved their Spanish flags, chanted "Y Viva Espana," danced and celebrated (from very early in the match) the night had the kind of atmosphere it deserved.

Another image?

I've seen Jose Mourinho dancing along the touchline here before but not like this.
Two goals had already been shipped in by the defending Copa Del Rey champions before Rafa Varane scored his first of the night, his second of the tie and added further confirmation that he is on a very short, sharp journey into the world's elite defenders. His leap was elegant and the television replays proved to us that the young Frenchman knew he'd scored well before the ball crossed the line.

Up sprang Mourinho much more in joyful celebration of his young protégé's work than to celebrate the formality of qualification for the final, or to provoke. The Real Madrid manager quickly found young Varane leaping into his arms in an embrace which was totally natural and also wholly deserved.

Mourinho pointed, animatedly, at the name on the back of the shirt and, truly, this kid looks magnificent.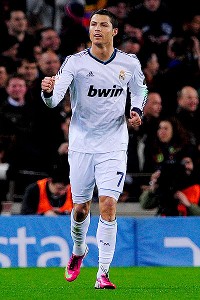 Josep Lago/AFP/Getty ImagesCristiano Ronaldo scored a brace against Barcelona to help Real Madrid cruise to victory at Camp Nou.
Just one more sight?

One of optimism. Toward the end of the match with Madrid pretty wholly in control, Pepe came on and, as usual, soured things with his twisted view of what reality is. Having got himself in a tangle with Sergio Busquets, in particular, he had a little stamp and when the Catalan reacted, Pepe dove to the ground as if he'd been unbalanced by an earth tremor.

Immediately there was a cluster of players from both sides, but what emerged was that tempers remained calm, senior players began to defuse the situation and an embarrassing moment from the Portugal defender didn't become a bad-tempered stain on what was a very impressive and enjoyable Madrid performance.

At the end some Barcelona stalwarts took their medicine -- Gerard Pique, Busquets, Andres Iniesta and Jordi Alba went and sought out the victors with handshakes, embraces and proper acceptance of a beating well handed out.

After so much ill feeling in recent Clasicos, this was refreshing.

Even in victory, and this was an admirable piece of work, there are questions which remain for the reigning La Liga champions.

How, when they can perform like this, are Real Madrid so far out of the title chase?

How, when he has been so gifted with a squad which can play such robust, quick and effective football, has Mourinho fallen out so badly and so often with key players, the media and anyone who has looked his way?

On this form, Real Madrid are a match for anyone -- yes, even though the home side contributed to its own humbling.

This was a Madrid side recognisable from last season's hardworking, aggressive, impressive and sometimes exuberant form.

Sir Alex Ferguson chose to attend himself, with two of his coaching staff, rather than send the Manchester United scouting staff. He'll have seen enough to know that Madrid are fitter and faster than they were in the first leg of the two clubs' Champions League tie.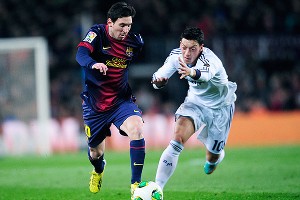 AP Photo/Manu FernandezLionel Messi was unable to have his usual impact or find the back of the net.
Mourinho's work on the training ground has obviously tightened up, the extra effort put into getting players sharper and adding stamina is working.
Perhaps, like me, he'll think that Cristiano Ronaldo was pretty smart in how he won the penalty for Madrid's opening goal.

The striker was already on his way down before Pique's challenge, but the defender wasn't clever in his timing or positioning and once Ronaldo had dusted himself off it was duly 1-0.


Two came because the Madrid players know, just like Inter did under Mourinho (and Milan showed last week) that a long diagonal ball played early is something that Barcelona currently dread dealing with.

Sami Khedira's missile clearance was all intention and intelligence, Angel Di Maria worked Puyol until the defender slipped and when Jose Manuel Pinto's save bounced out there was Ronaldo to slot it home.

Time and again the ball seemed to drop well for Madrid, but it was absolutely clear that this was a product of hard work and a system in action -- not fluke. You know the phrase, whether it belongs to Gary Player or Sir Jackie Stewart, "The harder I work, the luckier I seem to get"? And so we got absolutely clear-cut deserving finalists of the Copa Del Rey.

Madrid has been superior for the great part of this semifinal and nobody, not the most ardent Catalan, could claim otherwise.

Meanwhile, in other news, there's absolutely nothing wrong with the famous Barca system. How they effect it is quite another matter.

When this group of players, plus or minus characters like Samuel Eto'o, Yaya Toure, Seydou Keita and Thierry Henry, was so dominant across all competitions, the skills on show were so glittering and seductive that they sometimes obscured the importance of speed, intelligence and confidence.

Obviously speed applies to both athletic velocity plus speed of thought and action.
Particularly in the most powerful Pep Guardiola era, every little detail was so rigorously enforced that Barca were like a finely tuned middleweight boxer -- all menace, lightning speed and remorseless killer instinct.

They swarmed all over teams when they wanted "their" ball back. When they had it back, they unleashed hell.

This applies to some of Tito Vilanova's early reign, too. Signs were that there had been an effective tune-up. This Copa Clasico provided further evidence that many little details have gone awry.

In the first half, time after time, Madrid was quicker to initiate good decisions, quicker to react when there was a breakdown situation.

Generally this comes from training and preparing for these scenarios over and over again. It's a state of mind which becomes second nature.

Right now, at least in the pressure-cooker, no-mercy environment of a Clasico, Real Madrid are more relentless, less error prone and slightly more sure of themselves.

It's also true that Barca were once quicker in an athletic sense, too. They have a few players -- Cesc Fabregas, Pique, Alex Song, Xavi, Busquets, Javier Mascherano -- who simply aren't flying machines. Brains, talent and speed of moving the ball can all compensate, but pace counts in covering, recuperating and pressing.

All of you will know the scenario of when hundreds of small decisions every day will eventually clog up your computer and it appears sluggish. It isn't discarded -- a simple shedding of some temporary files and a restart will clear things up. It feels as if, since the turn of the year, and in Camp Nou Clasicos, that's what is needed in a football sense.


Many minor things are now less well effected, some sluggishness has crept in and, thus, vulnerability and a decrease in confidence are on the rise.

And there is another wolf at the gate.

Disregarding the howling of the partisan crowd that every single decision by referee Undiano Mallenco was wrong, there were strong hints that Barca is developing a victim complex, at least while they are suffering a mini slump.
Shoulders drooped, challenges which they thought were fouls left them complaining while still on the ground, and there was a general malaise of "This isn't fair!" -- not good enough for a top team and something which can be corrected with stern words from authority figures. Mostly the coach.


I'd have said that there was a penalty by Xabi Alonso on Pedro quarter of an hour before halftime but these are the breaks. Not so long ago this squad was more robust, more able to take, process and feed off adversity.

It's going to be worth Barca examining their fitness preparation because they are notably not as relentless, as strong in the last sections of games, and they will need an inquest into whose bright decision it has been to isolate David Villa for most of the season when his cutting edge, experience and goal ratio are a decent part of what they lack right now.

How fickle football is. Barcelona's progress to the Spanish title thus far has been pretty regal. Firm, entertaining, enjoyable for neutrals.

Now Barca face either recuperating a two-goal deficit against Milan next month in the Champions League or watching their season trickle away while a Spanish title win, which looked like the bedrock for a treble, comes under threat of feeling like "second best." How crazy is that.

But final word to Los Blancos.

It's ironic that if this is to be Mourinho's final Camp Nou Clasico that he leaves like this.

The firmest of victories, the lingering feeling that the goal margin could have been more, especially after Jordi Alba added what was a (not very much) "consolation" goal, and good performances from key "Mourinho men."

Ronaldo added two goals to make him the leading scorer in Clasicos since Mourinho came to town -- the two men are not linked at the hip but they share an attitude, a nationality and an agent.

Diego Lopez, Mourinho's idea of how to replace the injured Iker Casillas, excelled when he was needed (not that often) and gave Madrid a sense of security which has been missing in recent matches.

Then there is this potentially phenomenal defender, Varane. Bought not developed, yes. Pinched from under the nose of Manchester United by Zinedine Zidane, OK. But he ran to leap in his manager's arms when he scored that towering header and, beyond trophies, if this guy is to be part of Mourinho's legacy to Madrid then it looks to me to have been an important one.

Quite a night, quite a triumph.