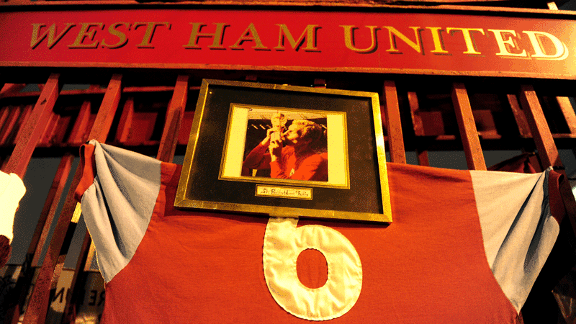 PA PhotosBobby Moore was celebrated on Monday but after leaving West Ham as a player he was, like many others, made to feel unwelcome a Upton Park
Upton Park on Monday was a night when a legend of the past was commemorated, a star of the present further venerated.

Bobby Moore was celebrated by West Ham and Tottenham fans alike, before Gareth Bale's brilliance stole the show. Hammers fans mocked Bale in their belief that he looks like a chimp, but he performed like a champ.

Even Luis Suarez and Robin Van Persie cannot hold a candle to Bale's destructive best at present, an opinion bound to send fans of certain clubs into howls of outrage. Envy plays such a big part in football that fans cannot acknowledge the brilliance of another team's star without backing up their own.

Jealousy and bitterness are both malign forces in football fandom and they especially extend to former players. When Sam Allardyce said, "nobody is doing more for a football club than Gareth Bale is for Tottenham," he might have brought memories back to Hammers fans of Scott Parker during the 2010-11 season. Parker achieved the notable feat of winning the Football Writers' Player of the Year award when playing for a team always headed for relegation. Yet on Monday, Parker was booed on every touch by home fans, and particularly loudly when leaving the field to be substituted.

Parker left West Ham in August 2011 for Spurs when, pushing 32 years of age, he wanted to make the best of his last chance to play at a major championship for England. Hammers fans could hardly have asked more of him in that final season, but joining Spurs has clearly caused residual opprobrium. Parker headed to White Hart Lane at a time the two clubs were at war over the Olympic Stadium.

Before Monday's game, in the Boleyn boozer right next to West Ham's current home, Frank Lampard, with West Ham in his DNA, was getting a mention or two. A ten-minute medley of songs concentrating on Lampard's supposed weight problems from a group of people who mostly outstripped his 78.7 kilos spelled out that Frank has never been forgiven for leaving. In 2001, he left a club that had sacked his father and uncle, and for a decent fee too. Paul Ince is hated to this day at Upton Park for being pictured in a Manchester United shirt before his 1989 move was completed. By contrast, Lampard has occasionally looked back in anger, but hardly sought to fan the flames.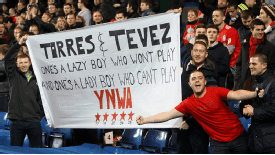 PA PhotosFernando Torres is one of a host of players to have received a poor reception from former fans
Fernando Torres is barracked by Liverpool fans, Carlos Tevez gets similar treatment from Manchester United fans, Andy Carroll is lampooned at Newcastle. This is acceptable behaviour.

The football fan's outrage of the jilted ignores a simple truth that professional footballers move clubs. It also skirts the idea that many players are not actually football fans. They probably never had the chance to be so. On a Saturday, they have always been playing. And not even the one-club men are chest-beating loyalists. Paul Scholes is an Oldham Athletic fan. A decade ago, Ryan Giggs seemed set to leave Old Trafford. Jamie Carragher was an Everton fan. In all three cases, had their club dispensed with their services, they would have played elsewhere. After all, football is their profession, their livelihood. Taking up a better offer is an accepted part of modern employment yet footballers are somehow supposed to be different. "One greedy bastard," is the regular chant aimed at a former hero turned villain.

Loyalty cuts both ways in football, and players have had theirs tested over the years. In the era before 'freedom of contract', and well before Jean-Marc Bosman, Bobby Moore himself was a contract rebel. Only Alf Ramsey stepping in between Moore and West Ham allowed him to captain England at the 1966 World Cup. A one-month contract made Moore eligible again.

West Ham always prevented Moore joining anyone else when he might have liked to. Last week, Leeds legend John Giles spoke of how he often found Moore to be "bored" when playing for West Ham, a team that often struggled after a mid-1960s heyday. Brian Clough washed into Upton Park in 1973 and offered manager Ron Greenwood a joint-deal for Moore and Trevor Brooking to sign for champions Derby County. As ever, the deal was turned down, when Moore might have benefitted from a change of scenery and a higher wage, just as Dave Mackay had done at Clough's Derby. When Moore eventually left West Ham, he did so to Fulham, but the Hammers' demand of a fee robbed him of an ability to financially benefit from a free transfer. He ended up captaining Fulham in the 1975 FA Cup final against West Ham, and was later made to feel unwelcome at Upton Park after his retirement.

Joe Cole's excitement at his goal to make it 2-1 to West Ham shows there can be a way back. Cole, like Parker, captained the Hammers to relegation, and joined Chelsea, a club the drinkers down the Boleyn had some especially choice words for. Time has healed the wounds though as whenever Cole came back to Upton Park, Lampard was always there to take the heat. At half-time on Monday, Martin Peters, Moore's fellow World Cup winner, was applauded to the rooftops, even though he once deserted Green Street for White Hart Lane.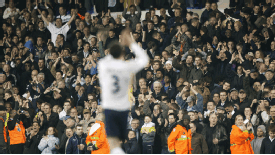 PA PhotosGareth Bale is idolised by Spurs fans now, but will he be remembered fondly if he moves on to pastures new?
Next week, Cristiano Ronaldo is expected to be warmly received at Old Trafford. David Beckham received such treatment in 2010 when returning with AC Milan and donning a green and gold scarf. Playing out of sight and mind can help the healing process. Joining a rival rarely does. Would Suarez, Liverpool's jewel in two seasons of fading frontiers, be hailed in Manchester City's colours?

Bale's brilliance might burn brightly but Spurs fans must enjoy him while they can. Hoddle, Gascoigne and Berbatov were all eventually sold. Champions League football might delay the inevitable but on the day that Bale returns to Tottenham with his latest flame, will fans receive him with warmth, after all the times he has lifted their hearts? Sadly, probably, inevitably not.