Galatasaray not worried about Schalke's Drogba appeal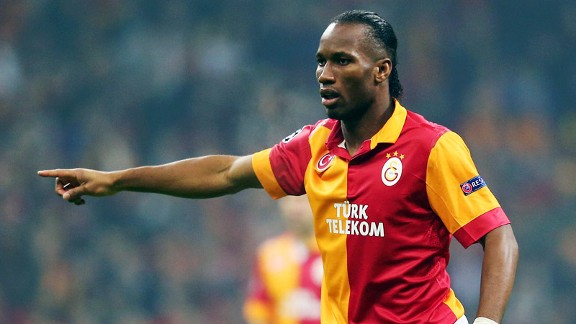 Alex Grimm/Bongarts/Getty ImagesSchalke believe that Didier Drogba is ineligible to play in the Champions League.
Galatasaray are confident that they have a secure deal for Didier Drogba and have brushed off Schalke's claims questioning the Ivory Coast superstar's eligibility to play in the Champions League.

- Galatasaray fuming over Drogba appeal

The Istanbul team, who made two sensational signings last month in Drogba and Wesley Sneijder, already have a difficult task to turn around a first leg result against Schalke, but the Germans are determined to make things even more difficult for the Turks.

Just 12 hours after a 1-1 draw in Istanbul, Schalke announced that they are considering issuing an appeal over the ineligibility of Drogba in the two teams' Champions League last 16 first leg game on February 20th.

Galatasaray's vice president Ali Durust was quick to reject claims that Drogba, who was signed from Shanghai Shenhua last month, was ineligible to play in the game.

"FIFA has sent a temporary license to the Turkish Football Federation [TFF] and the TFF demanded UEFA's approval for the use of the temporary license," Durust told NTV Spor, a Turkish television channel. "Then UEFA made it clear to Galatasaray and TFF that there were no problems on the usage of that temporary license. So there is not a problem at all."

The Turkish Football Federation's chief legal consultant Faruk Basturk backed Galatasaray's claim.

"Galatasaray has made its application on the right time and FIFA's Players' Status Committee has allowed Drogba to play with a temporary license, which, as the TFF, we went to approve," Basturk told the Turkish media. "There are no legal objections that pose a problem for Drogba to play [in the Champions League]."

Former Turkish Football Federation chairman and UEFA Arbitration Committee member Levent Bicakci said that Galatasaray is in the clear regarding the Drogba controversy.

"A player needs an international transfer certificate to play after an international transfer," Bicakci told the Turkish newspaper Sabah. "The last country that Drogba has played before Galatasaray is China, making this an international transfer. The player needs a license to play for Galatasaray, be it temporary or not. Apparently, there is this license that UEFA's official website lists Drogba on Galatasaray's squad. There is absolutely not a problem for a player that UEFA approves by putting his name on its official website."

On Feb. 21, Schalke announced on Twitter that: "There are doubts about the validity of the permission for Drogba to play in the Champions League. Schalke 04 reserves its rights and is looking into this."

Schalke are arguing that Galatasaray had not finalized the deal by Feb. 1, the official deadline to register the Champions League squad. The Turkish Football Federation had officially announced on Feb. 12 that it has granted a temporary license to Drogba.

UEFA stated in an e-mail confirming that it "has received a protest concerning Didier Drogba's eligibility to play" in the fixture, referring to the articles 43-44 of the disciplinary regulations. The cited 44th article says: "A protest is admissible only if it is based on an ineligible player's participation in a match." UEFA added that "the Control and Disciplinary will decide on the dismissal or admission of the protest."

Ceylan Caliskan, a player agent who has worked with Galatasaray in finalizing the Drogba deal, is also confident that there are no worries for the Istanbul team.

"What Schalke are trying to do is that they are trying to blur the waters," Caliskan said. "FIFA has already given the documents. I think they are trying to blur the waters to get an advantage. But they know very well that this will get them nowhere."

Another argument voiced in the Turkish media that the club had filed their application before Feb. 1, making the move eligible. "Even though the license was eventually granted on Feb. 12, it was the date of application that mattered," a commentary on the Turkish daily Haberturk read.

That is not the only controversy surrounding the Drogba deal. Drogba, who has signed a one-and-a-half year deal with Galatasaray last month, terminated his contract with China's Shanghai Shenhua, citing financial and internal problems at the club. It was reported that Drogba was not paid his wages in the last two months.

After Drogba signed a deal with Galatasaray saying he was "looking forward to playing in the Champions League again," Shanghai Shenhua cried foul over the deal, saying they were "shocked" by the former Chelsea man's departure. Shanghai Shenhua said they would appeal to FIFA, claiming that Drogba was still under contract.

The 34-year-old forward has made two appearances for Galatasaray since his sensational move to Turkey. Five days before the Schalke game, where he made his return to the Champions League after winning last year's final with Chelsea, Drogba made his Galatasaray debut against Akhisar. He has made an impressive debut, scoring a goal and creating another one for Burak Yilmaz in just seven minutes after being brought on as a second half substitute.