Friday Four: Bettering Arsene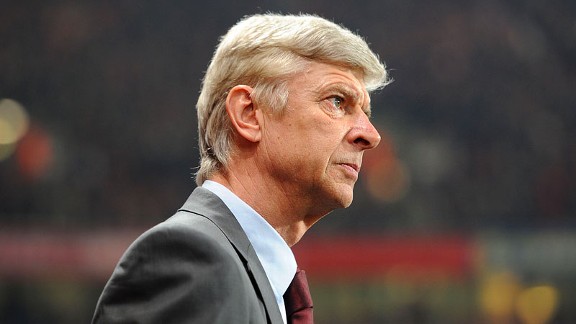 David Price/Getty ImagesArsenal manager Arsene Wenger hopes his side can find a win at the Emirates versus Aston Villa.
Our objective this week is simple: Try to be more successful in a weekend than Arsene Wenger has been over the past fortnight. The way we figure it, if we get one of the four games correct, we're already ahead on points and would surely get an Alan Pardew-esque lifetime contract from Arsenal's majority owner, Stan Kroenke.

As we move on to the Friday Four, we're certainly pondering the Gunners' game because how could we pass up a seat on the bandwagon of schadenfreude currently heading for the Emirates?

Arsenal vs Aston Villa:

It's been almost two months and a dozen contests since the Villans last shipped four goals in a soccer match; that's cause for celebration for one of the EPL's most magnificently porous sides. (And to think that defense was supposed to be tighter without the hapless Alan Hutton.) You have to shake your head in mock awe when you realize that a team that's already allowed fifty top-flight goals isn't mired deeply in the relegation zone. Even more impressive is their minus-25 scoring differential, an effort that's 15% worse than the second tier-bound QPR.

Now Paul Lambert's beleaguered teens get a trip to a wounded, whimpering Arsenal outfit at its lowest ebb in some time (and that's saying something). If we were predicting a Liverpool match, we'd know that the Reds would put up five or six as per Brendan Rodgers season-long pattern. But it is Arsenal, at home, where for some random astrological reason, the Gunners have won only seven of their 13 Emirates EPL efforts.

Here's what we can safely prognosticate. There won't be anybody playing for Aston Villa who can match either the surly intensity of Jack Wilshere or the savage pace of Theo Walcott. If Gervinho shows up, he'll miss at least two open goals, enough to make the North Stand pine for Nicklas Bendtner. Olivier Giroud will be typically slick but launch at least one firm header directly at the 'keeper, while the Arsenal defense will do something magnificently stupid to concede a goal. These well-worn narratives are as predestined as Wenger refusing to spend more than $8 in a transfer window.

Speaking of transfers, after Thursday's board meeting of the Arsenal octogenarian directors, rumors abounded that Wenger would have up to $100 million to spend on summer transfers if the team could make its way back to the Champions League. (And no, this news wasn't timed to match the sending of season ticket renewal emails. Pure coincidence.) Arsenal fans, this is called an "if/then conditional statement". In other words, don't hold your communal breath.

Nevertheless, we don't see any way that Arsenal sheds points against this sieve-like opponent and while the Gunners should win running away, it will still be as tight as Wenger's buying habits.

Arsenal 2, Aston Villa 1

QPR vs Manchester United:

Will this finally be the match where United stubs a toe? With Wayne "Robin van Persie without the good looks" Rooney and Phil "Roy Keane without the brains" Jones already scratched, the psychic exhaustion of a brilliant 1-1 draw against Real Madrid at the Bernabeu and an illusory degree of comfort atop the EPL, might this be the one game in 2013 that doesn't command the complete attention of Sir Alex Ferguson's almost criminally underrated side?

We have to ask these questions because they're the only reasons why this might be a close affair. While QPR has admirably scratched and clawed its way to better results since Harry Redknapp arrived, the West London squad is still a collection of expensive stiffs. To wit, the latest absurdly expensive import, Christopher Samba, a man who proved full non-value for money as Swansea ran through, over and around him in the recent 4-1 shellacking. (To Samba's credit, he did say he was "ashamed" about it. Nevertheless, Rangers' recent home form has included three consecutive shutouts (none of them was worth more than a point each, of course) and it has shown a happy knack of defending robustly against bigger teams -- right, Chelsea?

Amazingly, defending is not Redknapp's biggest concern. Bobby Zamora, 173 years old, is the leading scorer with four goals in 26 Prem games. The most creative talent on the team is Adel Taarabt, as self-destructive as he is consistent; Esteban Granero has shown why Real Madrid was so willing to let him leave and ex-United stalwart Park Ji-Sung's lung-busting stamina is far less effective away from Ferguson's watchful glare. Then there's Shaun Wright-Phillips, leader of the Should Have Been Something XI and the closest thing 'Arry has to an impact sub.

The last time QPR defeated Manchester United in a top flight game was before the EPL was even born, May 1989. Redknapp's record against the visitors is a stellar four wins out of 39 attempts. And yet we still have this burr in our communal saddle that says this will be QPR's best effort in weeks and United's worst. It still won't give QPR the three points it so desperately craves, but we think they'll steal one.

QPR 1, Manchester United 1

Manchester City vs Chelsea:

One group hoping that we're right about the previous score is the defending league champion -- City sits second in the table, a daunting twelve points off the pace, and welcomes in a tired Chelsea squad playing its 26th game in the last three months.

This match up should answer the burning question of modern football: "How many trophies are in play when $2 billion-worth of talent lines up against one another?" Given that the league title is out of reasoned sight, the correct answer is two -- the FA and Europa League. Not exactly the world's greatest return on investment.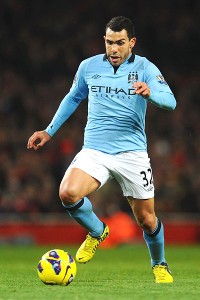 Mike Hewitt/Getty ImagesCarlos Tevez has a penchant for goals against Chelsea.
City is unbeaten at the Etihad since 2013 began and has looked refreshingly dangerous, scoring fourteen times in just five games. For that we can thank David Silva for rediscovering his mojo and Yaya Toure's return to the beating, rampaging core of City's usually drab midfield. That and the front tandem of Sergio Aguero and Carlos Tevez has been oddly off its feed but still has six goals between them since the holidays. Tevez in particular will relish the Blues' visit, having scored six goals in seven outings against them.

But enough about the one-and-done title holders. In case you had forgotten, Rafa Benitez's first game as Chelsea manager came against these same Sky Blues back on November 25. The result, a dour 0-0 affair, did nothing to deflect Stamford Bridge denizens' loathing of the ex-Liverpool top man though it did show why he was brought into the job: to nullify and frustrate better opponents.

Unlike their initial meeting, this one has the feel of a wide-open game. Neither side is particularly overwhelming defensively -- especially when Gareth Barry is turning shots into his own net -- but we see a fairly comfortable Manchester City win with Tevez picking up his usual goal against Roman Abramovich.

Manchester City 3, Chelsea 2

West Ham United vs Tottenham

It's a derby match but in spite of the Hammers' fans continuously odorous behavior towards Spurs, the visitors rarely seem to be particularly bothered. After all, they've got fourth place aspirations on the brain.

In previous years, you could almost certainly chalk this up as one of those doddering Tottenham displays where points were uselessly shed against vastly inferior opposition, but Andre Villas-Boas has kept his charges focused and disciplined in a manner rarely seen outside of Old Trafford. There's not a chance that Spurs gives up three of its precious four point lead over chasing Arsenal.

All in all, we expect a workaday win for the interlopers with Gareth Bale continuing to raise the price of his Real Madrid summer transfer.

West Ham 0, Spurs 2

Paul Kanarek is a freelance soccer writer living in Los Angeles, the only city in America where MLS teams outnumber NFL teams 2-0. James Tyler is an editor for ESPNFC.