Outgunned: Why are Arsenal, Wenger falling behind?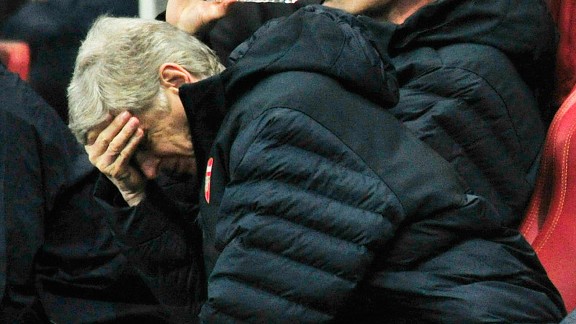 GLYN KIRK/AFP/Getty ImagesThe 2012-13 season has not been kind to Arsene Wenger, now under more pressure than at almost any other time in his 16 years at Arsenal. Questions about his financial and man management have grown louder since the loss to Bayern Munich.
It's 25 minutes after Arsenal have been given the most chastening reality check by Bayern Munich, and Arsene Wenger still hasn't emerged to face the media -- or the fact that, yet again, his grand plan may have big problems.

It seems, however, he's desperately trying to just come to terms with all that.

Because already there is talk around the Emirates mixed zone that Wenger went into a room on his own in the stadium to ruminate and still hasn't come out.

Just like his emotional news conference on the eve of the game, it's quite out of character -- and therefore very notable. It's all probably a consequence of the fact an Arsenal season under the Frenchman has never plumbed such depths.

- Press Pass video: Lessons for Arsenal
- Press Pass video: Assessing Arsenal

The Saturday before the Bayern loss, a Wenger side was eliminated from the FA Cup by a lower-league team -- Blackburn Rovers -- for the first time. Then, the three goals Arsenal conceded to the Germans amounted to more than in all their previous Champions League last-16 home legs put together.

In the nine before that, even when hosting Pep Guardiola's Barcelona, they had conceded only a total of two. Bayern trumped that in one game and could easily have had more.

It all follows Bradford City becoming the lowest-positioned side to beat them in any competition, in the League Cup elimination, and helps explain how they are so unusually far off the top four at this point of the campaign. Even last season, they already had managed to reel in Tottenham Hotspur by mid-February.

WHERE ARSENAL WERE AFTER 26 GAMES IN PAST NINE SEASONS

| Season | Place | Race for CL place |
| --- | --- | --- |
| 2004-05 | 3rd | 11 points ahead of 5th |
| 2005-06 | 5th | 4 points off 4th |
| 2006-07 | 4th | 5 points ahead of 5th |
| 2007-08 | 1st | 16 points ahead of 5th |
| 2008-09 | 5th | 6 points off 4th |
| 2009-10 | 3rd | 7 points ahead of 5th |
| 2010-11 | 2nd | 9 points ahead of 5th |
| 2011-12 | 4th | 0 points ahead of 5th |
| 2012-13 | 5th | 4 points off 4th |


That leaves open the possibility of a situation Wenger already has described as a "catastrophe" and "disaster": failing to qualify for the Champions League for the first time since his debut season in England in 1996-97.

For the most part, such extreme language is because of the potential effect on Arsenal's economics. It is also those very economics which greatly skew debate as to how far Wenger and Arsenal have declined -- if at all.

Those who somewhat justifiably defend Wenger say the eight-year trophy drought must be put into the context of the new stadium. As the Arsenal manager himself has said: "We want to pay the debt back from building the stadium and that's around £15 million [every year]."

Aside from the fact the spending for the stadium was supposed to be ring-fenced, it is equally necessary to put those economics into the context of Wenger's entire reign at the club. Because it isn't quite as simple or singular a case of the Emirates Stadium anchoring the Arsenal team to the ground while the petrodollar clubs streak away.

Undoubtedly, the vast expenditures by the likes of Manchester City and Chelsea have greatly conditioned the league and arguably moved Arsenal out of any pursuit for the league title on a long-term basis. But it doesn't explain why the club is now struggling for fourth and why it hasn't won any trophy in eight years.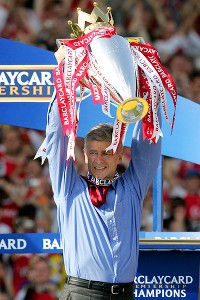 Jim Watson/Getty ImagesWenger raised the Premier League trophy in 2004. He hasn't lifted silverware of any kind since 2005.
Indeed, it wasn't just Roman Abramovich who irrevocably altered the financial landscape of the Premier League around the time of Wenger's last league title. The Russian's purchase of Chelsea in 2003 coincided with a general boom in broadcast money -- particularly in terms of international rights.

For example, in the season before Wenger's second English title -- the first won by the Invincible generation in 2001-02 - Arsenal were not among the top 10 richest clubs in the world and were only fourth-wealthiest in the Premier League.

Similarly, although they went on occasional sprees such as in that summer of 2001 when they coaxed Sol Campbell to the club, the building period of that team still involved relatively parsimonious close seasons. In both 2000-01 and 2002-03, for example, Arsenal had lesser net spending than more than half the Premier League and were routinely outspent by the likes of Middlesbrough and Aston Villa.

The summer of 1999 arguably set something of a trend: Arsenal did sign Thierry Henry, but only after the more highly prized Nicolas Anelka forced his way to Real Madrid.

The point of all this is for all the talk of the stadium debt forcing decline, Wenger has maintained success despite having to manage money prudently in the past.

In fact, the 2006 move to the Emirates has coincided with a few other advantages that weren't available to the manager before. Arsenal have moved high up the money list and pay some of the highest wages in the sporting world -- certainly enough to consistently achieve Champions League qualification.

WHERE ARSENAL RANKED ON FOOTBALL RICH LISTS*

2001-02: fourth in England, eighth in the world
2011-12: third in England, sixth in the world
* from Deloitte and Touche, where records available

PREMIER LEAGUE TEAMS WITH HIGHER NET SPEND

| | |
| --- | --- |
| 2000-01: 10 | 2006-07: 19 |
| 2001-02: 7 | 2007-08: 7 |
| 2002-03: 13 | 2008-09: 15 |
| 2003-04: 1 | 2009-10: 17 |
| 2004-05: 13 | 2010-11: 9 |
| 2005-06: 8 | 2011-12: 16 |
ARSENAL'S NET SPEND
1997-2005: £55.6m 2005-2013: £44m profit

FOOTBALL'S HIGHEST WAGE BILLS *

1. Barcelona
2. Real Madrid
3. Manchester City
4. Chelsea
5. Milan
6. Bayern Munich
7. Internazionale
8. Manchester United
9. Arsenal
10. Liverpool

* from ESPN The Magazine, May 2, 2012

The other great unsaid aspect of the debate about the debt is that Wenger didn't actually want -- and did his best to block -- the sales of the likes of Emmanuel Adebayor, Alex Hleb, Kolo Toure, Henry, Cesc Fabregas, Robin van Persie and Samir Nasri, all of which created such a healthy net spend in terms of player movement.

The logical conclusion is that such profits were not planned -- and therefore not fundamentally necessary -- and that Wenger has not re-invested available money.

When you break all that down, and analyse the fact that Arsenal are by default among the four best-resourced clubs in England and top 10 in Europe, it means that he is now only conforming to his resources -- he is no longer maximising them. In almost every sense, Arsenal have plateaued and, for the first time, may be starting to plummet.

This cuts to the very heart of the debate about Wenger's decline.

Whereas he previously used to overachieve by enjoying such frequent success and winning so many trophies in his first seven years, now he is not achieving at all. And while the macro situation of the wealth of Chelsea and the Manchester clubs has undeniably worked against him, he is seemingly no longer so capable of helping himself on the micro level.

He only faces those three sides in six of 38 games, after all. They are not enough to explain the following drop-offs.

POINTS PER GAME


| Best season | Worst season | Average | 2012-13 |
| --- | --- | --- | --- |
| 2.37, 2003-04 | 1.7, 1996-97 | 1.97 | 1.69 |
WIN PERCENTAGE
| Best season | Worst season | Average | 2012-13 |
| --- | --- | --- | --- |
| 68%,2003-04 | 47%, 1996-97 | 57% | 46% |
LOSS PERCENTAGE
| Best season | Worst season | Average | 2012-13 |
| --- | --- | --- | --- |
| 0%, 2003-04 | 29%, 2005-06 | 17% | 23% |
DEFENSIVE RECORD (Goals allowed per game)

| Best season | Worst season | Average | 2012-13 |
| --- | --- | --- | --- |
| 0.45, 1998-99 | 1.29, 2011-12 | 0.94 | 1.12 |


Such declines, then -- both specifically and in general -- invite the question of what it actually was that initially made Wenger a historically great manager and whether he is still doing it.

When he first arrived, three primary attributes marked him out from even Alex Ferguson:

- Sports science, as he revitalised the careers of the likes of Tony Adams;
- Exceptional scouting, as he immediately unearthed Patrick Vieira and pushed Emmanuel Petit to new heights;
- His overall philosophy and a game based on frightening pace.

Gradually, though, the rest of the game has caught up with each of those elements and even overtaken him.

In sports science, none illustrate that more than Sam Allardyce. Wenger's great opposite has effectively appropriated the field. Across the game, meanwhile, it is now de rigueur.

In terms of scouting, then, it is quite a while since Wenger brought in an eventual key player for £150,000 -- as in the case of Kolo Toure -- or found a highly suitable role for someone as supposedly humdrum as Mathieu Flamini.

By contrast, it is now Swansea who make previously Wenger-like signings with players such as Michu while Newcastle have come to dominate his old personal domain of the French market.

As the likes of Yohan Cabaye flourish, signings such as Gervinho and Park Chu-Young -- both having arrived from France -- flounder.

One anecdote in particular illustrates how much ground Wenger appears to have lost in the market. For years, the Arsenal manager supposedly fancied Mikel Arteta as a player, but wasn't fully sure whether he was suited to Champions League level. Once Cesc Fabregas departed in the summer of 2011 and the situation grew desperate, Wenger was forced to take the punt.

Such haphazardness was some way off the meticulous care shown in scouting Jose Antonio Reyes over 40 times in 2004 before deciding to sign him. And, despite the winger's eventual exit, he was an initial success, enlivening the Invincible season.

For the gradual decline of his transfer approach, aside from anything else, you only have to look at how many successes came in the early part of his reign -- and rarely for world-class prices -- and how many misses have come recently. His touch has seemingly deserted him.


TRANSFER HITS
TRANSFER MIXED BAGS
TRANSFER MISSES
Patrick Vieira (1996-2005)
Nicolas Anelka (1997-99)
Emmanuel Petit (1997-2000)
Marc Overmars (1997-2000)
Freddie Ljungberg (1998-2007)
Nwankwo Kanu (1999-2004)
Thierry Henry (1999-2006)
Edu (2000-2005)
Lauren (2000-2006)
Robert Pires (2000-06)
Sylvain Wiltord (2000-04)
Gio van Bronckhorst (2001-04)
Sol Campbell (2001-06)
Gilberto Silva (2002-08)
Kolo Toure (2002-2009)
Jens Lehmann (2003-08)
Matheiu Flamini (2004-08)
Robin van Persie (2004-12)
Abou Diaby (2005-)
Emmanuel Adebayor (2006-09)
Alex Song (2006-12)
Theo Walcott (2006-)
Bacary Sagna (2007-)
Mikel Arteta (2011-)
Davor Suker (1999-2000)
Sylvinho (1999-2001)
Pascal Cygan (2002-06)
Jose Antonio Reyes (2004-07)
Manuel Almunia (2004-12)
Alex Hleb (2005-08)
Tomas Rosicky (2006-)
William Gallas (2006-10)
Denilson (2006-)
Eduardo (2007-10)
Aaron Ramsey (2008-)
Samir Nasri (2008-11)
Andriy Arshavin (2009-)
Thomas Vermaelen (2009-)
Laurent Koscielny (2010-)
Per Mertesacker (2011-)
Nelson Vivas (1998-2001)
Oleg Luzhny (1999-2003)
Richard Wright (2001-02)
Junichi Inamoto (2001-02)
Francis Jeffers (2001-04)
Lassana Diarra (2007-08)
Mickael Silvestre (2008-10)
Lukasz Fabianski (2008-)
Marouane Chamakh (2010-)
Sebastien Squillaci (2010-)
Gervinho (2011-)
Andre Santos (2011-)
Park Chu Young (2011-)


The consequence has been a team with a vague sense of overall identity and shape but, like their transfer policy, no longer any obvious clear direction.

And even when they find a direction, they seem to lack the dynamism of old; certainly not the dynamism Nigel Winterburn used to enjoy feeding. "If you look at the teams that have really done well for Arsenal," the former left back says, "they've always had a lot of pace in their team and that pace has been missing so far this season."

It's not all that's missing. Rather than a whole that is greater than the sum of its parts, as all good sides ultimately are, Arsenal only appear to perform as well as their individuals are generally playing at that moment. Although there is a sense that if it clicks they can be excellent, there is absolutely no guarantee of that.

More notorious and troubling, they no longer possess the forces of personality like Tony Adams or Patrick Vieira to pull them through any below-par games.

And, crucially, that's the one thing Winterburn thinks an excellent coach such as Wenger can't independently develop in a player.

"I'm always of the belief you have to drive yourself to achieve," he says. "It shows when things are not going well, that desire to put things right yourself. Unfortunately, you can't manufacture that."

That certainly shows in games against a team that was formerly their biggest rival. Wenger's improved relationship with Ferguson has been cited as the ultimate sign of his decline, but there is clear evidence in their matches.

In a far cry from the muck-and-bullets matchups between Roy Keane and Vieira a decade ago, those at Old Trafford speak about how Ferguson has effectively come up with an easy formula to always beat Arsenal: get physical early on, unnerve them and then open them up on the break. A recent record of nine United wins and one draw in their past 11 meetings in all competitions reflect how successful it has been.

Worse, Wenger evidently has failed to react to it in any way. It further emphasises how, when you strip everything away, all he is left with is a philosophy.

That philosophy remains inventive enough, and he remains good enough a manager, to ensure Arsenal generally conform to their level. But as results against United illustrate, it is no longer enough for Wenger to overachieve. That more than anything used to be his hallmark. This season, for example, has there been a single occasion when Arsenal have won when they weren't favoured?

That certainly wasn't the case against Bayern on Tuesday.

Back in the depths of the Emirates, Wenger eventually re-collected himself to give an admirable and magnanimous news conference. He also refused to concede the tie or any issues about Arsenal's character.

To be fair, such breaking-point defiance has been another hallmark of this season. Every time Arsenal suffer the kind of result that seems set to send their season into a tailspin, they respond. After Bradford, for example, they then beat West Brom. It may well be the same this weekend against Villa.

The bigger issue, though, is whether that will just mean another season of playing to their general level.

Wenger used to be about so much more.