Di Canio's journey just beginning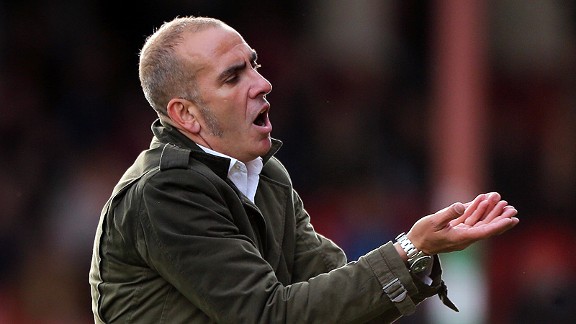 Press Association/AP ImagesPaolo Di Canio: Proved at Swindon that he has what it takes
Paolo Di Canio may have left the Premier League in 2004, but he was always destined to return to England: "Swindon Town has given me my chance. I love England," he said after being appointed manager in May 2011. "I love the country and I love the people. I just hope I can stay here for many years."

- Di Canio announces Swindon resignation

From an overweight young boy in Rome who needed orthopaedic shoes to a debonair manager, it had been quite the transformation. Excited at the prospects Swindon held, he also spoke passionately of the town's heritage and people.

Still just as attached to his homeland, Di Canio has always enjoyed a special relationship with the UK, and in particular its football: "English football culture is one of pure, intense competition, and that's why I have always preferred it to Italy," he told the Independent.

As he departs the scene of his first managerial role it is with a far more positive perception than he once held in Britain. "People said I was a barbarian," Di Canio says in reference to his push on referee Paul Alcock while at Sheffield Wednesday. Describing Alcock's fall as "like a drunken clown" - it's the kind of description that can't help but endear him.

Yet he still polarizes opinion. Mainly for THAT salute to the Lazio fans. Those close to him denounce the criticism as lacking context and understanding of the man. Still few can contest it took courage for Swindon chairman Jeremy Wray to appoint an untested man with a penchant for spectacle - many onlookers eager to see when his first moment of drama would erupt from the touchline.

"People who talk that way don't know me," he said. "I am calm, as I said, and more mature and I am really happy." Many will contest Di Canio's claims of new-found serenity, instead believing he has been able to channel it into beneficial avenues. Although he may have had much publicised bust-ups with players (most notably Leon Clarke), those moments also lack context.

"I saw Leon insulting my colleagues. So, as his manager, I put my arm round his shoulder and told him to go down the tunnel." Di Canio explained. Clarke didn't listen and Swindon chose to back their manager after he gave them an ultimatum. He did so because he is a man who operates rightly or wrongly, on defined boundaries, all or nothing.

Just as Wray took a risk in Di Canio, the show of faith was mutual. Di Canio has always liked a challenge. Speaking on his fear of flying he said given the choice between death by three lions or a plane crash - he admitted he would take the former. There was method to his madness: "In the mind of a Samurai, there is always the possibility that you could beat them [the three lions]," he said.

As well as disagreements with goalkeepers, Di Canio has also endured personal tragedy at Swindon with the passing of his father, Ignazio. A man he was incredibly close to due to the sacrifices he made for his young son Paolo (including working upwards of 12 hour days). It was during the period of mourning that Di Canio believes he truly bonded with Swindon in its entirety. It is also why in the midst of winning the League Two title, Di Canio (adorned in a shirt commemorating his parents) pointed to the heavens.

Funny lines and enthusiasm will only take you so far though. Di Canio boasted a 67% win ratio during his time in Swindon. He revolutionised the training methods and introduced double sessions. Doing more than just motivating those he managed, he took a holistic approach to their lifestyle.

As a consequence Swindon were viewed as one of the league's fittest teams. He cultivated a strong relationship with those he managed. Stern but fair he even allowed them the occasional sojourn into night clubs. "You can celebrate with one, two, three glasses of red wine or champagne, but why get drunk?" he asked. "I don't see why. I prefer to stay cool. Have a hug with your team-mates, or your wife, or girlfriend, or baby."

Proving it was more than just beginners luck, he even guided Swindon to the upper echelons of League One. Travelling to Tranmere less than 24 hours after Di Canio resigned citing 'broken promises', it was a testament to what he had built that assistant Fabrizio Picaretta was able to guide the club to a 3-1 win against their promotion rivals. That victory elevating them to first place with a game in hand on second-placed Bournemouth.

In a show of solidarity, Picaretta announced his own departure shortly after the game. A compatriot of Di Canio's, he left in equally dramatic if not somewhat touching style: "We're here for Paolo Di Canio and will follow him even if he coaches at Real Madrid or Luton Town," he said. "We are here because of Paolo and don't intend to stay one minute more than him."

While Picaretta's reference to Madrid served more to make a point, it wouldn't be sensationalist to suggest that Di Canio could be plying his trade in England's top tier soon. As West Ham's dour style and poor results begin to grate on Hammers fans, Di Canio's is the name some have thrust forward to replace Sam Allardyce.

That is despite his time at Swindon ending abruptly, although few fans have blamed him for leaving. The departure of star winger Matt Ritchie and the fact Di Canio was informed of the news by Ritchie himself, rather than the hierarchy, was not how to treat a man who had done so much for the club. Naive to explain his resignation as Di Canio conforming to his ostentatious stereotype, he left out of principle.

In his native Italian there is a phrase: 'Buon principio fa buon fine.' (A good beginning makes a good ending; Well begun, is half done.) In Swindon, Di Canio has enjoyed his good beginning. In 18 months he has shown early managerial promise as well as proving what may have been the biggest inhibitor to his career is actually one of his biggest assets. Whether he will now receive his good ending remains to be seen however.