The magazine the players read?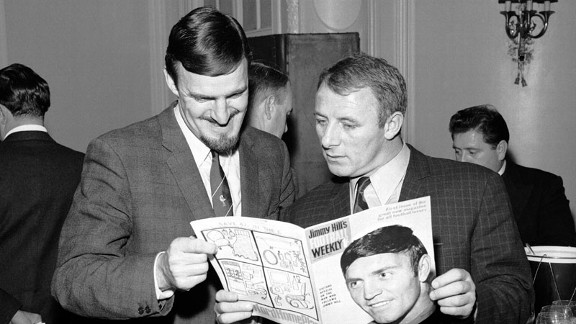 PA PhotosChanging times: Former PFA chairman Jimmy Hill leafs through his newly-launched magazine,
Jimmy Hill's Football Weekly
, with Tommy Docherty in 1967
Trade magazines are solely for the professionally interested. Buses is probably a right riveting read if you are a bus driver. Direct Marketing News might buy a thrill if you are engaged in mailshots, SMS and outdoor advertising. If you are not involved then reading is best avoided, unless perhaps a cure for insomnia is being sought.

But everyone wants to read about football, right? A free publication sent to each member of the Professional Footballers' Association (PFA), Professional Player, is described in its introductory editorial as "the magazine which came from nowhere, picked up the ball, side-stepped from the opposition, and hit the back the net to the delight of footballers, past, present and future". Its Facebook page, liked by no fewer than 15 people, describes it as "The Exciting New Publication Created Exclusively For Footballers".

Magazines for footballers by footballers are not a new phenomenon. Most recently, Icon, a publication produced by Tim Sherwood and Jamie Redknapp, made an abortive step into this high-end market. It was a star-struck periodical of self-celebration and blue-chip advertising, and included picture spreads that might provide onanistic relief to the soccer star on a lonely away trip. It took its lead from the wide-eyed materialism that Redknapp often exhibits in his TV appearances, and gave off the rarefied whiff of moneyed exclusivity. There was even the dreadful prospect of Jamie being let loose on the interviews. In the spirit of football's habit of boom-and-bust and the continuing collapse of the paid-for periodical market, Icon eventually folded amid financial problems.

You can tell Professional Player is contemporary football media because the ubiquitous Robbie Savage has his own "hard-hitting" column. "The time has come to sit down and know where we all stand," splutters 'Sav' oxymoronically.

Aside from the arch-controversialist himself, Professional Player is far drier in its outlook, and much more responsible too. The word 'professional' is its key. Andy Cole is interviewed, but there will be no tales of japery from the 1999 Treble season. Instead, Cole offers a compelling view that football does not do enough for its ex-pros. David Moyes reveals he is a "boring bugger" while offering "keep persevering" as his best piece of advice. Former Leicester and West Brom defender Phil Gilchrist discusses a life beyond football. After losing his job as manager of Woking, Gilchrist now works as a director of sport at a Leicestershire college, having spent five years doing the exams most players skip to turn pro.

The PFA is an organisation with a very public face. Gordon Taylor, whose hushed Lancastrian tones are heard on TV and radio whenever issues of player behaviour arise, is widely reputed to be the best paid union official in the world. He is so famous that he was hacked by the News of the World. Taylor's public role is often that of fire-fighter when his members bring shame on the game.

Taylor and co take their responsibilities seriously with a po-faced gravitas often seen on TV discussion shows. Their in-flight magazine reflects that. Guidance is the name of the game but money is talking, as all such advice comes in advertorial form. Former Chesterfield stalwart Steve Blatherwick expounds on his football agency's retirement plan for players. Olympic sprinter Darren Campbell, the man once abortively tasked by Chelsea with getting Fernando Torres up to full speed, peddles the best dietary supplements for footballers.

And then there are the financial and legal services that the modern footballer might need. A tax accountant offers his services, with the warning that "a retired sports player will not want a heavy tax penalty that they can ill afford".

A niche sports law specialist suggests that "the Ryan Giggs super-injunction saga firmly established that celebrities can no longer pay their way out of trouble" before providing a number to call if you have been affected by any of the same issues.

But Professional Player is not just there for the nasty things in life. It also provides plenty of opportunity to spend the thousands a week the top pro might earn. A concierge service offers Champagne, racing, private planes and yachts as "bespoke solutions for exceptional clients". Liam Gallagher's fashion label gets a run-out for the Leighton Baines indie-footballer contingent's needs. There is even the opportunity to flog off "pre-loved high-end designer fashion" - second-hand clothes to the layman. Players are given the chance to own a slice of a vineyard and proffered personal finance programmes for the purchase of a "luxury vehicle, or even a classic motor".

Young men like their gadgets, and footballers are no exception. How about spending £90,000 on an F1 Racing Simulator? You'll need to hand over £42,000 for a transparent pool table that still gives the feel of the old green baize. A mere £65,000 will buy you a "personal boat and submarine" that is "designed to resemble a fearsome shark" and can reach up to 50mph. At the bottom end of the scale is an old-style arcade machine that houses its own personal beer keg - a bargain at just £2,500. Need some headphones to help you wordlessly stroll through a mixed zone? That's £850 to you, sir.

That a footballer and his money are easily parted is a fact of modern life. It has reached epidemic levels with repeated reminders that a spend, spend, spend culture can only end up in a bankruptcy court. Lee Hendrie, John Carew, Jason Euell and Eric Djemba-Djemba are recent high-profile examples of a thrifty culture of mismanagement.

Last month, the BBC revealed some frightening statistics about the potential plight of the former British footballer. One in three are divorced within a year of retiring. Three in five have been declared bankrupt within five years of their final contract. Chillingly, 129 former players are currently in prison.

Somewhere amid Professional Player's fragrant but rather dull pages there are messages provided to prevent such fates, yet other means to embrace them are provided too. Which bit, if any, are the players taking notice of?