Alba issues giving Barca food for thought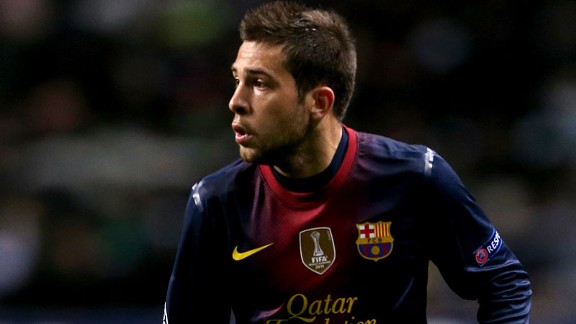 PA PhotosAlba has been a first-team fixture since joining Barca from Valencia in the summer
Signing Jordi Alba last June was a no-brainer for Barcelona. At 23, he was young, Catalan born, had been at La Masia as a kid, and was available for €12 million as he had only year left on his Valencia contract. His subsequent performances for Spain at Euro 2012 - including the memorable goal in the 4-0 win over Italy in the final - marked him out easily as the best left-back in the tournament, and maybe in all of world football. But the move to sign him, and the changes which that decision has required in Barca's team shape, could now be the undoing of their season.

AC Milan's second goal in the Italian side's 2-0 Champions League last-16 first leg at San Siro on Wednesday night illustrated just this issue. Once Milan won the ball back in midfield, Riccardo Montolivo lifted it forward into the space behind Alba on the left of Barcelona's defence. Carles Puyol came over to close down M'Baye Niang, as did Gerard Pique. When the French teenager moved the ball sideways to El Shaarawy, Alves was also sucked into the centre.

El Shaarawy then delicately lifted the ball into Sulley Muntari's path, and the former Portsmouth and Sunderland midfielder had acres of space inside the penalty area, allowing him to rifle the ball to the net. If you watch the replay all four of Barca's defenders are scrambling across in vain to try and block the shot, but nobody can get there quick enough.

Each Milan player - from Montolivo to Muntari - was excellent for the goal, but the way it was worked should be no surprise. Massimiliano Allegri's side had regularly tried to do something similar in Wednesday's game, with El Shaarawy keeping high on the left wing and almost getting in behind Alves twice in the first half.

It was not the first game this has happened recently either. Odion Ighalo's goal for Granada in La Liga last weekend came from a cross which Alba let come in, and Alves allowed to be knocked back, for the striker to tap in from close range and put his side in front. There was no dazzling skill or movement involved, but the Barca back-four were all at sea. The 3-2 loss at Real Sociedad last month also featured Barca's defence being pulled asunder from balls moved quickly across the box.

On Saturday evening, Spanish TV's analysis of the Granada game picked out an on-pitch discussion between Sergio Busquets and Alves, with the assumption that the Brazilian was being blamed for the goal. Alves often gets stick for not being defensively sound enough, and has done for many seasons, but just pointing the finger at him is a bit too simplistic.

Through most of Pep Guardiola's time at the Camp Nou, when they were piling up trophy after trophy, Barca generally had Eric Abidal as first choice left-back. Abidal is more defensively-minded than Alba and through those seasons Barca often seemed to be playing with a back three-and-a-half, with the right-sided centre-back [generally Carles Puyol] shuffling across and Abidal then providing solidity at the back post.

Even when Abidal was out, Barca tended to look for a solid option at left-back. In last season's Champions League quarter-final first leg at San Siro, Puyol was deployed there, and the game finished 0-0 with Milan rarely threatening Valdes' goal. The Italian side were much more dangerous this year, down both wings. Even right-back Ignazio Abate regularly raided forward, although his wayward deliveries caused few problems.

Such defensive frailty is a real problem for Barcelona now. Even with all their first choice defenders [apart from Abidal] now available and playing regularly, they have conceded at least once in their last ten games, the worst run since the 1998-99 season. Muntari's goal was the 400th which Valdes has conceded in 489 Barca games; he has let in 38 in 32 matches this season.

Barca stand-in coach Jordi Roura said in this week's pre-game press conference that the team and staff were aware of the issue.

"It is true that we have gone a number of games conceding at least one goal, but we have also been scoring plenty," Roura said on Tuesday. "That is good, although we must improve. Our obligation is to improve on the things we are not doing well. It could be that some day we do not have time to make the kind of comeback we have been doing recently."

That time arrived sooner than Roura would have hoped. But just as Alves is not individually to blame for the problems, neither is Alba. Attacking is a huge part of his game and, until being converted by former coach Unai Emery at Valencia, he was a left winger; even last season he often played further forward at club level. He has also proved he can be a successful left-back, starting all of Spain's games at Euro 2012, when his attacking instincts did not hamper the La Roja defence unduly - they conceded just one goal in their six games on the way to winning the trophy.

An important difference between Alba's club and international teams however is that Spain coach Vicente Del Bosque always plays Alvaro Arbeloa on the other side of his back-four. Arbeloa is often maligned in Spain for his lack of ability on the ball, and rarely contributes in attack, but he tucks in well and rarely gets caught out at the back post. For Spain, Busquets also covers across to stop opponents breaking down the left-wing, but even he cannot mind both sides of the pitch at once.

The closest Barcelona have to an Arbeloa is youngster Martin Montoya, who is decent going forward, but solider defensively than Alves. La Masia product Montoya, 21, has long been groomed as the Brazilian's eventual replacement, and featured regularly earlier in the season when Alves [and Alba] were injured, impressing against Real Madrid in the La Liga Clasico at the Camp Nou. He is even seen as a possible upgrade for Arbeloa with the Spanish side, and was called into the squad for their friendly in Panama in November, although he has yet to make his senior debut.

Alba's integration into this season's Barcelona team, and its veering towards the left, is also causing issues further forward. In Barca's current 'Gala 11' Iniesta plays on the left of the nominal front three, often drifting deeper and infield to allow Alba to overlap and provide width. This worked brilliantly for Spain during the summer, but is not turning out quite so well at club level.

Cesc Fabregas continues to look unsure of where he is supposed to be playing in big games for Barca. When Messi roams back from his 'false nine' position, the midfield becomes even more congested. If Alves is needed at the back, it means he is less likely to link with Messi and Xavi further forward, as he has done so well in the past. The general bluntness of the team meant that Barca were rarely able to find a way through Allegri's well organised defensive ranks on Wednesday, and did not trouble home keeper Christian Abbiati throughout the whole 90 minutes.

None of this is to say that Vilanova and/or Roura should immediately promote Montoya, or that if Abidal does get the all clear to play again he should be reinstalled with Alba dropping out. But it should give plenty of food for thought for the Camp Nou brains trust ahead of the second leg against Milan at the Camp Nou on March 12. Barca know they need to score at least twice in that game, so they'll need all the attacking options they can muster. But they also know that if they concede even once, they'll have to score at least four times to go through.

If they do not progress, much of the reason can be traced back to last summer's theoretical no-brainer transfer decision. Alba is an excellent player, but at the moment his arrival has caused more problems than it has solved.