Bayern Munich the team to beat in the Champions League
Outlined against a starry-black February sky, the Four Horsemen rode again. In dramatic lore their names are Death, Destruction, Pestilence and Famine.

But those are aliases.

You know them as Schweinsteiger, Kroos, Muller and Mandzukic. They formed the crest of the Bavarian cyclone before which another listless Arsenal team was swept over the precipice of Emirates Stadium Tuesday night as 60,000 spectators peered down upon the bewildering panorama spread out upon the green plain below.

OK, my homage to Grantland Rice is over. And maybe it's not the greatest of parallels: That Army team was "fighting" back in 1924, this Arsenal side, already embattled and weary, took the pitch with their noses already bloodied and left it a dejected mess, like the kid with no lunch money left to hand over who nevertheless is resigned to a beating.

You can't help but sense, however, that Bayern really may be the most credible -- if not the only -- antidote to Barcelona's European hegemony. Those first 45 minutes against Arsenal on Tuesday night were as dominant and confident as any you're likely to see this season. In some ways, though, the second half was even more telling. Because that's when Arsenal came back with far more intensity, focus and fight, that's when a momentary brain fart from Manuel Neuer put the Gunners back into the game, that's when everything was poised for Bayern to wobble.

But they didn't. Apart from Olivier Giroud's shot -- cleanly hit, but right at Neuer -- Bayern were never really threatened. And when they jacked things up even just a little bit, they got their third goal.

If the first half showed what Bayern can do physically and technically, the second underscored where they are mentally. And probably helps explain why they've lost only twice this season in all competitions. No major side has had fewer defeats, not even Barcelona, which have gone down three times this year.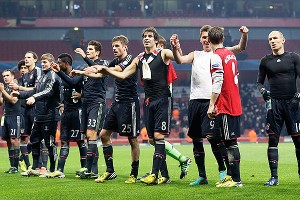 AP Photo/Alastair GrantBayern Munich's depth -- and the fact that they don't even need to start Mario Gomez and Arjen Robben these days -- makes them a formidable force.
Bayern are undoubtedly deeper and statistically stronger than last season. The development of David Alaba means that, together with Philipp Lahm, he forms arguably the best fullback pairing in the world. Javi Martinez has settled in nicely in midfield, vacuuming up loose balls and providing both steady passing and an imposing physical presence. Toni Kroos, no longer shuttled all over the park, is thriving playing in the hole, where he can display his full range of passing and intuition. Franck Ribery is back to the levels of a few years ago. And the fact that Bayern can afford to keep Arjen Robben and Mario Gomez -- who, between them, scored 60 goals in all competitions last year -- on the bench tells its own story about just how stacked this team is.

That said, you can pick holes as well.

Dante has done very well, but whomever he's partnered with -- whether it's Jerome Boateng or Daniel Van Buyten -- won't go down in history as Baresi and Costacurta. (In fact, Arsene Wenger rather sniffed out this possibility by playing the speedy Theo Walcott up front against Dante and Van Buyten. It didn't work as well as he had hoped, obviously, but it's a theme others could revisit with greater success).

Neuer is one of the best in the world, but he has his wobbles. The fact that he almost always moves early -- it happened on Lukas Podolski's goal as well -- makes him somewhat unorthodox among top keepers. Usually he shuts down a game between the sticks, but catch him on a questionable day and he can gift goals.

Then there's the front four. Mario Mandzukic is preferred to Gomez because he does more than just score goals. He has a comparable physical presence but greater mobility. Equally, Thomas Muller is a great fit out wide. He clears space, is unselfish and moves very well without the ball. For a fluid, pass-oriented team, the quartet works very well, especially when one of the fullbacks joins in.

The problem occurs when Bayern don't get to be the pass- and possession-oriented side. When, for example, the opponent defends deep in numbers. Or keeps the ball well. In those situations, individual quality makes a difference. And, for all his foibles, Robben remains one of the most fearsome individual talents in the game, capable of changing matches singlehandedly. Equally, while Gomez isn't everyone's cup of tea, there's a reason he scored 41 goals last year and it's not his dead-eye finishing (anyone who saw last year's Champions' League final will attest to that) but rather his uncanny ability to materialize in the right place at the right time.

Tactically, there are only so many chinks you can exploit in Bayern's armor. This is a big and athletic team that will always offer a threat in dead ball situations. The size and energy of the front four make them dangerous when they press, though it's a tactic manager Jupp Heynckes uses only in spurts and with good reason: Bayern tend not to have the type of long stretches of possession you see from, say, Barcelona and pressing too much would simply be exhausting. Equally -- we saw this against Arsenal -- against opponents with pacy forwards the back four tends to sit deeper, which makes it tougher to press as a team as it can leave gaps in the middle of the park. So one tactic (easier said than done, mind you) to employ against them is to take an early lead and keep possession. Easy, right?

But all this is nit-picking. And the scary thing is that Bayern look as if they'll only get better in years to come. Pep Guardiola, of course, is on his way. Just as telling, few clubs are as cash-rich -- 15 straight years of profitability -- and as well prepared for Financial Fair Play. Plus, there's no wealthy owner who might be tempted to jump ship or decide he no longer wants to pump in cash.

Increasingly, as far as the Champions League is concerned, you get the sense that, apart from Barcelona, the most likely team to beat Bayern are, well, Bayern themselves.