Van Persie joins Man United lore in style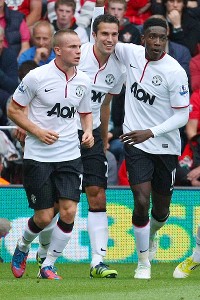 no_source / John Peters/Man Utd/Getty ImagesRobin van Persie's stunning hat trick gave Man United a fortunate win at Southampton.
It feels weird to type, but Robin van Persie rescued Manchester United from what should have been a defeat at Southampton. Such is life in the 2012-13 Premier League, a helter-skelter universe in which nothing makes sense. For Arsenal fans still giddy after a comfortable morning at Anfield, seeing their once-beloved Dutchman rescuing Sir Alex Ferguson in stoppage time is likely a fate most cruel.

In the end, with van Persie's hat trick and two-goals-in-the-final-seven-minutes finishing clinic silencing the partisan crowd at St. Mary's, is it unfair to say that class prevailed?

Not in the collective sense, mind you. Nigel Adkins' Southampton ran rings around United for 87 minutes, pressuring in advanced positions and overwhelming the once-proud, now-bedraggled Nemanja Vidic-Rio Ferdinand pairing time and again with angled, purposeful runs and superb delivery from wide. The rewards were apparent: Rickie Lambert's towering header after a quarter of an hour was perfectly placed to beat Anders Lindegaard at the far post. Ten minutes into the second half, Morgan Schneiderlin converted a wide-open header in the box to restore Southampton's one-goal advantage.

Shinji Kagawa and Tom Cleverly, lauded as the artful future of the Red Devils' three-man midfield, labored to crack Southampton's 4-1-4-1 stall or influence the game in any meaningful sense. The work rate of Steven Davis, Schneiderlin, 17-year-old James Ward-Prowse and Jason Puncheon on both sides of the ball was just too much for either United man to dissect.

No, of course the class I'm referring to is RvP himself. As was so often the case for Arsenal in previous seasons, there is no striker more astute at providing net-bulging bailouts for a team sorely in need of inspiration. (Except, perhaps, for the Dutch national team.) Though his fitness is normally a concern when scouting van Persie, no one has ever dared question his predatory instincts.

Consider his late rebuttal in front of a buoyant Southampton crowd.

Despite winning a stonewall penalty and ineptly chipping it at Kelvin Davis with United down 2-1, the Dutchman didn't wilt, continuing to lurk in and around the box. His second equalizer was pure opportunism in the 87th minute, sweeping home a close-range rebound after Ferdinand's header pinged off the post. Then, the Fergie Time coup de grace: an unmarked header glanced across the goal from the near-side corner. And so United, in Ferguson's 1,000th league game in charge of the club, was rescued by their newest player.

Ole Gunnar Solskjaer was once the king of the late strike. In one brief moment, it was Federico Macheda. On Sunday, it was van Persie's turn to take the Fergie Time mantle and bring a scarcely deserved three points back to Old Trafford.

It's games like this that remind us of the bigger picture. Football isn't just a game involving a ball and 22 determined, well-paid people trying to put it into a pair of nets, but it's a game of storylines, lore and memorable moments.

Sunday's stunner on the South Coast had two such massive plot points: Van Persie's hat trick (four goals in three games now for United) might eventually be recalled as pivotal in a United title chase. Meanwhile, Southampton's brave start to the season -- three games, two of them superb against either side of Manchester -- has reaped zero points, something that might serve as a rueful footnote should the brave Saints sink back down to the second tier come May.