Porto's Pereira: Man on mission continues to prove doubters wrong
Just one defeat in 49 league matches, a championship in the bag in his debut season, and top of the table in his second year as manager - yet still with something to prove. It might sound grossly unjust, crazy even, but that is precisely the position FC Porto coach Vitor Pereira finds himself in as the Dragons prepare to host Malaga in the last of the 16 Champions League on Tuesday.

- Cartlidge: Pellegrini keeping Malaga focus
- Pereira wary of Malaga threat

The unexpected departure of Andre Villas-Boas in 2011 hit Porto like a bombshell, so much so the promotion of erstwhile assistant Pereira to the top job on that same Monday was almost a footnote in the story of the dramatic switch of Jose Mourinho's ex-assistant to Chelsea.

AVB had led Porto to a magnificent season, even by their high standards, winning the Portuguese league and cup double and the Europa League, and doing so with an irresistible brand of swashbuckling football that yielded 145 goals in 58 matches.

"Andre did a superb job here and I thank him. This club will continue to prosper. It's a tough act to follow, but I was part of that act," said Pereira, standing alongside club president Pinto da Costa in his first press conference as manager. Before becoming an assistant at Porto, Pereira had enjoyed relative success at a number of lower-league clubs, most notably coming close twice to getting Azorean outfit Santa Clara promoted to the top flight in successive seasons.

Few doubted his competence as a hard-working and proficient coach, but questions remained as to his low-profile style, a perceived lack of charisma and his ability to deal with a dressing room packed with star names.

As the 2011-12 season unfolded, Porto's failure to qualify from a seemingly accessible Champions League group of Shakhtar Donetsk, Zenit St. Petersburg and Apoel Nicosia exacerbated those doubts, and as Benfica began to pull away at the table top Pereira's days at the Estádio do Dragao appeared numbered. A dramatic 3-2 victory at Benfica turned things round for Porto, whose strong finish to the campaign saw them lift yet another title - their eighth in 10 seasons.

Yet, even as the traditional street party to celebrate a Portuguese championship triumph on Porto's Avenida dos Aliados got into full swing, it was evident Pereira had not fully convinced many Porto fans he was the real deal. A suspicion that Benfica had thrown away the title rather than Porto winning it hung in the air. But the only opinion that really mattered - that of Pinto da Costa - was unequivocal.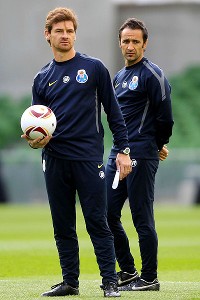 Joern Pollex/Bongarts/Getty Images)Andre Villas-Boas, left, was a tough act to follow for Pereira at Porto.
He gave the coach his unconditional backing. Pereira himself quietly got on with his job, not letting speculation surrounding his future affect him. "When an assistant coach gets the top job at this enormous club it's only natural that people will ask questions. It's not easy replacing a coach that won as much as (Villas-Boas). I want to thank him, enjoy this moment and also dedicate it to our great president."

While winning the title undoubtedly boosted Pereira's personal capital, arguably as just important were the departures of want-away players Alvaro Pereira and Fredy Guarín, both sold to Inter Milan, the freezing out of another player seeking pastures new (Rolando), and to a lesser extent Hulk's multi-million euro move to Zenit. With a united dressing room and less focus on the Brazilian superstar, Pereira at last stepped up to his role as the chief spokesman and protagonist at the Estadio do Dragão.

This season has seen a stark contrast in his dealings with the press. Pereira fields questions with far greater confidence and authority, more in keeping with the club philosophy where domestic dominance is the only option. He has even adopted a rather unfetching unshaven appearance to go with an increased abrasiveness in relation to any unfavourable criticism, refereeing decisions and opposition jibes.

The open demonstration of steely determination matches up neatly with how he has fashioned his team. Porto have been unspectacular but rock-solid for the most part in 2012-13, the hard-working efficiency and metronomic consistency of Joao Moutinho exemplifying the nature of a side with few weaknesses. The brilliantly creative James Rodríguez and the deadly finishing of Colombian striker Jackson Martínez provide the sprinkling of stardust.

"We have the individual and collective qualities to fight through this round," Pereira said Monday, before answering a question about the importance of this match in terms of his career with the self-assurance of someone who has grown into his role.

"This is not the most important match of my career. That one is yet to come. It's an important game, and is exactly the type of game I dreamt of being involved in. I consider this the best competition in the world, with the best teams in the world. I want to play lots of these kinds of games. That's my ambition."

A win against Malaga on Tuesday and progression deeper into the tournament will surely banish any lingering doubts once and for all.

He may not be Jose Mourinho, he may not be Andre Villas-Boas, but Vítor Pereira is as deserving as his illustrious predecessors to be commanding operations from the FC Porto dugout.



portuGOAL.com
Living in Lisbon since 1994, Tom Kundert first delved into Internet journalism as ESPN.com's Portugal correspondent for the 2002 World Cup. He liked the experience so much he created portugoal.net, which has become the foremost English-language website about Portuguese football. Tom now writes regularly as a Portuguese football journalist for numerous print and online publications.